Pages: 1
Topic closed
» THE OFFICIAL 2018 BMXMUSEUM CALENDAR COMPLETED THREAD - OPEN
THE OFFICIAL 2018 BMXMUSEUM CALENDAR COMPLETED THREAD - OPEN
Admin

Hello Kitty Moderator

From: Tennessee
Registered: 2010-05-25
THE OFFICIAL 2018 BMXMUSEUM CALENDAR COMPLETED THREAD - OPEN
This thread is where you will submit your completed OPEN build off pictures. Remember, the first pic must be a nice, clear shot of the drive side just like you when you submit your bike in the museum. Please make sure you have read the rules completely before submitting your 4 final pictures. If you have any questions please look at the question/comment thread. Most questions may have been asked and answered already. If you are still unsure, please contact mtbwrxwagon or myself. We will be happy to help you.

Please post a detailed parts list, year, make, and model of your bike. And if you would like, you may also include a small story or description of your bike. "Childhood bike" - "Always wanted one" - " Barn found survivor" - etc.
Just please keep it short.

GOOD LUCK TO EVERYONE!!!!!!!!!
Pro Member

From: Holland, MI 49424
Registered: 2007-09-06
Re: THE OFFICIAL 2018 BMXMUSEUM CALENDAR COMPLETED THREAD - OPEN
1982 SE Racing Mauler 24":

Frame & Fork: 1982 SE Racing Mauler 24" Repairs by Chip @ C4
Bars: SE Powerwing Cruiser Bars
Stem: Tuf Neck 1st Gen
Grips: Oakley B1B
Headset: Tange 125
Seat post: SE Racing
Seat Clamp: DiaCompe 2 piece NOS
Seat: Kashimax Seat NOS
Cranks: Shimano DX
Chainwheel: SR
Pedals: Suntour XC Compe
Bottom Bracket: Shimano DX
Chain: Izumi New
Brake Lever:Dia Compe Tech 3
Brake Calipers: 1982 Dia Compe MX1000 Rear
Rims:Pro Class
Hubs: Bullseye
Tires: Cycle Pro Snakebellies NOS
Freewheel: White Industries
Pads: SE Racing Frame/Handlebar Pads (NOS) Rad Pad Stem Pad (NOS)
Decals: Headtube Decal is original to this frame. Rest of decals are reproductions
Rim Strips: Pro Classic Rim Strips

I have reason to believe the frame/fork/bars have been together since new. This is a little unusual since most SE Maulers came with Landing Gear forks.
Thank you to Member Thesega who sold this project to me!

More pictures available under My Bikes


Last edited by Pacecar69 (2017-10-09 9:20am)
---
Looking for:
1975-1987 BMX Products stuff....Jag, Mongoose, Pro Class, Blue Max, Rampar, DeCoster, Mototrac, Super X, etc.....Frames/Forks/parts/decals/etc.
CW Racing stuff...old school, retro
Torker stuff....
Kappa F/F/Bars/Stems/Decals/Seat Posts, etc.
Pro Member

From: Disneyland North
Registered: 2013-12-10
Re: THE OFFICIAL 2018 BMXMUSEUM CALENDAR COMPLETED THREAD - OPEN

"Hutch-Fall-Thinking" - 1983 USA Hutch XL 24 Fun Cruiser

Build Sheet:

Hutch Frame/Fork all 4130 chromoly - thx olskuldj
Hutch nos pentagram alloy spider - thx Heyslugger
Hutch pedals brown bearing- thx Ryanmason208
Hutch seat -thx Aneudy914
Hutch OG ano pads with oxidized golden patina
Hutch stem stiffener
Hutch stamped donut
KKT gold hollow race chain
DK polished pro stem
Eastern crank arms
La Casa 4130 handlebars
Nitto 4130 layback post
Aime Unitrons
Tioga Powerblocks
Araya chrome 24" rims sealed hubs & hollow spindles
Most of this stuff your mom bought for me on EBay so I let her ride on the handlebars
Last edited by Bon (2017-10-12 12:25am)
---
HEY COMMON - TAKE IT EASY !

Would love to find a CW Z3000 and VDC 24 in the trash can
Pro Member

From: Orange County, CA
Registered: 2010-02-17
Re: THE OFFICIAL 2018 BMXMUSEUM CALENDAR COMPLETED THREAD - OPEN
1981 King Sting

This is a bike i found with most the original parts on it.I changed out a few parts to make it close to the King Sting i had and raced back in the day.What a joy to ride a King Sting again!

King Sting single speed bmx frame-Original paint
King Sting Fork-Original Chrome
King Sting Bars-Original Chrome
Team Schwinn cranks-Original Part
MKS BM-10 Foot Jaw pedals-original Part
Suntour blue 40t Sprocket-Original Part
Dia-Compe MX 1000 brakes-original parts
Dia-Compe Tech 2 levers Original part
Ukai 26x2.125 hoops-original part
Shimano rear hub and spokes-original
Front hub-NOS Mailard Helico Matic in blue ano with Stainless spokes
NOS Sand Jam 26x2.125 tires
Cycle Design seat post
NOS Schwinn padded seat
Suntour Power stem
Schwinn seat clamp-Original
AME Tri grips
Original cable clamps and Dia-Compe cables


Last edited by king stinger (2017-10-12 8:54pm)
Pro Member

From: New Zealand
Registered: 2011-03-27
Re: THE OFFICIAL 2018 BMXMUSEUM CALENDAR COMPLETED THREAD - OPEN
1983 Race Inc RA-24

Race Inc RA24 f&f.
Race Inc cruiser bars.
Race inc seat post.
Redline 180 mm 401's open BB,double dimple spindle, 40T bubble font.
Shimano DX pedals.
D.I.D 1/8 chain.
Araya 7X, Suzue large flange sealed bearing hubs.
Suntour 17T Freewheel.
Mitsuboshi yellow label comp3's
2.125 F
1.75 R.
Dia compe mx 1000, tech 3 lever and dc cable 83, skyway pro pads.

Tioga bear trap headset
SST dirt skirt.
Tufneck inverted stem.
Oakley .5's.
Dia compe seat clamp.
Kashimax aero, Allen guts.
Uni turbo plate, uni twin line numbers.
Rad Pads.

All OG finish and decals


---
WTB: JMC seatpost.
WTB: National Pro 24" f&f NP cruiser bars and post
I have a US shipping address
Pro Member

Registered: 2013-01-27
Re: THE OFFICIAL 2018 BMXMUSEUM CALENDAR COMPLETED THREAD - OPEN
Frame and Forks: 1984/85 SUPER LA 24 Cruiser
Wheelset: Araya Aero rims with Bullseye bolt through hubs
Tyres: Tioga Comp 3 Blue/Grey label
Cranks: Redline 180mm 401 full wrap cranks
Chainwheel: Redline 40T Bubble font
Pedals: Shimano DX
Headset: Tange 303 with Tange locknut
Stem: Og Pro Neck inverted stem
Handlebars: Alloy Powerlite Powerbend
Grips: 80s Oakley B1-B grips
Brakes: Dia-compe tech 3 lever and mx-1000 rear calliper (both 85 dated), 80s Kool Stop brake pads and
80s Terry Cable brake cable
Seat: Elina lightning bolt seat and PDNP guts
Seat Clamp: 80s Dia-compe twin bolt seat clamp
Freewheel: Shimano
Cheers to all the members who helped with parts for this build

Last edited by cruznscoot (2017-10-14 4:43am)
---
Wanted to buy: JMC FAB BARS
Pro Member

Mr. Looseball

From: Santa Rosa, CA
Registered: 2012-02-29
Re: THE OFFICIAL 2018 BMXMUSEUM CALENDAR COMPLETED THREAD - OPEN
The Phoenix.

2017 Bassett Star Cruiser frame and fork custom chromed
SE Bars
Odyssey seat post
Haro pedals
Vans ODI grips
Brooks seat
Tange headset
Profile cranks, B.B. spc, stem, chain tensioners
Araya hoops on Sekai hubs
Panaracer tires
Avid Arch Rival brake with a Tektro lever





Last edited by tentoesover (2017-10-15 8:38pm)
---
The last Ocelot

Spammer kills: 54!

Owl, Heyslugger and Severed are on my "Deal with first" list. You guys are rad.
Pro Member

ERADICATOR!!!

From: dee eff dub
Registered: 2008-10-13
Re: THE OFFICIAL 2018 BMXMUSEUM CALENDAR COMPLETED THREAD - OPEN
1988 SE Racing Floval Flyer

My first SE build and my first 1" cruiser. Everything is original condition with light use or NOS.

Frame / fork: '88 SE Floval Flyer / Landing Gear 24"
Handlebars: late 80s / early 90s SE Pro w/ brake lever knurling
Stem: early / mid 90s GT Pro
Headset: GT Epoch
Headlock: NOS Wheels Manufacturing Growler
Grips: NOS Oakley O-Wings
Brake lever: Dia-Compe Tech 77 Japan 1990
Brake cable: NOS Dia-Compe 6/30/88
Brake caliper: Odyssey Pitbull
Cranks: Cook Bros. 175mm
Chainring: SR Sakae 40t
Pedals: NOS Revcore Pro
Hubs: early / mid 90s Hyper high flange 36h made by TNT
Rims: NOS Sun Minstral Ultra Hard Anno 24x1.5
Tires: Schwinn Maximizer 710 24x1.75
Seat: NOS Ariake Jaguar II leather padded
Seat post: NOS Uni Twin Alloy
Seat guts: NOS chrome Kashimax
Misc: ACS 18t freewheel, KMC nickel chain, NOS Trick Tops dice valve caps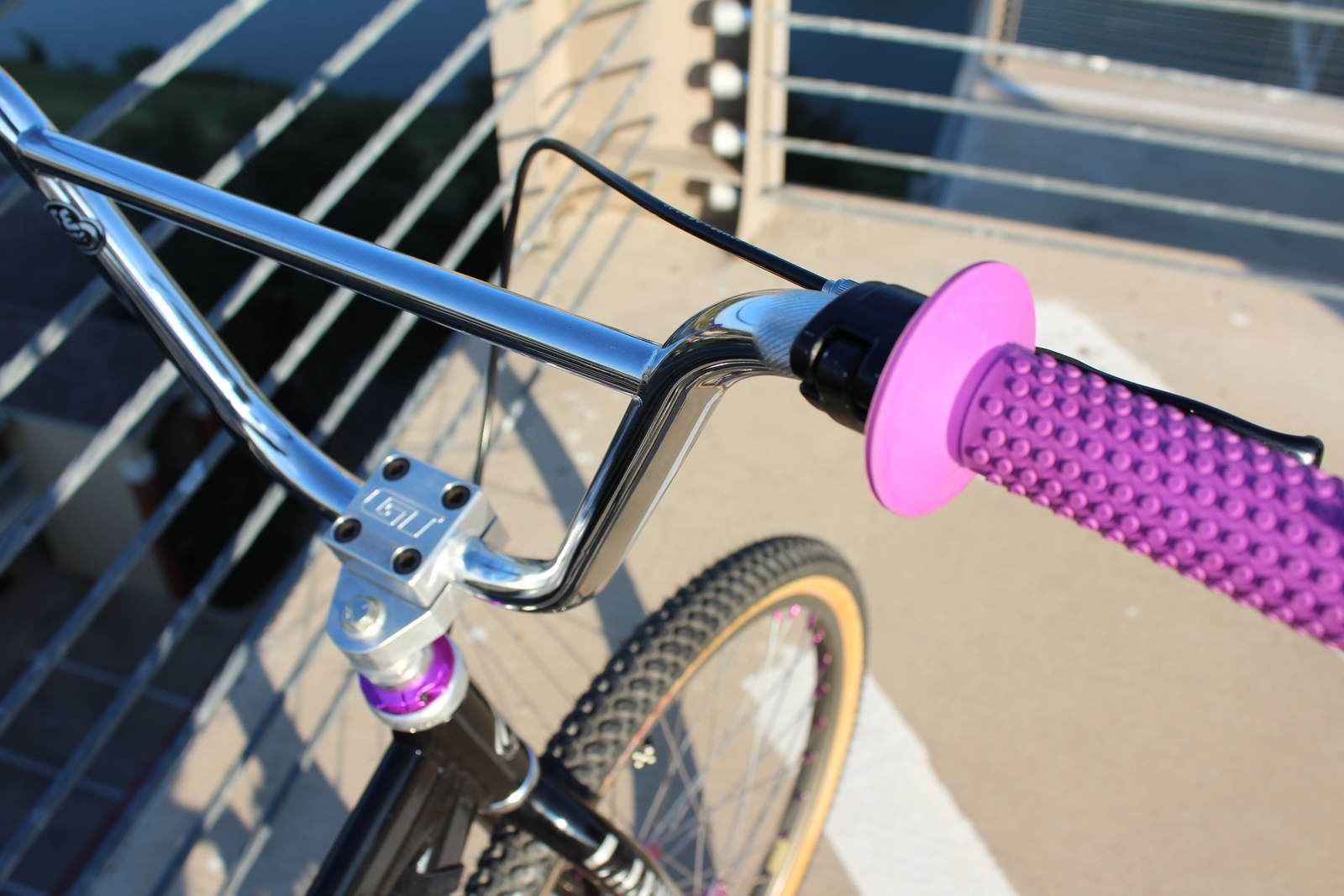 Last edited by CBA (2017-10-15 7:28pm)
---
"The most rewarding part was when they gave me my money." -Dr. Nick Riviera
Pro Member

From: San Diego, CA
Registered: 2009-09-24
Re: THE OFFICIAL 2018 BMXMUSEUM CALENDAR COMPLETED THREAD - OPEN
1983 Redline PL-24

Frame & Fork: 1983 Redline PL-24 Pre Serial Number
Bars: Redline PL-24
Stem: Redline Brute
Grips: AME Rounds
Pads: Redline Reproduction
Headset: Tange 125
Seat post: Redline Fluted
Seat Clamp: Dia Compe
Seat: Elina Lightning Bolt
Cranks: Redline 401
Chainwheel: Redline Bubble Font
Pedals: Hutch Bear Traps
Bottom Bracket: Redline Techmatic
Chain: Izumi
Brake Lever:Dia Compe Tech 3
Brake Caliper: Dia Compe MX1000
Rims: Ukai Speedlines
Hubs: Son Lite


Last edited by gooseman67 (2017-10-15 7:36pm)
Pro Member

From: Houston, Tx
Registered: 2017-01-29
Re: THE OFFICIAL 2018 BMXMUSEUM CALENDAR COMPLETED THREAD - OPEN
1997 Schwinn Pro Modified 1 Cruiser

A Tribute to my first new BMX bike, a 1997 Schwinn Predator.






Frame: 1997 Schwinn Pro Modified 1
Fork: 1997 Schwinn Pro Modified
Stem: Crupi Inverted stem
Headset: Chris King NoThreadset
Grips: NOS Schwinn Stinger grips and NOS bar ends
Brake lever: NOS 1997 Shimano DX
Brake cable: NOS Shimano
Brakes: NOS 1997 Shimano DX V-Brake
Cranks: Profile 180mm
Chainring: NOS Profile Whippit 37t
Chain: KMC
Chain Tensioners: Crupi
Pedals: Crupi Pro Square w/ Ti shafts
Hubs: Crupi low flange
Rims: Sun Rhyno Lite XL w/ late 90's style SUN RIMS decals
Tires: Primo Dirt Monster 24x1.85
Seat: NOS Schwinn Stinger
Seat Post clamp: Crupi
Number Plate: NOS Schwinn Stinger plate w/ NOS Answer numbers
Misc: Wheels built by legendary Texas wheel builder, Chris Rickard at ORP. Decals and photography by my wife.


Last edited by Saohagan (2017-10-15 7:40pm)
Pro Member

It's Miller Time

From: Perth, WA
Registered: 2013-09-05
Re: THE OFFICIAL 2018 BMXMUSEUM CALENDAR COMPLETED THREAD - OPEN
1993 Boss Hogg 24 Cruiser

The "All American Muscle" theme inspired me when doing this particular build.

Parts sourced from members on here or purchased from the Bay. Mostly refurbished and NOS

Boss Hogg F/F
Boss Team handlebars
Boss 180mm crankset
VG inverted stem
VG double seat clamp
VG brake lever
Crupi LF sealed hubs
Crupi Pro Round pedals
Crupi 39T chainring
Crupi chain tensioners
GT Speed Series seat
GT Power Series post
GT Power Series chain
GT chainring bolts
GT brake pads
Odyssey seat guts
Odyssey slick kable
Sun M25 24" rims
DC Big Dog brake
ATI Pistol grips


---
Bones heal, chicks dig scars, pain is temporary, glory is forever.

WTB - VG CABLE GUIDE & CRUPI 6 SHOOTER INVERTED STEM

Topic closed
Pages: 1
» THE OFFICIAL 2018 BMXMUSEUM CALENDAR COMPLETED THREAD - OPEN