1981 Torker 26
1981 Torker 26


1981 Torker 26

Low serial # replica of the 1981 BMXA Clint Miller Torker

This was one of my grail bikes..I remember seeing this bike in the September 81 Bicycle Motocross Action.. "Clint Miller and the new Torker Cruiser"..When I was a kid,I REALLY dug Torkers(AND still do!)And read that issue until it was falling apart..
Fast foward to 2014 I was feeling the itch to build this replica for a while and finally located a chrome frame(With a LOW serial #!)Then I slowly and painfuly collected the parts to build the bike,and had to decipher colors from the black and white magazine pictures..there were only a few color ones to go by.The rims,pads,chainwheel,and tires were NOS.Im pretty happy how it turned out,I wanted to get it as close as possible..(Mr.Miller?would you like to chime in?)..Some parts were hard to find in ANY condition!Hope you guys enjoy!Thanks.Jeff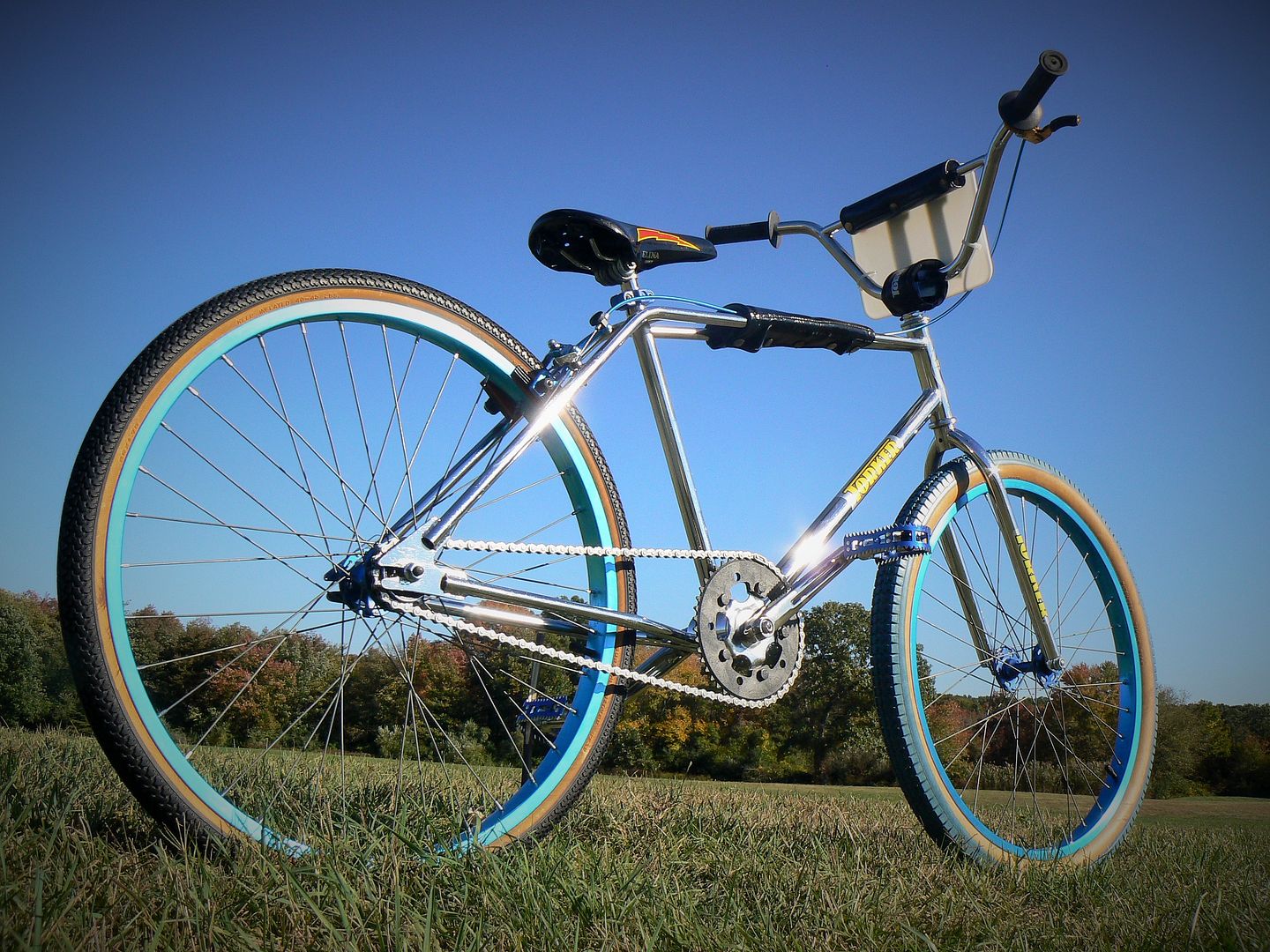 Last edited by bikesnbuses (2014-10-10 5:10pm)
Pro Member

From: Phoenix, via LI NY
Registered: 2010-12-17
Re: 1981 Torker 26
Crazy cool!!
---
Be good to eachother!!
BMXer 4 Life
From: Regina, Saskatchewan Canada
Registered: 2014-06-23
Re: 1981 Torker 26
holy hell.... way to cool man!
King of RePop
From: Bucks County, PA
Registered: 2011-06-29
Re: 1981 Torker 26
Best bike in the Museum!

Best tribute bike ever...

Clint Miller was one rad racer!


Pro Member

From: Springfield, IL
Registered: 2011-10-11
Pro Member

From: Los Angeles
Registered: 2008-05-30
Re: 1981 Torker 26
Clean build! Nice attention to detail..!
Re: 1981 Torker 26
Thanks guys!!!!!!
Pro Member

Registered: 2013-07-26
Re: 1981 Torker 26
Awesome bike. Excellent job on your build. Very nice. Totally
Pro Member

"be careful what you ask for"

From: Lower Slower DE
Registered: 2012-07-01
Re: 1981 Torker 26
Crazy cool Torker
---
We are paid by those who learn by our mistakes ~ The Working Hour

Be kind, for everyone you meet is fighting a hard battle - Plato
Expert
From: CA
Registered: 2009-10-14
Re: 1981 Torker 26
---
Wanted-- Anything JMC let me see what you got--Cash waiting
Expert
From: Oahu, HI
Registered: 2007-12-28
Re: 1981 Torker 26
wow, this bike is SWEET. def looks like a true race bike.
Pro Member

Retired ODSY HRDR

From: North Cackalacky
Registered: 2011-09-25
Re: 1981 Torker 26
That's one big Torker.
---
44t BMX Club - NC Chapter

"Two hundred years of American technology has unwittingly created a massive cement playground of unlimited potential. But it was the the minds of 11 year olds that could see that potential."
Craig Stecyk - Skateboarder Magazine - 1975
Re: 1981 Torker 26
New bars added with helmet pics also!

Pro Member

44T Prince Regent

From: Chicago IL
Registered: 2008-06-10
Re: 1981 Torker 26
All of these colors brings it back to the day for me.
---
Old-Mid-New School it's ALL COOL... Racing- 80's, idle-90's, now Cruzin' 24's & 20's & Yes I roll on Graphites.
Your Tail Gate Keeper to Grillie G's BBQ 44T Chicago Factory Support Rider & fellow OGOAR-Swap Dweller

In search of JMC serial #'s DY8479 & 84C8855.....

Wanted: Better paying job in order to further support BMX habit ....