1984 Skyway T/A
1984 Skyway T/A
1984 Skyway T/A
Finally, a Skyway ...
Those are the first pics of the frameset I've just picked up.
I only wanted to give a try to the color scheme
Skyway TA frame and fork
Redline 401 full wrap cranks
GT bars and headset
Tuf Neck stem
Wheels will be replaced by chrome Arayas (with sealed H flange Suzue hubs)
DC MX 1000
soon to be finished Hutch pedals
comments are welcome
Thanks for looking
Pro Member

Psycho Silence

From: B E L G I U M
Signed up: 2008-12-25

Offline
Re: 1984 Skyway T/A
---
WTB: * NOS Oakley F1 grips black/yellow * KKT FMX/LMX Pedals * Skyway Tuff Graphite pedals/cages * NOS Oakley 2 red right side only * NOS Oakley 1 red left side only * NOS chrome KKT FMX left side pedal 9/16

Re: 1984 Skyway T/A
thanks Erdal
Re: 1984 Skyway T/A
Can any one tell me the Top Tube lenght difference between a "standard" TA and an XL TA ??
thanks
Centurion Member
From: France
Signed up: 2010-09-17

Offline
Re: 1984 Skyway T/A
18.5 Standard and 19.5 Extra Long Version not available before 1984!
Re: 1984 Skyway T/A
thanks TIKI
Re: 1984 Skyway T/A
Done some changes : a year ago, I build it to take pics, then tore it down.
Finally, I decided to build and ride it.
It's still waiting for araya/GT wheels, Asco donut clamp, white A'me grips and a true seat post
as far as riding goes : that bike is a blast. Very light feeling, you can maneuver it really easily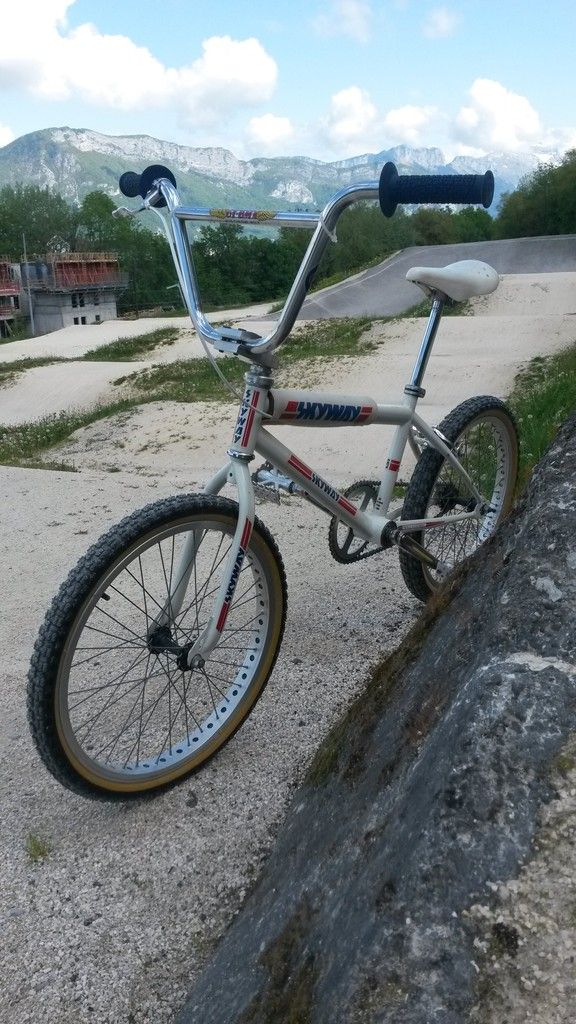 thanks for looking
Re: 1984 Skyway T/A
Texasbmx wrote:

Sweet pics man!

Dope bike too! Where are you from?
Thanks
from France