My 3rd Resto/Build, 88 Dyno
Museum Addict
From: North Carolina
Registered: 2011-01-15
Re: My 3rd Resto/Build, 88 Dyno
Love those decals Rod! The light blue color in the decals on the orange finish almost makes it look like a teal color. Maybe its just the pics. Kinda has a Miami Dolphins flavor to it.
Museum Addict
From: Spencer, NC/Amherst, OH
Registered: 2009-04-05
Re: My 3rd Resto/Build, 88 Dyno
Well played, Rod. I think the decals are fine, the contrast pops nicely. I think the OGK mags will look good with black tanwall tires. If you want the decals to pop, try matching the brake cables to the decals.
---
"If you're gonna eat shit, don't nibble on it."
For Sale Restricted
From: Sanford, NC
Registered: 2010-02-21
Re: My 3rd Resto/Build, 88 Dyno
Well her she is w/o pedals and cables. I tried the black OGK mags but I love the rims better.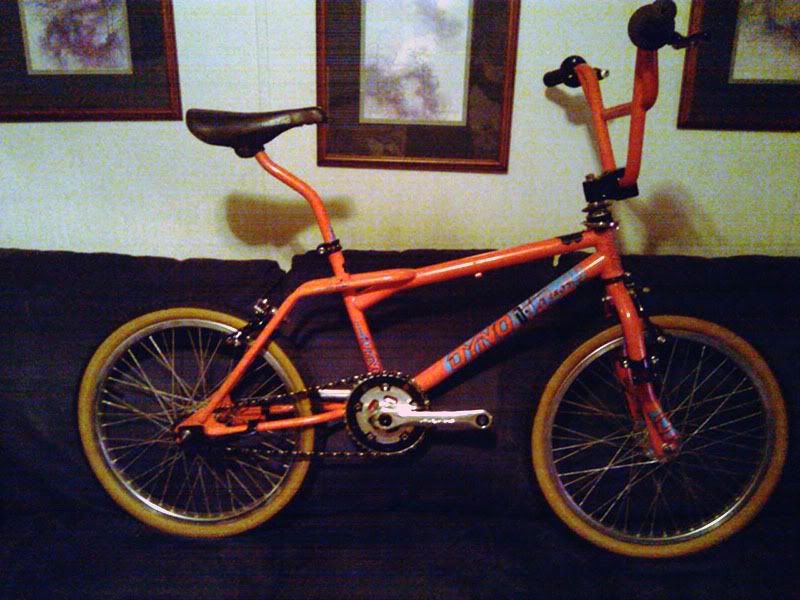 More pics to come once I get the pedals and cables on.