1989 Bully Piston
Re: 1989 Bully Piston
Nice frame!!
This particular model of Bully Piston is rare... at least I had never seen one before other than in the original brochure photos. The chrome Piston that came out later on in the 90's is more common as you can see from the examples in the Museum, but the frame design is quite different.
Anyway, sorry not to have more info, but if you decide to part with it, pls contact me...
Re: 1989 Bully Piston
i have seen this brochure before in the museum, on the bully in the brochure the top tube finishes after the seat tube whereas mine doesn't which has thrown me a bit....
Expert
From: NM desert
Signed up: 2006-10-27

Offline
Re: 1989 Bully Piston
That is interesting! I've never seen a Piston that wasn't chrome either.
I notice the R.L. Inc. decal is different from the decal that usually came on the earlier models.
Very cool frame though, and please don't strip the decals as it will be very close to impossible to find a replacement set.
Re: 1989 Bully Piston
1 of my mates is a sign writer so i'm goin to get him to repro them before i even think about stripping it down an gettin it re-sprayed. the plan is to restore the frame then build it to how i would of ridden it back in the day....
can anybody give me an exact year to this frame? i hadn't noticed the r.l. inc being the same as the later models (cheers raul).
Last edited by risk83 (2008-11-14 8:49am)
Re: 1989 Bully Piston
I have checked a couple of my Bully frames and I can't tell a year from the serial number. Your Piston could be '89 to about '92... that's my guess.
By the way, I believe the RL INC decals on that frame also came on the Bully III, so they're not from a later period, it is just that they had another design at the time... Here's a scan to help you with your reproductions!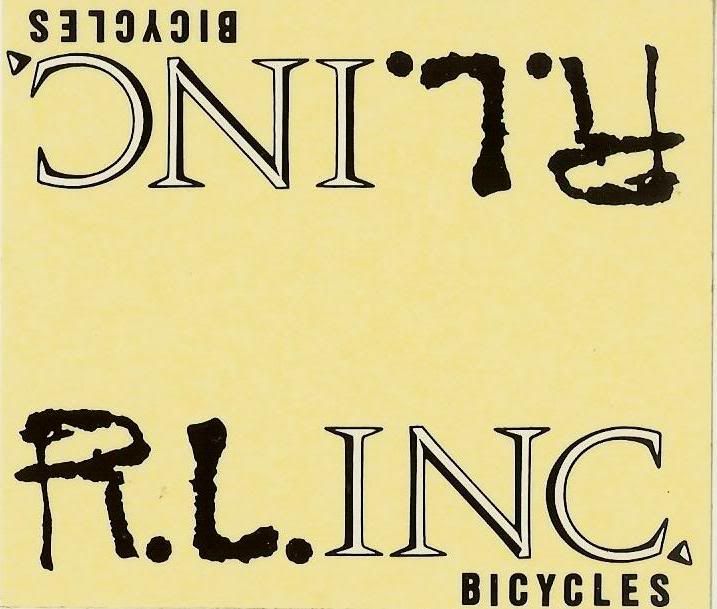 Last edited by lvalder (2008-11-15 12:07am)
Centurion Member
From: London
Signed up: 2008-05-07

Offline
Re: 1989 Bully Piston
i've got one of these, bought it new in about 91 in england. i restored it a couple of years ago.
i've got these scans if they're any use, i used them for doing repros for mine although i had to change the colour. my bike is red and black.
joe
Pro Member

From: South Jersey
Signed up: 2008-11-15

Offline
Re: 1989 Bully Piston
Those scans are wicked, thanks for sharing!
Museum Newbie
Signed up: 2009-10-28

Offline
Re: 1989 Bully Piston
Hi i have just bourght a bully piston from ebay. it is complete bike but in a mess its the same frame as yours but pink and black, So does this make it an 89 model?. also does anyone know what the full spec range would have been on this bike as it has an ACS BOA BRAKE CALIPER - PEREGRINE BARS AND STEM. ARAYA RIMS. ULINA UL ULTRA LIGHT SEAT AND BUILT IN SEAT POST.
is this the right stuff for this bike?
Cheers Alex.    Please wait
Image not available
Pro Member

TEXAS HILLBILLY

From: East Texas
Signed up: 2009-10-05

Offline
Re: 1989 Bully Piston
any updated
---
Build it, Ride it & Break it. That what "it" was made for.