2002 MacNeil Miron
2002 MacNeil Miron
2002 MacNeil Miron
2002 Macneil Miron, custom build. 20.25" top tube model, this is spec'd closely to Jay's own '02 ride.  Miron frame and Macneil fork, Macneil top-load stem, bars, 39T guard sprocket and bar ends. Solid headset, Primo Pro cassette hub set laced to Alex Supra-J smoked chrome rims, Dia-Compe 990 brakes, Tech 7 levers, Profile cranks, Primo Pro pedals, etc.  A no nonsense kind of bike. Hope you like this entry. - Kevin
Re: 2002 MacNeil Miron
What size BB do you have on there- Spanish, Euro, MID,  American sealed ? I have this same frame, going to build a custom from it. Any suggestions on headsets or BB would be great
Last edited by SnowOPS (2009-02-09 12:00pm)
Re: 2002 MacNeil Miron
SnowOPS wrote:

What size BB do you have on there- Spanish, Euro, MID,  American sealed ? I have this same frame, going to build a custom from it. Any suggestions on headsets or BB would be great
Hi Snow -
This has an american bb (they weren't fooling with spanish or mid bbs yet).  And I have a Solid headset on this bike - awesome headset, though you need to tweak your Gyro slightly to get it to fit. 
Post pics of your frame when you get a chance.
Re: 2002 MacNeil Miron
New custom frame decals and new wheels....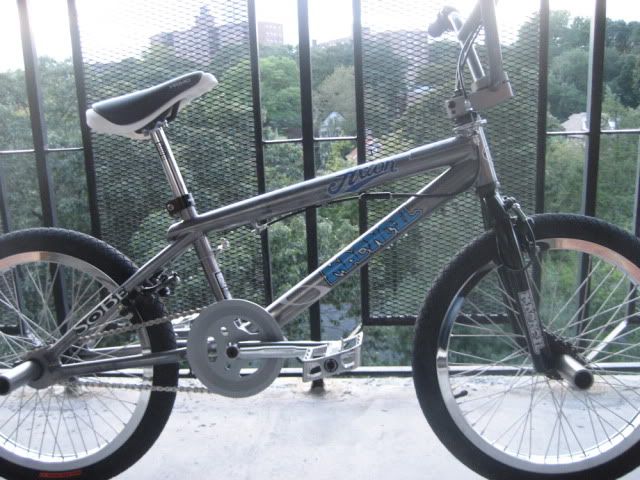 The Beast - 7th Ave. ledge work.

Expert
From: The Netherlands
Signed up: 2011-07-08

Offline
Re: 2002 MacNeil Miron
---
When peaceful revolution becomes impossible, violent revolution becomes inevitable." -- John F. Kennedy