1983 ELF 24
Intermediate
From: So. Cal
Registered: 2012-06-13

Offline
1983 ELF 24


1983 ELF 24

Original Finish 83 ELF Cruiser built for ELF Factory rider Brian Lewis. Originally ELF made him 2 frames, One He raced, and the other you see here. This frame set is one of the oldest known ELFs.

Parts List 1983 Original Finish ELF Frame/Forks, ELF Cruiser Bars, DK Stem, Dk Seatclamp, Vetta Seat, Dia Compe MX1000 Brake, Tech 3 lever, Redline 175mm Cranks, Redline 42t sprocket, Redline Tecmatic Bottom Bracket, Hutch Pedals , Araya 7X Rims, Bullseye Hubs, Cycle Pro Snakebelly Tires.



---
Wanted....... Mint condition Blue Elina Flyte Tech seat.
Intermediate
From: France
Registered: 2008-09-06

Offline
Re: 1983 ELF 24
Head tube angle is REALLY weird !!!

never seen any bike that staight
---
Groland Republic

BanzaÏ
Pro Member

Lot Lizard Lover!

From: St. Pete, FL
Registered: 2006-08-31

Offline
Re: 1983 ELF 24
---
It is better to sting with the truth than to comfort with a lie.
Post Restriction
Registered: 2014-04-03

Offline
Re: 1983 ELF 24
nice..!
Centurion Member
From: Kalamunda Western Australia
Registered: 2011-06-04

Offline
Re: 1983 ELF 24
sweet
---
"we recently adopted some stray cyclone katrina dogs...
...and i had a bicycle accident that actually made my penis bigger..." - Sean
Intermediate
Registered: 2009-02-19

Offline
Re: 1983 ELF 24
Headtube angle looks very steep. Do you have more info about that.
---
Just a kid in an old body
ELFicianado
From: Houston, TX
Registered: 2015-02-20
Website

Offline
Re: 1983 ELF 24
Are those real OG pads or repros
Last edited by AmpSkillz (2016-04-21 9:39pm)
---
ISO: Odyssey Pitbull Brakes & levers ANY condition, even bits & pieces
Pro Member

From: arizona
Registered: 2009-11-13

Offline
Re: 1983 ELF 24
OG pads for sure...
---
My real opinion of the status quo is not allowed
Pro Member

From: arizona
Registered: 2009-11-13

Offline
Re: 1983 ELF 24
This is the one Brian actually rode...notice he had the headtube angle changed to a way more rideable 72 degrees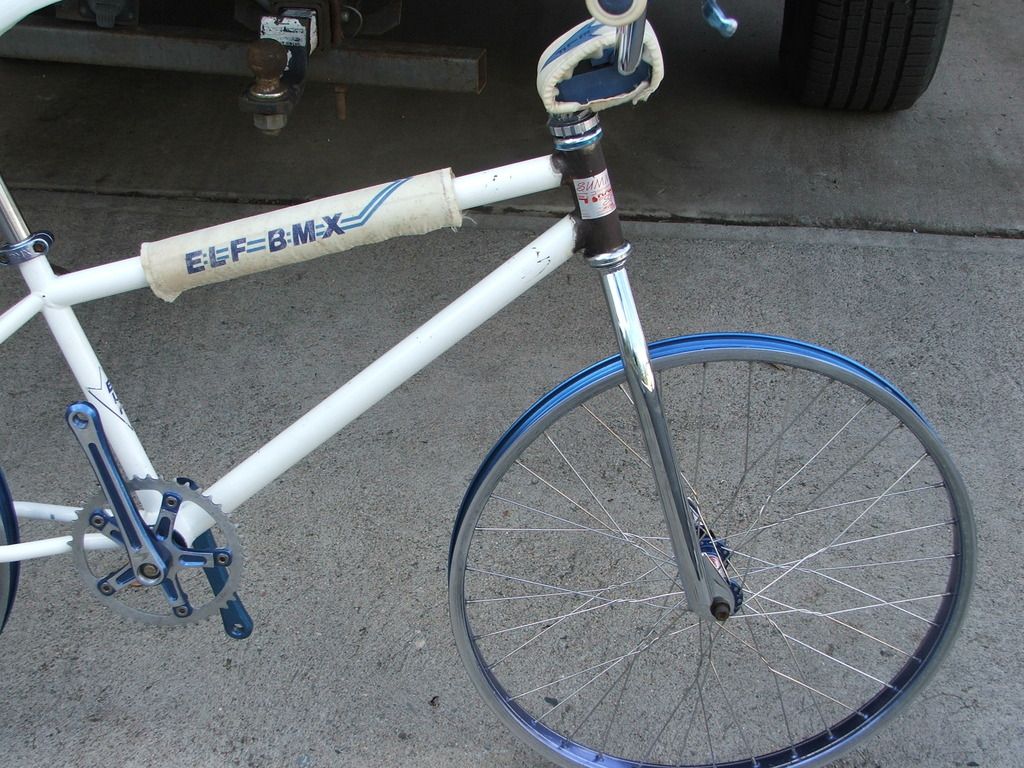 ---
My real opinion of the status quo is not allowed
Museum Addict
Registered: 2019-03-27

Offline
Re: 1983 ELF 24