VW & BMX What Gives?
Pro Member

From: MIDWEST
Registered: 2013-05-31

Offline
Re: VW & BMX What Gives?
Damn! That thing is dope!
---
Want To Buy: *SUPERCROSS STRONGARM CRANKS! * 1990 Zolatone Haro Master/ Team Master * Mint 1990 Haro Sport bashguard plate * Auburn CR Bars * JP Pro Pedals * Mint Peregrine Super Pros * Mint chrome Peregrine Madd Max 16 spoke set *
Centurion Member
From: CT
Registered: 2018-07-20

Offline
Re: VW & BMX What Gives?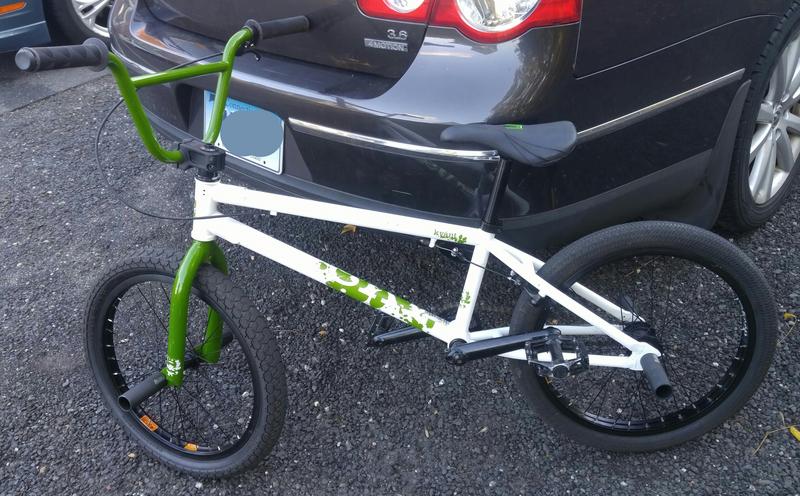 GTBMX72
From: So Cal
Registered: 2009-08-15

Offline
Re: VW & BMX What Gives?
Clean looking rag top. ????????
---
[img]http://i603.photobucket.com/albums/tt118/GTBMXRACING/_vdc.gif[/img]
Pro Member

From: Sandy eggo ca
Registered: 2020-02-09

Offline
Re: VW & BMX What Gives?
It was an inexpensive first car for many of us, I got a 57 oval window bug that was already cut up into a Baja, fixed it up a little and sold it for triple, bought a 64 and fully restored it pan halves and all, thanks to my pops, I learned how to do body work, and how to do a paint job, interior, suspension, brakes and steering. that's what started wrenching for me. Drove that car every single day all the way through high school and college. Ended up working at a local VW shop as a mechanic, just long enough to build myself a badass 2276 motor with a single 44 carburetor. Ended up dumping over 20 k in that car and rolled it doing donuts in the mud. Fun times
---
Nitrous is like a hot chick with an STD, you want to hit it, but you're afraid of the consequences. Spray and pray.
Pro Member

From: South Florida
Registered: 2009-04-23

Offline
Re: VW & BMX What Gives?
Pro Member

Registered: 2020-04-30

Offline
Re: VW & BMX What Gives?
Great thread!! Here is my 64... Only Pic I could find on my phone at the moment..


Pro Member

No Lie!

From: Mich
Registered: 2014-03-28

Online
Re: VW & BMX What Gives?


My old Cal-Look bug...built to look like it was roaming the streets of Orange County in 1976..2275, 48 IDA's, Fuchs for the street, and Erco DDS copy's for the track, body was de chromed, 1 piece windows, empi steering wheel, Berg shifter, all Berg mounts, close ratio trans, was a great car..put many local muscle cars to shame here...its in Norway now..
Last edited by Mich BMX (2020-11-15 9:06am)
---
Please.....no Tuff Wheels on full on race bikes...original graphite's only and pre 81 and never on a cruiser for God's sake
Let me guess you were factory sponsored in
the 80's...
Please no colored tires on race bikes...
So how many years were you a Pro....
You knew a guy that had a Mongoose that weighed 12 pounds
What year did you mix it up with Stu?
Thinking about going 22"....do it...
Pro Member

Huffin'

From: worcester, MA
Registered: 2010-06-11

Offline
Re: VW & BMX What Gives?

I drive the hell out of my mk4 wagon. Vr6 .. it a bit to high off the ground right now but it winter
Pro Member

New Old Shoes (NOS)

From: Pittsburgh, Pennsylvania
Registered: 2017-10-08

Offline
Re: VW & BMX What Gives?
---
Looking for CNC machined 6061 aluminum AheadSet Stem with patented steerer Safety Lock
Looking for 25.4mm 1" XS seat post and XS seat that fits "Overpaying for both"
Looking for Hoffman Bikes Seat 25.4 NOS, GOOD, or Excellent condition "Overpaying"