1998 Hoffman Sugar Baby
1998 Hoffman Sugar Baby


1998 Hoffman Sugar Baby

The One That Got Away..... Well Almost.

In short I purchased this new in '98 to get back into the sport after a few years of not riding.
Got board in having chrome again, so I painted the main frame satin black.
Shortly after I sold it to my brother.
Fast forward to today, I asked my brother about the Sugar Baby.... He says he still has it, and that I can have it back if I want. I pick it up the week of his wedding, and was suprised that it was still complete, but with some surface rust, and some battle scars, and minus the original Skid Mark tires.
1 can, and 1/2 later of paint stripper, and some chrome polish, I got the chrome back to the way it was. Can't say the same for the original decals on the frame itself though. So I put on a set of red lettered SD-4 decals, and added a little custom touch to them to make it more personal, and turned the "D" to a "B", and cut out the "- 4" so it just has "SB" for Sugar Baby.

Update Jan. 28/'15

The Sugar Baby is almost complete. Most original parts where reused, cleaned/ repolished/ repainted to bring new life.
All the following are original.
frame, and fork
Hoffman Bikes stem
Hoffman Bikes mini light bars
Hoffman Bikes seat post
Hoffman Bikes seat clamp
Hoffman drop nose seat, but recovered the padded portion
Dia Compe front Bulldog , and dia compe XCE rear u brake re painted, and dia compe MX 101 levers repainted, and saved the MX 101 decals
Oryg sst detangler aswell as the upper,, and lower cables
Dia Compe front brake cable
Hoffman bikes chainring
one piece chromo crank
Welgo pedals
Hoffman Bikes front, and rear pegs(look to be like the Big Shot, but not to sure)
Diatech headset
freewheel, but might change it out, or rebuild it, it's a little rough sounding
Only things replaced or added so far are...
Hoffman black hand grips
Hoffman black handlebar end plugs
new kmc chain
decals, sd4 decals slightly modified for the Sugar Baby
brake shoes, went with kool stops eagle II's
hoops, went with jalco chrome plated aluminum 48's married to the original hubs, spokes, and nipples. The original Alex chrome plated hoops are peeling, and flaking
as for the tires, not sure on which route yet, just slapped on the set that where on the Sugar Baby when I got it back, but definitely gonna be upgraded



Re: 1998 Hoffman Sugar Baby
Hey everyone....
Here's where the Sugar Baby sits so far.
I modified a set of "SD-4" decals i got from knvy to just "SB" for Sugar Baby by modifying the "D", and cutting out the "-4".
Not in no hurry with this build as i am building it up for my son whom is 5 years old, and is still learning to ride a two wheel bike right now, a slow process LOL, but my fault for not getting him going last year , same with his twin sister.

So far i got the brake levers repainted, and cleaned up, aswell ast the rear Dia Compe style U brake, and all cables hooked up.

Re: 1998 Hoffman Sugar Baby
So a little update. The Sugar Baby is getting closer to being completed.
Most of it has been saved, and restored/cleaned up. The only things that are not, or will not be original are...
-decals (originals are not around, and i was not a fan of the light blue/dark blue on chrome)
-brake shoes (dry rotted, and plan on going with kool stops anyhow)
-tires (right now i just have the ones that were on it when i got it back, would love to find a set of Hoffman skidmark tires, but i will see on how i will like to spend some money on a set of tires for my son.
-hoops (chrome was peeling, and blistering off the Alex hoops, but managed to save the spokes,nipples,and hubs)
-grips (would love to find a original set but seem inpossible to find, so not sure on a set yet)
-freewheel (maybe, it needs a good cleaning internally, so time will tell once i take it off, and let it soak, and repacked)
-chain (due to age, and rust)
-grease threwout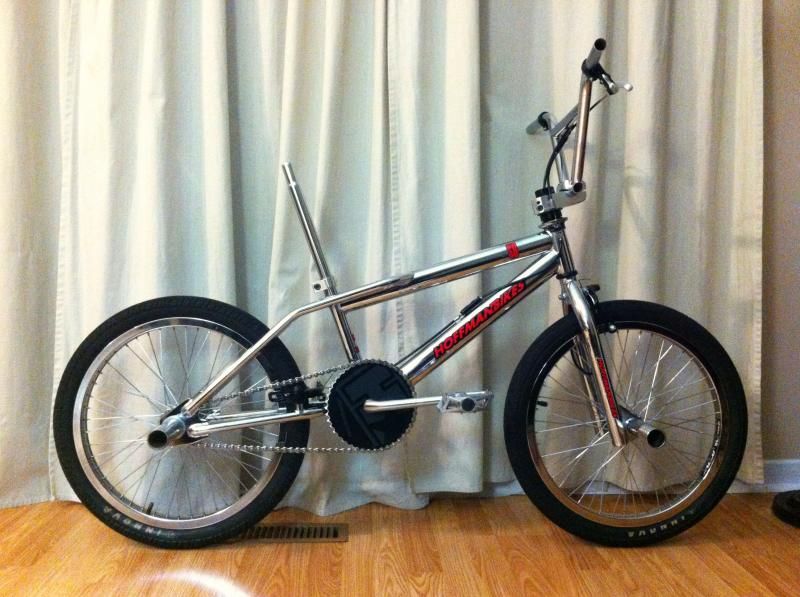 Re: 1998 Hoffman Sugar Baby
Forgot to mention the original drop nose seat. Right now i am in the process of sanding out the typical scratches, and recovered the padding.