Paint Codes
Pro Member

Paint Pro

From: Central Florida
Signed up: 2007-09-06

Offline
Paint Codes
If you`re a painter, then you know how much time and paint is wasted on matching a color. I helped many along the BMX hobby and now it`s time to pass on the torch to EVERYBODY that wants to paint. When matching a color I find a color in the book thats close to it. I mix that color then add a little this and that to match it better. I`ll spray a test panel to sure the color matches, sometimes it does sometimes it doesn`t. If it does I use a formula camera (ChromaVision) on the color. It`ll tell me what colors and how much to use in it to make that color. I spray a test again to be sure again! After that it`s a 50/50 that formula already exists. It`s alot harder and time consuming than people think. I spent alot of hours creating the ET red and the GT Day Glows.
PAINT CODES
These codes are Dupont paints and are available in alomst all Dupont paints including vinyl/plastic paint.
These codes are from the Dupont SpectraMaster book
............GT..........
Yellow YS904
pink RS263
green GS121
purple RS142
lt blue BS194 (popular color)
Dyno blue N1324 (also used on GT stems)
Dyno red RS909
...........REDLINE..........
Cali Red RS908
Mango RS609
Grey LS144
Kiwi GS316
Hazzard yellow YS284
..........SE RACING........
baby blue bs225
Turq freestyle GS671
..........HUTCH........
pink RS428
baby blue BS322
Purple Reign RS076 (I forget if this is US or import, there is a difference)
..............CW.........
pink RS175
orange 601240 (PPG code)
blue BS273
green GS115
...........SKYWAY........
lavender BS589
.........MONGOOSE.........
Decade blue BS067
MotoMag/Team blue metalic BS516
Day Glow mix, use a pale pink like Hutch pink for the base. If you use a white base then you`ll use alot of Day Glow to get the correct GT color. You can still get the correct glow with a white base, just spray alot more coats of glow on. Use SEMs Hotter Than Pink concentrate and mix it with Duponts Chromabase binders 150 and 175. After mixxing those then mix it with basemaker. Make sure each coat flashes aka drys before the next coat otherwise you`ll have a major mess, then shoot your clear after everything is dry. It`s best to have the stand so you can flip the frame upside down for better coverage otherwise the tops would have 3 times that amount of material, I`m talking from experience. Since so many people want Day Glow I`m offering this advice but realy it`s not worth doing, you`re better off getting it powder coat.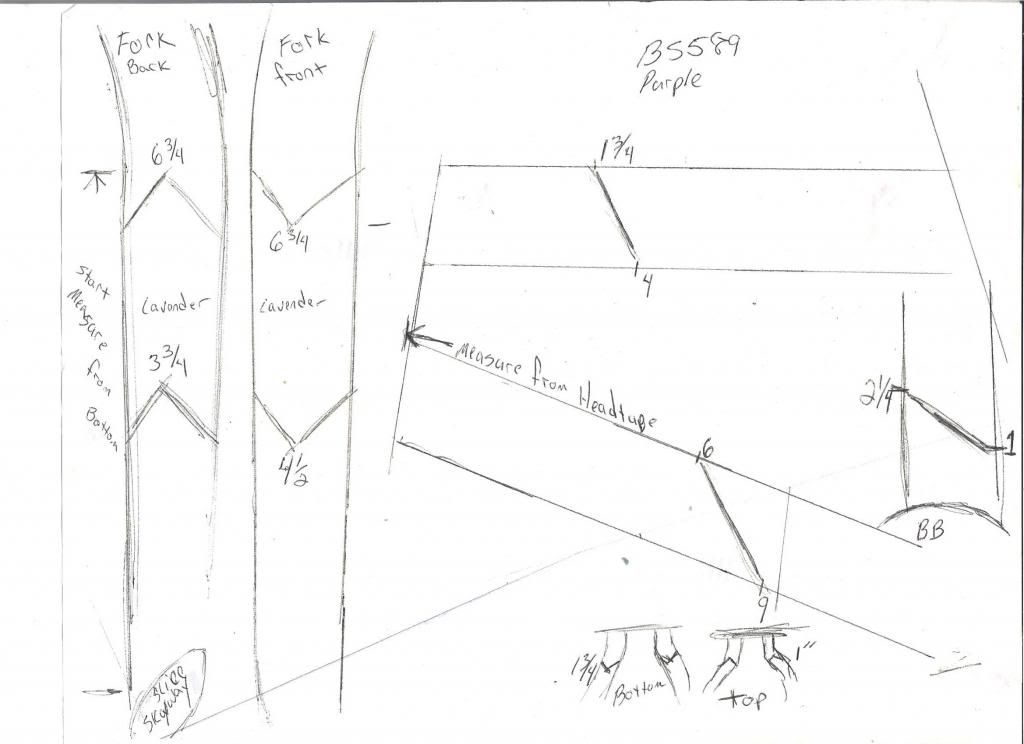 Pro Member

I prefer Sockeye to be honest....

From: Great Chott Salt Flat, Canada
Signed up: 2011-01-07
Website

Offline
Re: Paint Codes
More Codes From Lou:
Here are some color codes that I never offered because the color wasn`t 100% (it`s 90%) but for those that I did it for say it`s close enough and worth it. All PPG codes are from the PPG Delfeet book.
CW
Orange 601240 (PPG code)
SKYWAY
orange N2007
MONGOOSE
red 708690 (PPG code) I remember matching a early Goose
DG
yellow 800420 (PPG code)
blue 197210 (PPG code)
GT
grey N5836
HUTCH
Purple Reign BS757 (note the other code is RS076. Import and US made are different colors/codes)
---
Born again. Mom has a strong uterus.