1998 GT Interceptor
Intermediate
From: Oshkosh, Wisconsin
Registered: 2008-10-28

Offline
1998 GT Interceptor


1998 GT Interceptor

Glows-in-the-dark frame paint...Nephew's Birthday bike.

I built this up for my nephew, for his 11th birthday. His house had a furnace fire a month before his birthday, and he lost his pet cat, so I thought a custom bike was what I could do for him. This will be his first ever non-coaster bike, a freewheeling bike he's sure to never forget. This Interceptor has his name stamped into the rear drop-out, on the non-drive side, "J.HARRINGTON", a custom touch he's sure to point out to all his friends. Custom Glow-in-the-dark paint, it's that stuff from Rust Oleum, topped in clear. Home crafted decals look decent, they bring a lot to it's presentation, especially the jumbo coin sprocket decal.
Frame: Interceptor. (3-main tubes Cro-mo)
Fork: GT 1 1/8" Heat treated Cro-mo steerer. (OE)
Head-set: AHEAD-SET SE-1, caged bearing. (OE)
Stem: GT "Piston", Metric. (OE)
Misc: GT Stem cap.
Bars: GT Non-stamped. (OE)
Grips: Sinz.
Bar-ends: ODI.
Brake: Pro-max V-brake, dated 98'. (NOT-OE)
Brake lever: APSE (NOT-OE)
Cable: Sunlite.
Seat: GT (OE)
Post: Taiwan made, chrome, lots of knurling.
Clamp: ?-Unknown, Alloy.
Hubs: GT Mowhawk, loose-ball. (OE)
Spokes: Sapim, Stainless, straight gauge. (DAN's COMP)
Nipples: Wheel Master brand, black.
Rims: Sun Rims Laventer Alloy hoops, polished. (98' Speed Series)
Crank: GT 175mm, powder coated white. (OE)
BB: OE
Sprocket: OE powdered white, W/jumbo coin decal.
Misc: Handmade 3-piece pads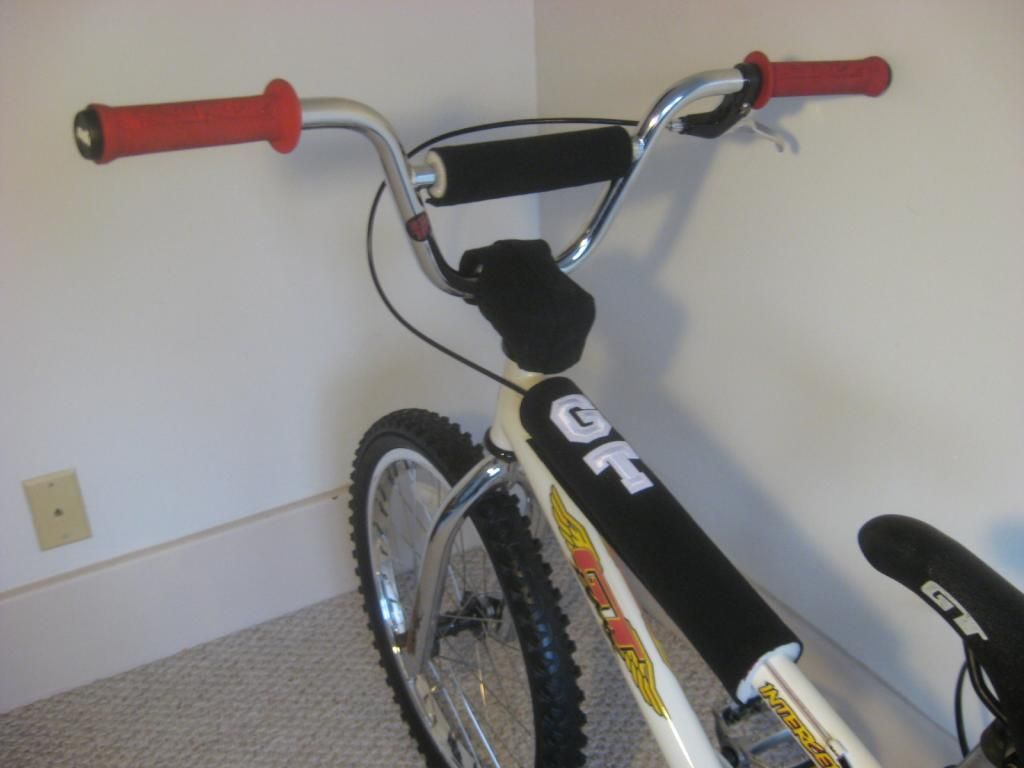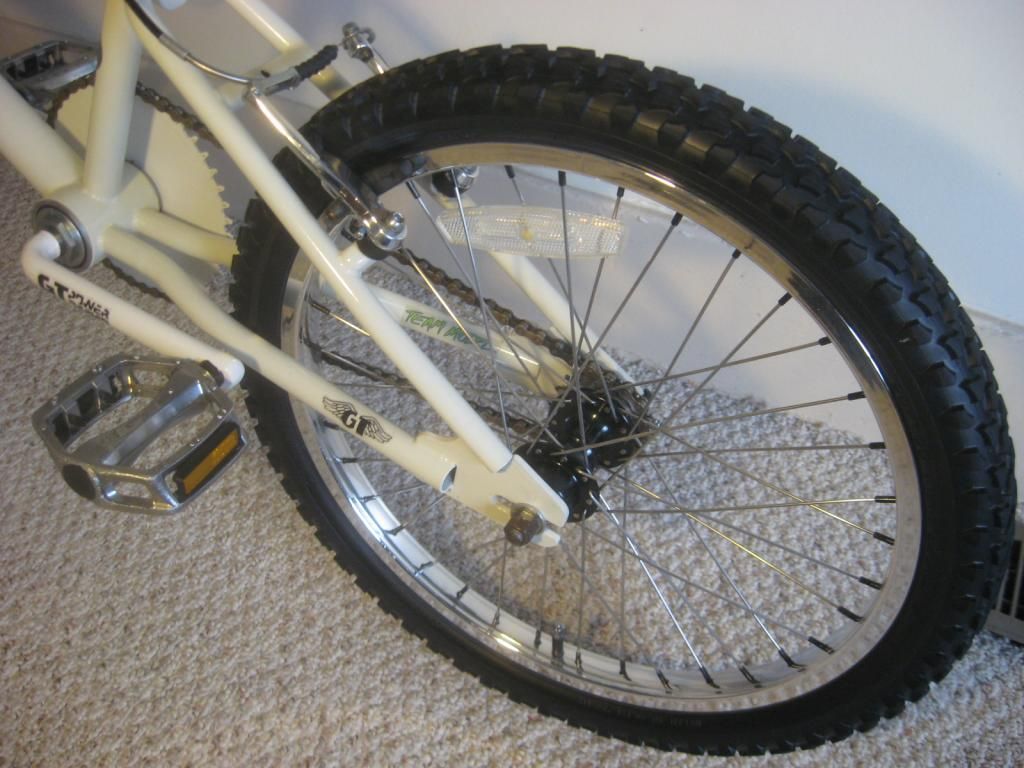 Pro Member

From: Central IL.
Registered: 2011-11-07

Offline
Re: 1998 GT Interceptor
I turned off the lights. I saw it glow!


Cool bike. Your nephew is never going to forget it. Cool gift.
Pro Member

It's Not For Sale, Francis!

From: Claremont, CA
Registered: 2010-04-30

Offline
Re: 1998 GT Interceptor
That is Rad! Way cool gesture on your part.
---
There's no help for this Museum Junkie!