1987 Mongoose M-1
Pro Member

Mikey likes it

From: Tyngsboro, MA
Registered: 2009-03-30
1987 Mongoose M-1


1987 Mongoose M-1

Resto-modded

1987 Mongoose M-1, painted and stickered as an '85.
Built for my son, this is a mish-mash of parts I had laying around.Thankfully, my son loves it!
F/F 1987 Mongoose M-1Decals BMX Products, 1985 M-1Stem MongooseBars Mongoose Pro-Class hi-tenGrips Snafu Dave MirraCranks MongoosePedals VP-565Power Disc generic '80sChainring Porkchop 44tBolts SuginoFreewheel generic 18tWheels OGKTires Ritchey Speedmax 2.1 front 1.95 rearSeat VeloClamp generic, polished (formerly black)Post generic chromolyBrakes Dia Compe 1020 caliper, Tech IV lever
Additions Cal Lite checkered stem pad, Trick Tops dice valve caps


---
[img]http://uploads.bmxmuseum.com/user-images/27489/ta5964a92927.jpg[/img]
Confucius say "Man with hole in pocket feel cocky all day"
"Fear can hold you prisoner, hope can set you free." - Red
Pro Member

Mikey likes it

From: Tyngsboro, MA
Registered: 2009-03-30
Re: 1987 Mongoose M-1
This is what it started life as;




Here's the thread from when my son and I scored it;

http://bmxmuseum.com/forums/viewtopic.php?id=534548

This was a fun and frenzied build. I promised him he could ride it at Octoberfest of BMX.
Some people came through for sure (thanks Pat, Paul, Chaby). He rode the heck out of it.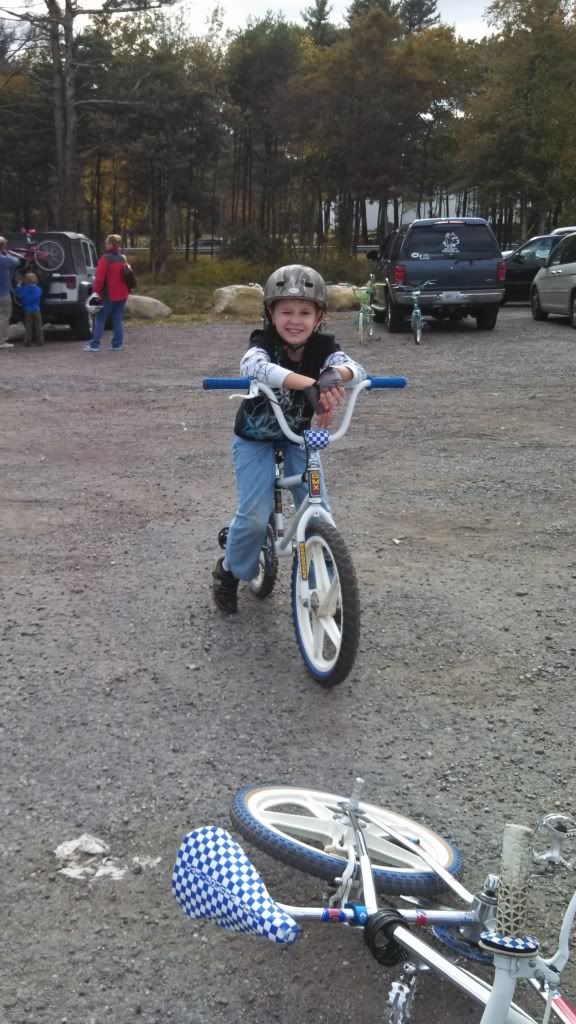 ---
[img]http://uploads.bmxmuseum.com/user-images/27489/ta5964a92927.jpg[/img]
Confucius say "Man with hole in pocket feel cocky all day"
"Fear can hold you prisoner, hope can set you free." - Red
Pro Member

Mikey likes it

From: Tyngsboro, MA
Registered: 2009-03-30
Re: 1987 Mongoose M-1
Here is a more recent (although obscured) picture.





My son still loves that M1 (in checkers).
This bike is ridden and loved.
---
[img]http://uploads.bmxmuseum.com/user-images/27489/ta5964a92927.jpg[/img]
Confucius say "Man with hole in pocket feel cocky all day"
"Fear can hold you prisoner, hope can set you free." - Red