1997 S&M Sabbath
Expert
From: Phoenix,AZ
Signed up: 2007-12-21

Offline
1997 S&M Sabbath
1997 S&M Sabbath
I burned a bike and this is what happened.  Rawed out, weld burns, to the extreme! 
Started with a Raw frame, I completely sanded to remove all blemishes, pits, metal marks ect. Progressively smoothed out, and polished it up to a mirror like shine, which is hard to do on 4130.  But really love the raw looks with weld marks left.  But wanted to do something totally unique. So I burned it!!  Raw, weld burn look, but over exaggerated. I also did the forks, handlebars,cranks, and seat post.  Put alot of time into this bike/parts.  Wasn't easy. Think it turned out different looking then the norm, or some painted/powdered same old, same old.   Polished the Redneck stem and Engine Turned it. 90% of bike was stripped, smoothed, polished, brushed, engine turned or burnt.  Full out, full on, complete 1 of a kind custom. Think I accomplished that.  Keeps the hobby fun, doing something different. 
Frame: 1997 S&M Sabbath (Burned)Forks: S&M Pitchforks (Burned)Handlebars: Odyssey Bar Mitzvah (Burned)Stem: S&M Redneck gyro (polished & Engine turned)Headset: Pr1mo GorillaGyro: OdysseyLevers: Dia Compe 182 Tech 7 locking ( Polished)Rims: Pr1mo Hula Hoop front 48h (black chrome)            Alex Supra J rear 48h (chrome)Hubs: Pr1mo Son of a Bomb 48h front            Odyssey Hazard 13t cassette 48h rearTires: Freestyle flatland GT gum sidewallsCranks: Solid 2nd gen ( Burned)BB: Solid sealed 1" spindleChainwheel: Profile 36t (Stripped & brushed)Pedals: Pr1mo Tenderizers( stripped & polished)Chain: KMCSeat: Pr1moSeat post: Pr1mo Rod (Burned)Seat clamp: S&M (Stripped & brushed)Brakes: Dia Tech 990s blue annoPegs: P1imo Tube Steaks
Museum Addict
From: Macomb Michigan
Signed up: 2012-08-20

Offline
Re: 1997 S&M Sabbath
I love what you did, nice build
Pro Member

From: Cleveland
Signed up: 2010-11-27

Offline
Re: 1997 S&M Sabbath
One of the coolest ideas I have seen and a rad S&M .
Member
From: Georgetown TX
Signed up: 2012-10-15

Offline
Re: 1997 S&M Sabbath
Wow!!! Bro that is really rad Love the looks on the bike. Great job.
Expert
From: Phoenix,AZ
Signed up: 2007-12-21

Offline
Re: 1997 S&M Sabbath
Thanks guys.  I tried doing something unique...
Some more pics
Couldn't get to fit between his legs, darn pegs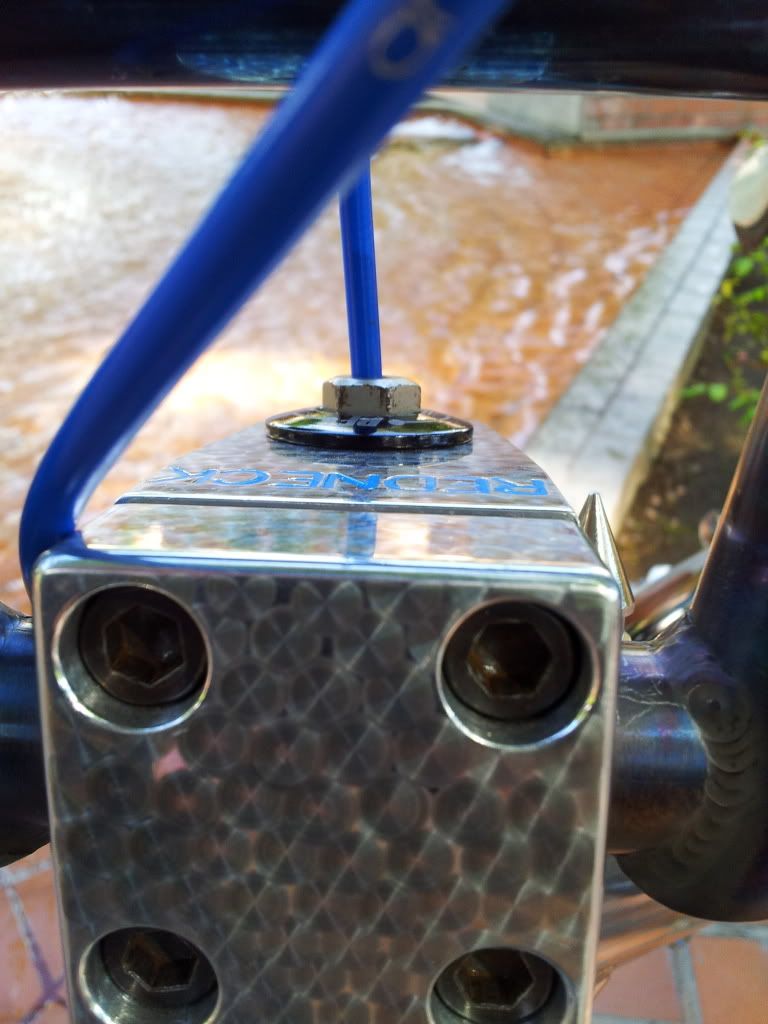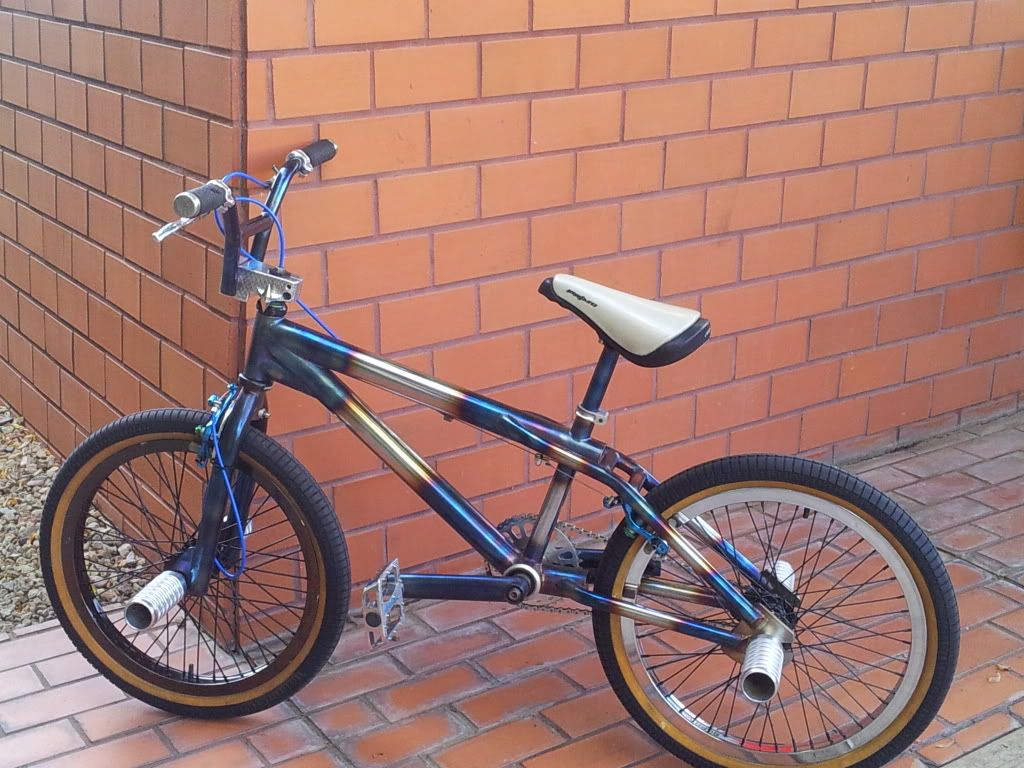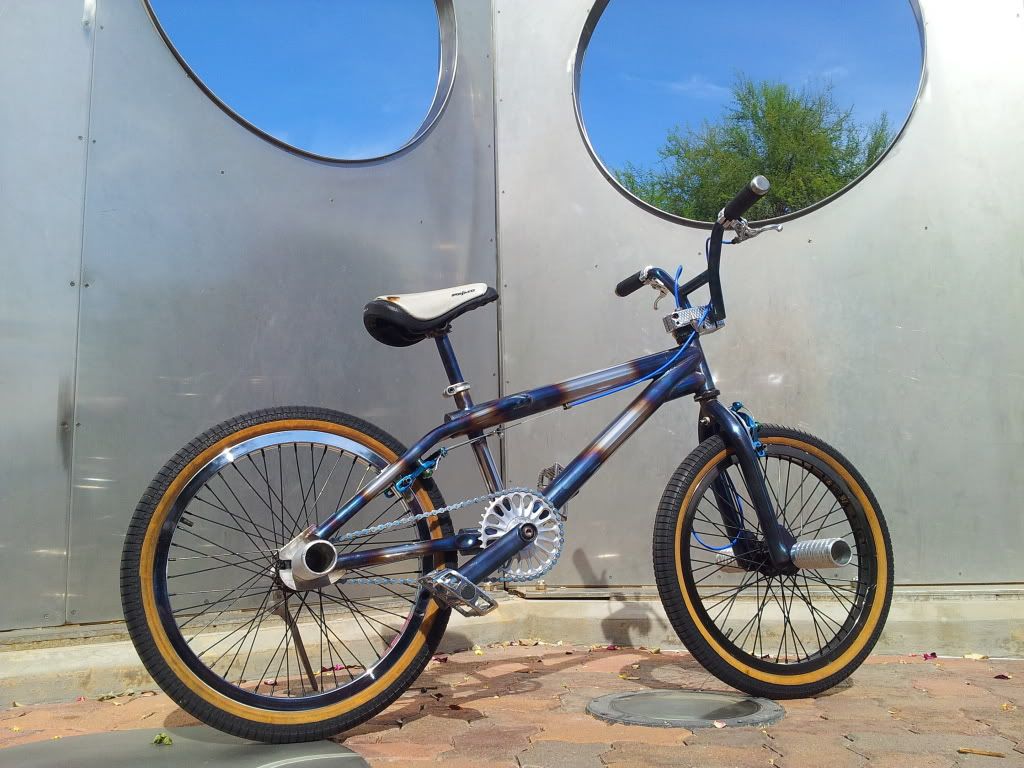 All the pics were taken with my cell phone.  Was riding thru old town Scottsdale n came accross these spots.  N bike is heavy enough without adding extra weight of backpack, haha jk
Pro Member

Spin To Win

From: WA
Signed up: 2012-01-21

Offline
Re: 1997 S&M Sabbath
Awesome job a new favorite
---
Check out my midschool bike collection
Intermediate
From: Australia
Signed up: 2013-03-09

Offline
Re: 1997 S&M Sabbath
It turned out beautiful mate, good job!
Intermediate
From: Portland, OR
Signed up: 2008-11-28

Offline