1976 Laguna GT
Expert
From: San Mateo, CA
Registered: 2009-11-21
1976 Laguna GT


1976 Laguna GT

Rare early FMF style bike sold by Laguna made by FMF

Heres a rare bird, a 1976 Laguna GT with the original Laguna fork. No brake bridge makes it the 1976 model.
This frame set is without cracks or much signs of wear. Very hard to find in this condition. The welds are awsome, true FMF style quality.



---
Bmx was pure fun BITD, I think nowadays, some folks have forgotten what its really all about. And what it truly is.........
Pro Member

From: Mile High City, CO
Registered: 2012-03-13
Re: 1976 Laguna GT
Super cool, I believe no brake bridge might make it a '76 though.

I've never seen a Laguna with a anodized finish, (they didn't offer them in their catalog). That frame may be another rare breed, especially considering the lack of decal/fading in the anodize, very interesting. I love it!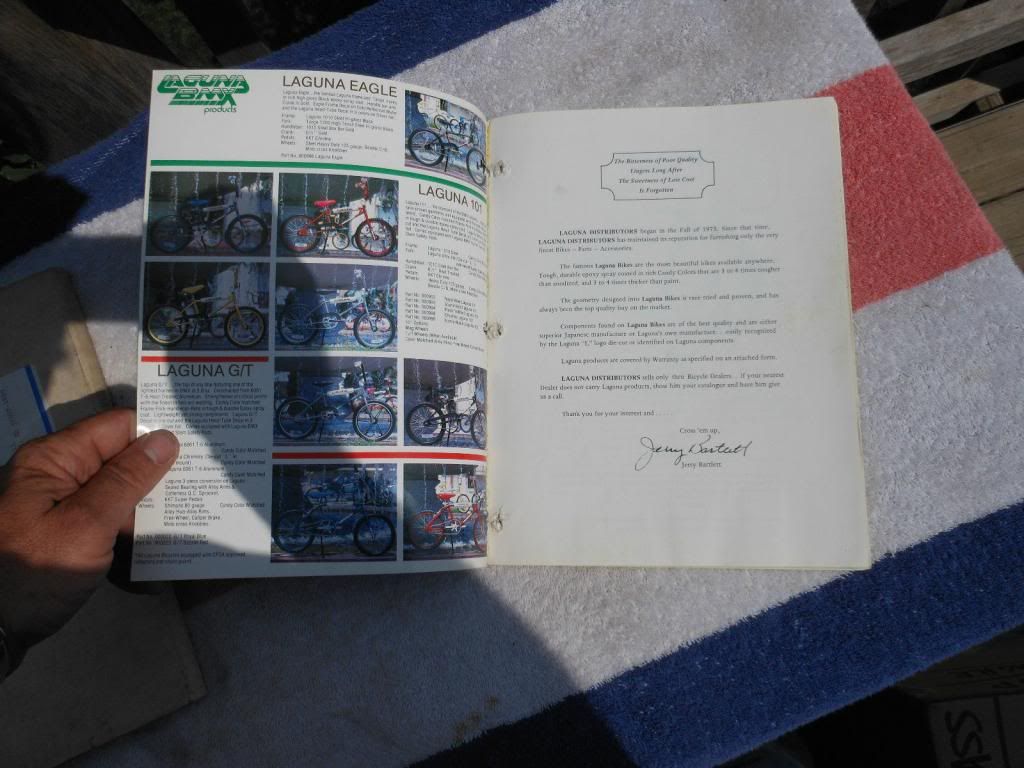 Last edited by Leviathan (2013-11-06 11:36am)
---
Looking for: FMF FORKS and Raleigh Rampar (aluminum)
Centurion Member
From: Australia
Registered: 2009-06-05
Re: 1976 Laguna GT
I got one of these. Awesome old frame.
---
BMX down under
Expert
From: Boulder, CO
Registered: 2011-01-30
Re: 1976 Laguna GT
Me too, it's a 76 with no rear bridge, I have the same one, Awesome bike!!!
---
I got lots of stuff, what you need? lol
Pro Member

From: 510 to 323, Cali
Registered: 2010-04-18
Re: 1976 Laguna GT
Yep, sweet frame from '76. You should build it up, they're so much fun to ride!

BTW, these were made by Race Inc, not FMF.
Last edited by Oaktown Massive (2013-11-06 2:50pm)
---
1 9 7 7 R a c e I n c. R A - 7 1 9 7 9 R e d L i n e M X I I
Pro Member

From: phoenix AZ
Registered: 2013-08-27
Pro Member

From: USA
Registered: 2011-03-02
Re: 1976 Laguna GT
---
If you can't acknowledge my order & hard earned money spent on your goods, i can't help with your feedback

D€4L
Pro Member

From: Central, IL
Registered: 2010-09-10
Re: 1976 Laguna GT
---
WANTING OG Race Inc, FMF, and PK Ripper Looptails
Museum Newbie
Registered: 2008-02-18
Re: 1976 Laguna GT
Nice rare stuff there! Is that anodized or clear candy blue over aluminum?
Member
From: United Kingdom
Registered: 2015-02-07
Re: 1976 Laguna GT
---
All you need is cash ,
Pro Member

From: Colorado
Registered: 2015-06-01
Re: 1976 Laguna GT
Would love to have this one!
---
ISO GOLD ANO FMF! WILL PAY UNTIL ACCOUNT IS EMPTY. I always leave feedback,,,why don't you??
Pro Member

Registered: 2017-07-08
Re: 1976 Laguna GT
just like to let you all know I acquired it to go with my blue g_boy as I am very happy