OA Vs Vinegar vs Citric Acid
Intermediate
From: Mount Prospect, IL
Registered: 2009-07-31
OA Vs Vinegar vs Citric Acid
I have seen a number of posts on using different methods to treat rust. I am trying to work out what will work best for me. I have a frame that was spray bombed that I have stripped and I would like to remove the surface rust on the inside and outside of the frame before I send it off to be powder coated.

I live in the midwest and as you can imagine it is cold here right now. I would like to do the treatment in the house. From what i have read it is probably not a good idea to go with OA indoors because of the fumes. However, I have seen other posts about Citric acid causing some issues with bar metal (discoloring it etc.). That leaves me with vinegar..

So, I wanted to ask the experts what they think? Should i wait till it warms up and do the OA bath outside, go the vinegar route now...

Any feedback would be appreciated.

Thanks,
---
Like Schwinn Stings? - here's a great reference site:

stingbmx.com
Pro Member

"Rim Specialist"

From: Port Angeles, WA
Registered: 2009-04-18
Re: OA Vs Vinegar vs Citric Acid
Both can be smelly. Not toxic or anything just strong smell that you might not want inside. I use to use vinegar but on my last restore is bought 2 lbs of citric acid on ebay. I feel it was less harsh to the chrome and did an awesome job!
You could put a small heater in your garage just to keep the temp above freezing .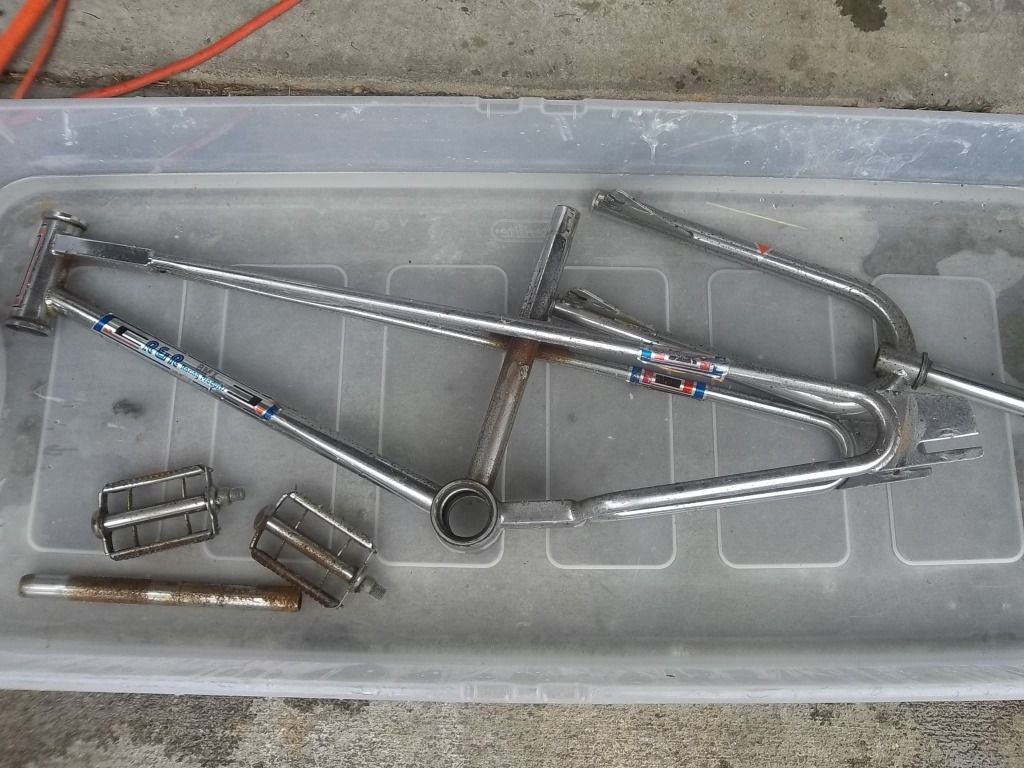 ---
No more media blasting at this time.
I am always glad to give advice any time!!!
road rashed
From: Minnesnowda
Registered: 2012-04-06
Re: OA Vs Vinegar vs Citric Acid
I used an OA bath this winter and I am up in northern Minnesota. I have the bath in a covered container in my basement. I empty it right after I am done. No problems at all. cmb has a great thread and really detailed directions here:
http://bmxmuseum.com/forums/viewtopic.php?id=351132


Last edited by soulride (2013-02-07 12:30pm)
---
You know, pools are perfect for holding water...
Member
From: Central Oregon
Registered: 2013-02-12
Re: OA Vs Vinegar vs Citric Acid
Citric Acid killed it for me!!! never a cheaper easier way to clean off rust... literally wipes off
---
"Things we learn, are more true than things we've been taught."
Pro Member

From: New Jersey
Registered: 2008-05-22
Re: OA Vs Vinegar vs Citric Acid
The dirty vinegar is the worst smelling BY FAR. Works good tho.
BMX Archaeologist
From: Canada
Registered: 2011-03-25
Re: OA Vs Vinegar vs Citric Acid
If you are sending the frame to have it powder coated, the shop will in all likelihood blast (sand blast) the frame before they powder it, so you may not need to go through all this effort. Have you checked with them?
---
If you think that you are too old to Rock & Roll - then you are.
Pro Member

Neomaxizoomdweebie

From: Colorado Springs, CO
Registered: 2011-05-14
Re: OA Vs Vinegar vs Citric Acid
Whichever route you go should likely be fine, but I'll add that if the parts are chrome plated, I'm all about oxalic acid because of how it reacts to the chrome substrate layer ...

But, that being said, if the bike is nickel or raw steel, I like either vinegar or citric acid better and if someone only wants to use just one type of acid (without concerning themselves over ideal results for one type of finish over another ...) - I'd recommend citric acid.
---
The clock struck two, I shot my goo...