Tange sealed euro bb??
Tange sealed euro bb??
I pulled one of a elf micro mini that has Sugino maxy cranks attached. After getting one cup off i noticed they are sealed bearings but i cant find anything like that online, all i can fine is loose. Is this correct or did someone cram sealed bearings in a unsealed cup?

Next problem i that i can't get the drive side cup and bearing off the spindle, it must come off right???

Last problem is that i cant get the bearing out of the non drive side cup thats currently off the spindle, any advice on that one? I was able to get it almost out with a socket. Only other thing i can figure is to re-install the cup and hammer out the bearing but i hate to ruin the threads in the shell.

I'm wet behind the ears when it comes to this mini stuff, this tiny bb is straight wipping that azz
Thanks fellas!!
Re: Tange sealed euro bb??
Help!!! Do i need to post pictures???
Re: Tange sealed euro bb??
My bust fellas, its Sugino not Tange. Pics or it didnt happen so here they are!!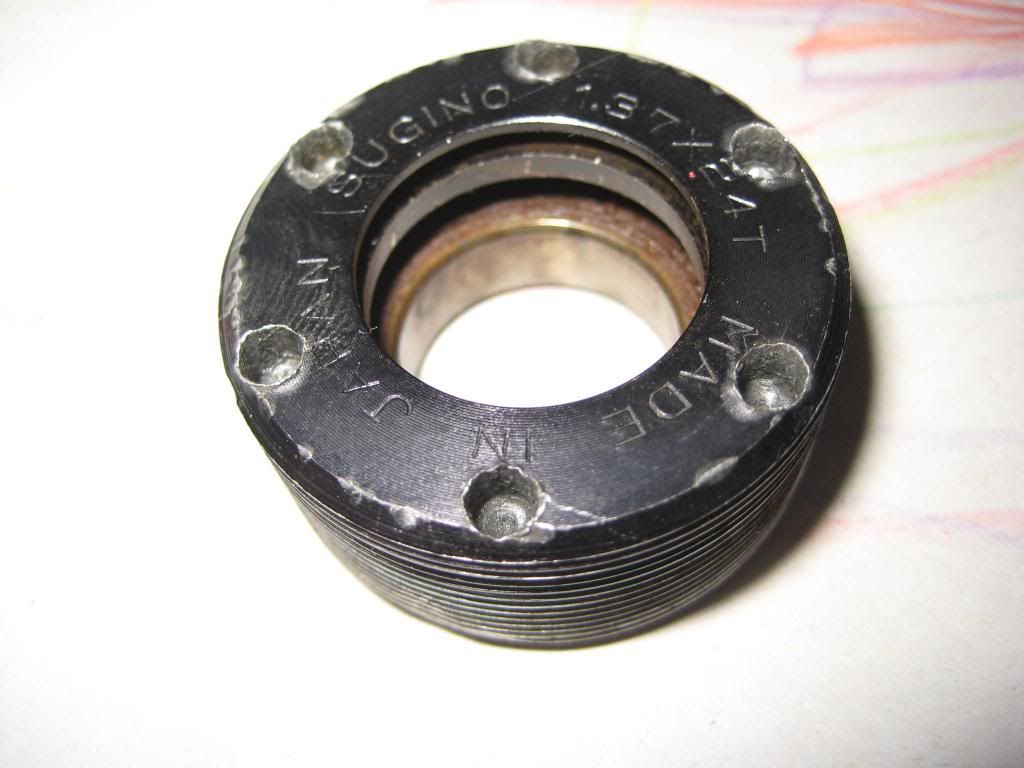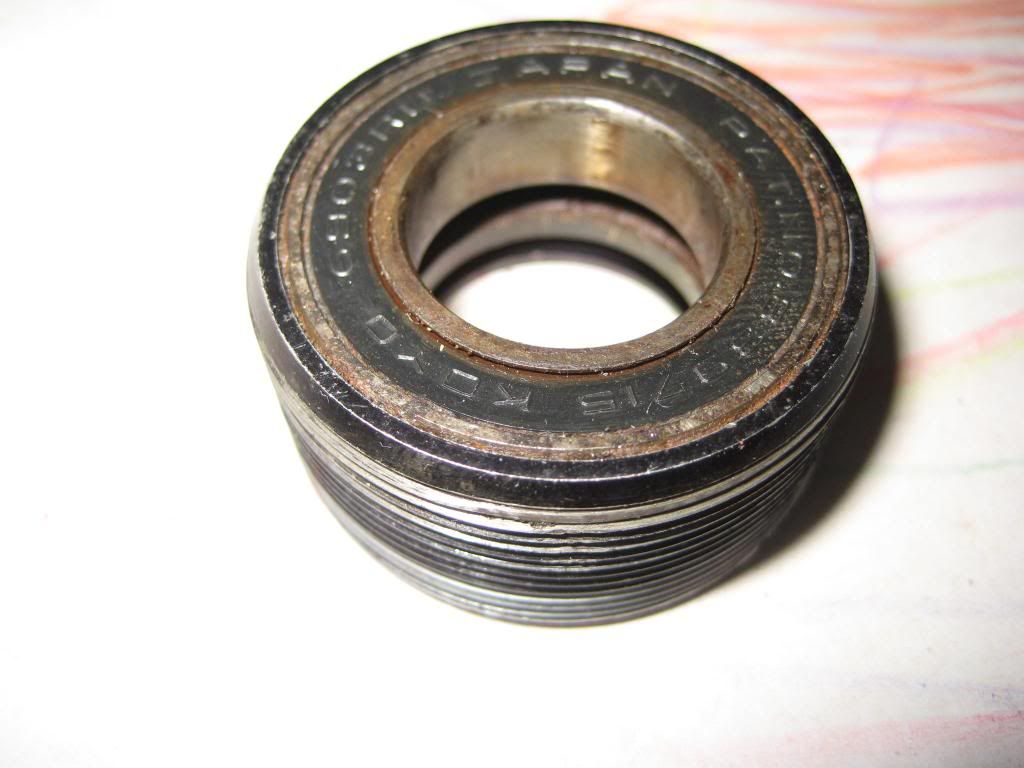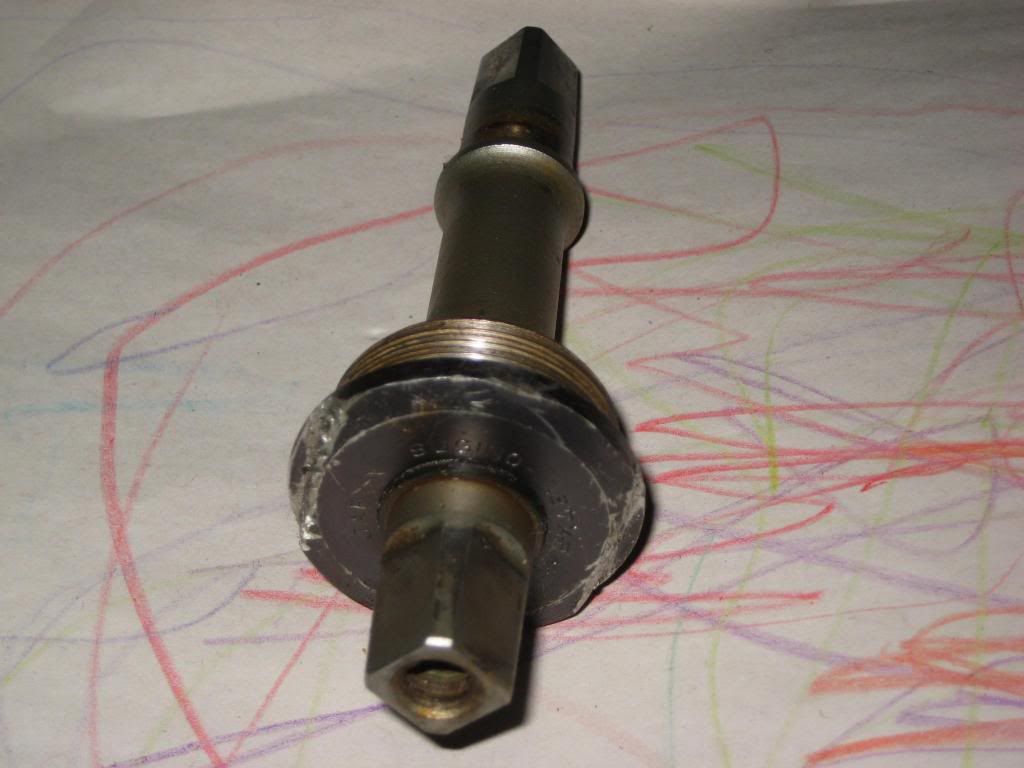 Re: Tange sealed euro bb??
Anybody know???
Member
From: United Kingdom
Registered: 2012-10-02
Re: Tange sealed euro bb??
Looks like they have been added to a normal type BB. If you look on the axle, you know where you push the bearing on.. Where it stops, is it flat so the bearing fits flush against it, or curved so a loose bearing race runs round it? A side view of the axle would help, its hard to tell from the angles shown.
---
Aren't you too big for that?
Re: Tange sealed euro bb??
Its flat not rounded, i guess it was sealed from the begining. I should have thought about that, it would have answered the first question. Now if i can just get it apart and cleaned...Thanks!
Re: Tange sealed euro bb??
Hello, anyone have one of these?? help
Re: Tange sealed euro bb??
To remove it I would spray somehting like Kroil around the spindle, both sides, let it seep in for a bit. Place the spindle on a 2x4, etc. bearing down and use a punch, big flat blade screwdrive etc. and hammer and tap around the bearing cup to drive it off. Just keep going around and around and tapping, it'll come off.
Re: Tange sealed euro bb??
What about getting the bearings out of the cups? I managed to get the bearing pushed flush to the edge. I cant lay it flat(bearing side down) and hammer. I need something that the outside edge of the cup will rest against but also have an open spot for the bearing to fall through. This is difficult to explain really. Basically if i lay it flat on the table and hammer on the socket, the table will prevent the bearing from coming out.

Would anyone recommend screwing the cup all the way back in the bottom bracket and then hammer out the bearing with the socket that will fit? Thats the only thing that i can think of but i dont want to ruin the threads inside the bb, im on damage control here. Someone has to have done this before.
Re: Tange sealed euro bb??
I have removed a couple bad crank bearing on a couple MTN bikes just like you said. With the cup in the frame I use a big punch in the center of the bearing to drive it out, frame tube is larger than the bearing. The punch is tapered so it is bigger than the ID of the bearing. Most of the time the bearing will be wedged on the punch, unscrew the cup, slide it off the punch and just put the punch on the ground and tap the bearing off. Might not be the best way to do it but I haven't damaged anything yet. Make sure you soak it with Kroil etc before tring to get it out,
Re: Tange sealed euro bb??
Ten four, i figured that would be the only way, thanks for your time jr!!
Re: Tange sealed euro bb??
Re: Tange sealed euro bb??
Man are these things rare as hens teeth or what? I cannot find a single set up like this on here or google?? I considered some new cups instead of filing these straight, i was gonna repack the bearings....maybe i will salvage these since im sure the loose ball cubs will look different on the inside, i assume anyway. Would be nice to kinow someone else in this world has these...
Re: Tange sealed euro bb??
Anyone know a spot to get some replacement bearings, maybe even locally?? When i google it finding a lot of bearings ending in different letters. 6903 RU is the bearing type. I wanted to re-pack them but one happened to be trashed. Any help would be awesome, thanks!!
Re: Tange sealed euro bb??
I have bought a lot of misc bearings from a place around here called Motion Industries, they can get about anything. All the farmers buy bearings of every type from them, give them the number off the bearing and they'll find it. I have bought transmission bearings, little dinky RC bearing, U-joints, you name it.