+++ Cheap DIY PVC Bicycle Show Stand +++ (Bicycle Must Have Pegs)
Intermediate
From: Louisville, KY
Signed up: 2009-04-22

Offline
+++ Cheap DIY PVC Bicycle Show Stand +++ (Bicycle Must Have Pegs)
Hey whats up guys? Yesterday I was on the hunt for a "Cheap DIY PVC Bicycle Stand" not a repair stand but simply just a stand to hold the bike up at a show, in the garage or somewhere to take photos. A fellow member here at the Museum showed me a stand that he had made and I immediately knew that what he built was exactly what I was looking for. I decided to take a stab at it last night and made three of them. During the process I took detailed pictures and notes on how to build it in hope that he would allow me to make a guide to building this so other collectors and enthusiast would have the information at hand. I messaged him and he was all for it, that's why I'm posting this info. The member that all the credit for this stand goes to XJguy, I really appreciate the help yesterday and I know everyone here will also be very appreciative.
One thing to note is that your bike MUST HAVE PEGS for this type of stand to work, it also allows you to spin the rear wheel while on the stand (which I think can come in handy one day)
From one piece of 10' PCV you will have enough to make 2 stands for under $9.00 at Lowes (excluding PVC cement).
What you will need:
1 - 10' piece of 3/4 PVC pipe (this is enough for 2 stands)
8 - 3/4 slip tee's (this is enough for 2 stands)
8 - 3/4 slip elbow's (this is enough for 2 stands)
Tools you will need:
Tape measure
Pen or pencil
PVC pipe cutter
Hacksaw
Step 1:
Cut your 3/4 PVC into the correct lengths using the PVC pipe cutter.
2 - 8-1/2"
2 - 7"
4 - 5-1/2"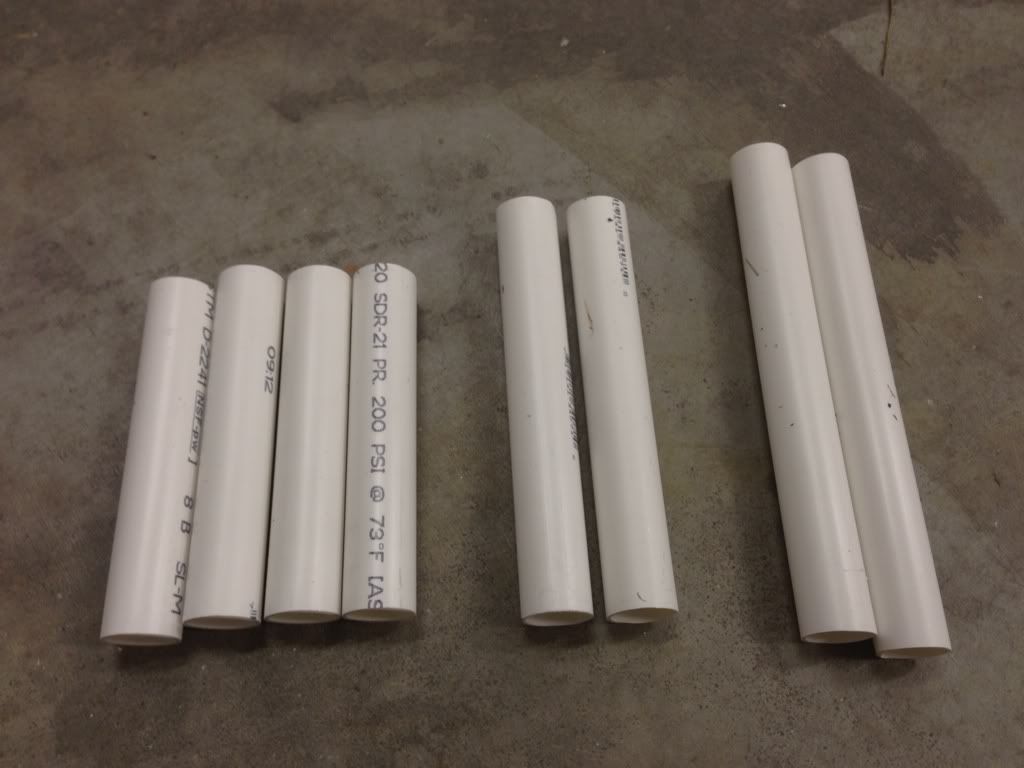 Step 2:
You will need to take and cut 2 of the tee's like so using the hacksaw.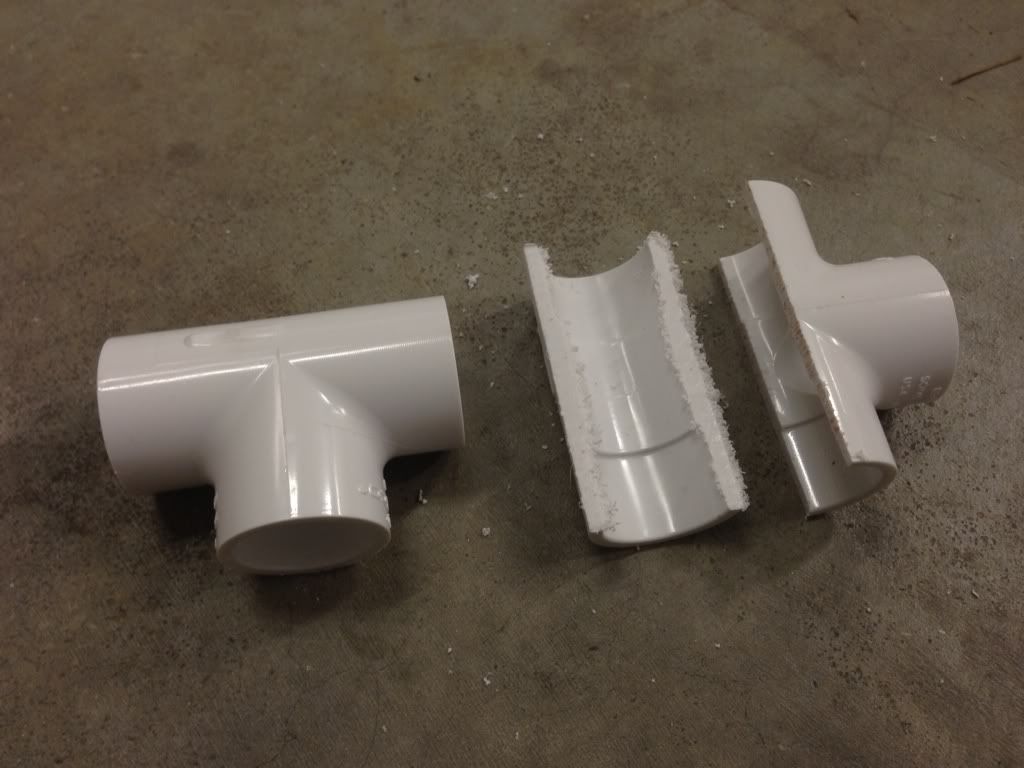 Step 3:
Take the uncut tee's and and insert the 5-1/2" PVC into each end like so.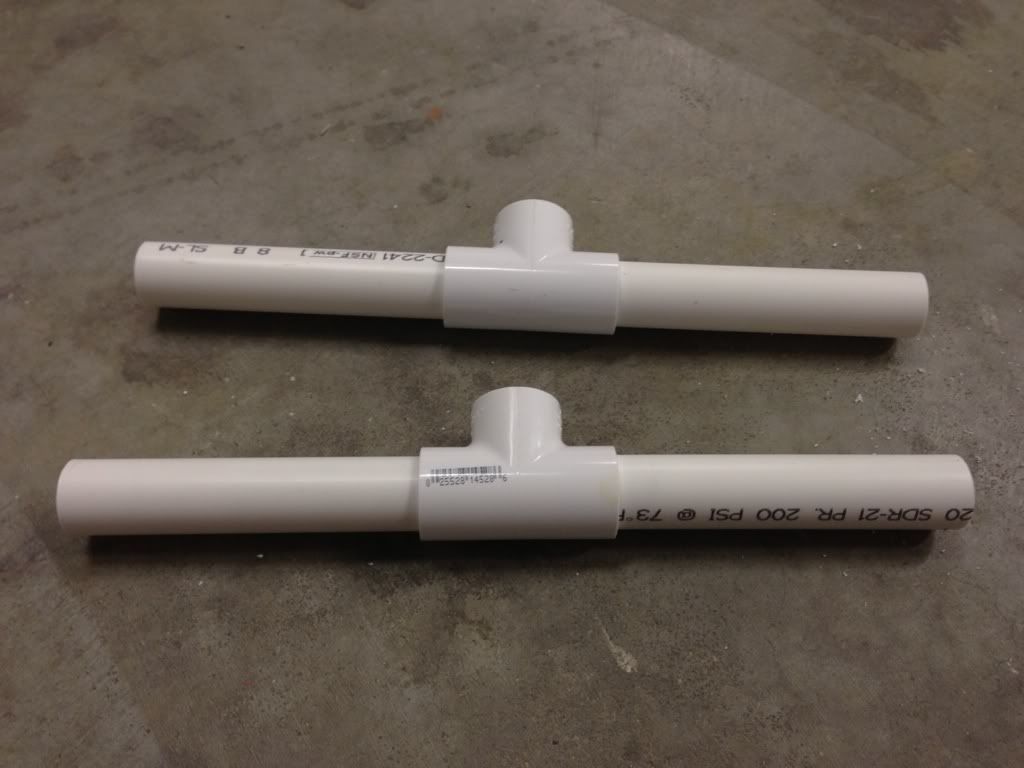 Step 4:
Take the 4 elbow's and side them on the other end of the 5-12" PVC like so.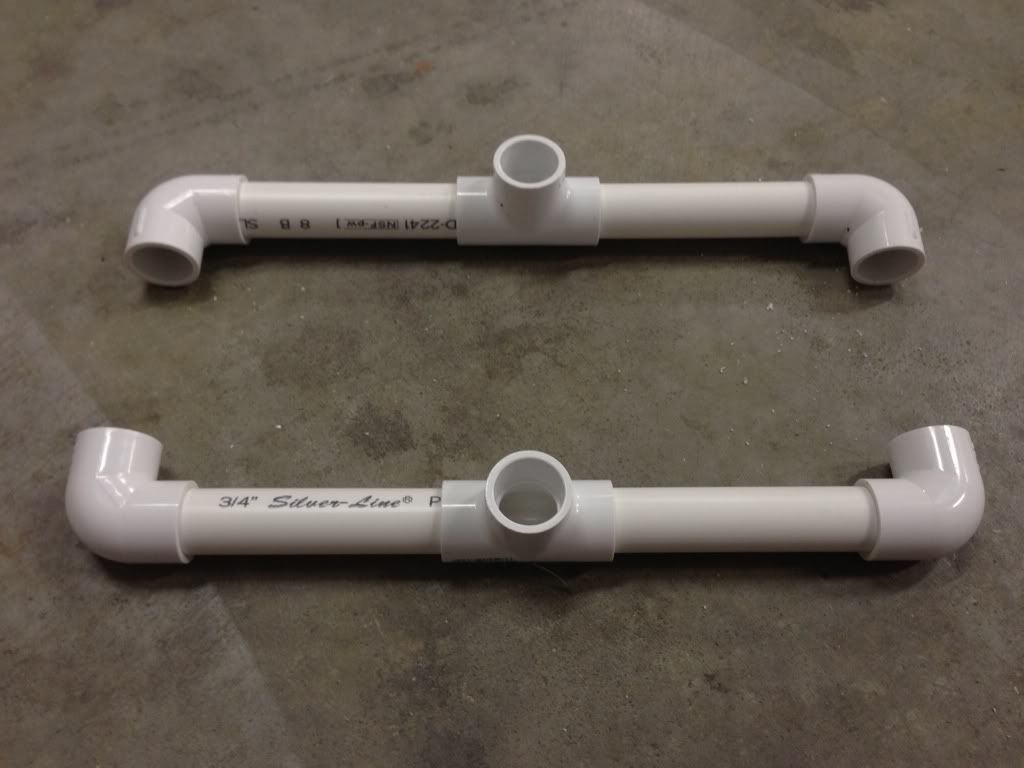 Step 5:
Insert the two 7" PVC into the other end of the elbows on one of the completed sides like so.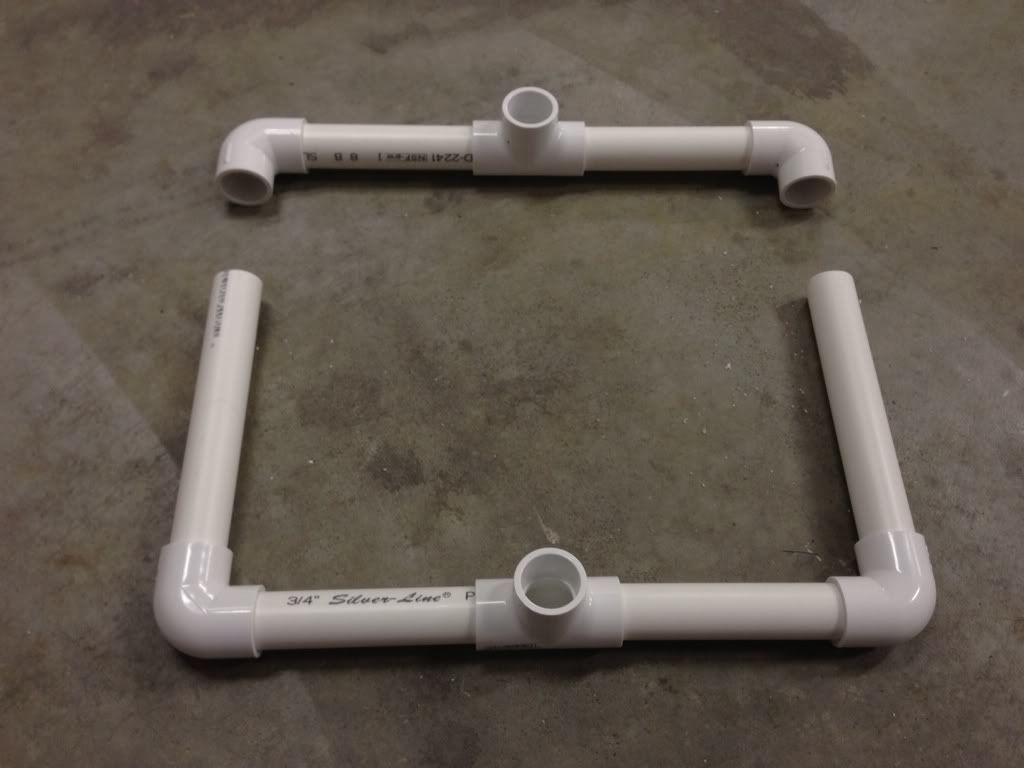 Step 6:
Attach the other completed side onto the other ends of the 7" PVC like so.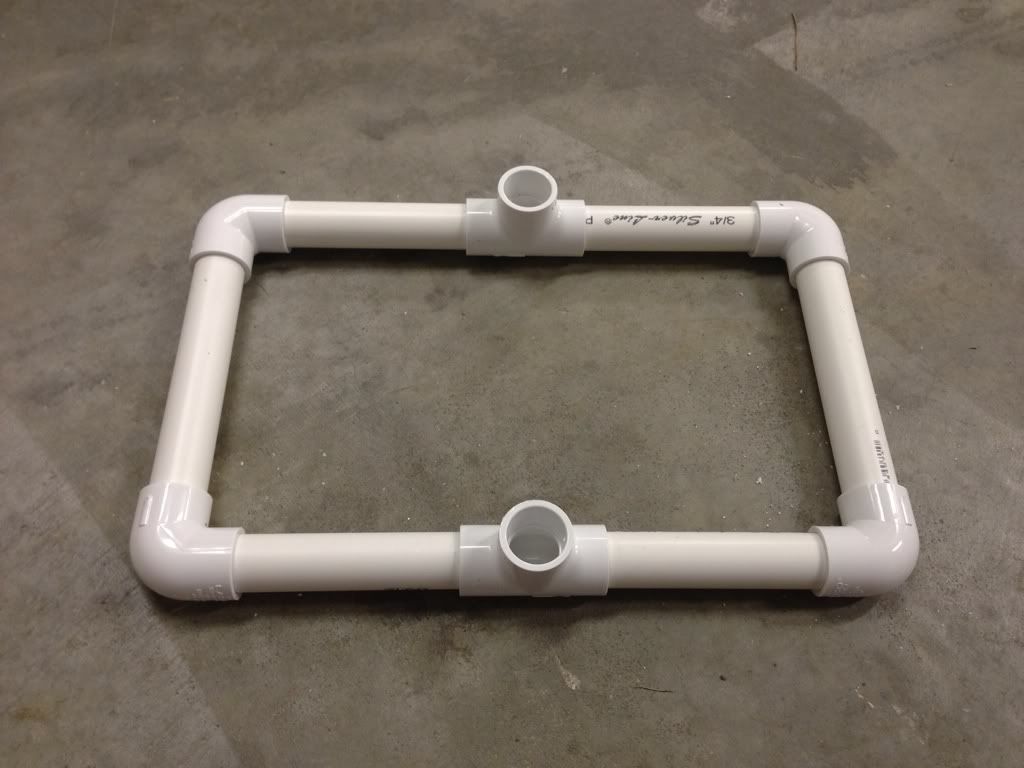 Step 7:
Insert the two 8-1/2" PVC into the open spot on the top of the tee's like so.
Step 8:
Take the 2 tee's that you cut in half earlier and attach those to the top of the 8-1/2" PVC like so. (this will hold the bicycle pegs up enough to spin freely).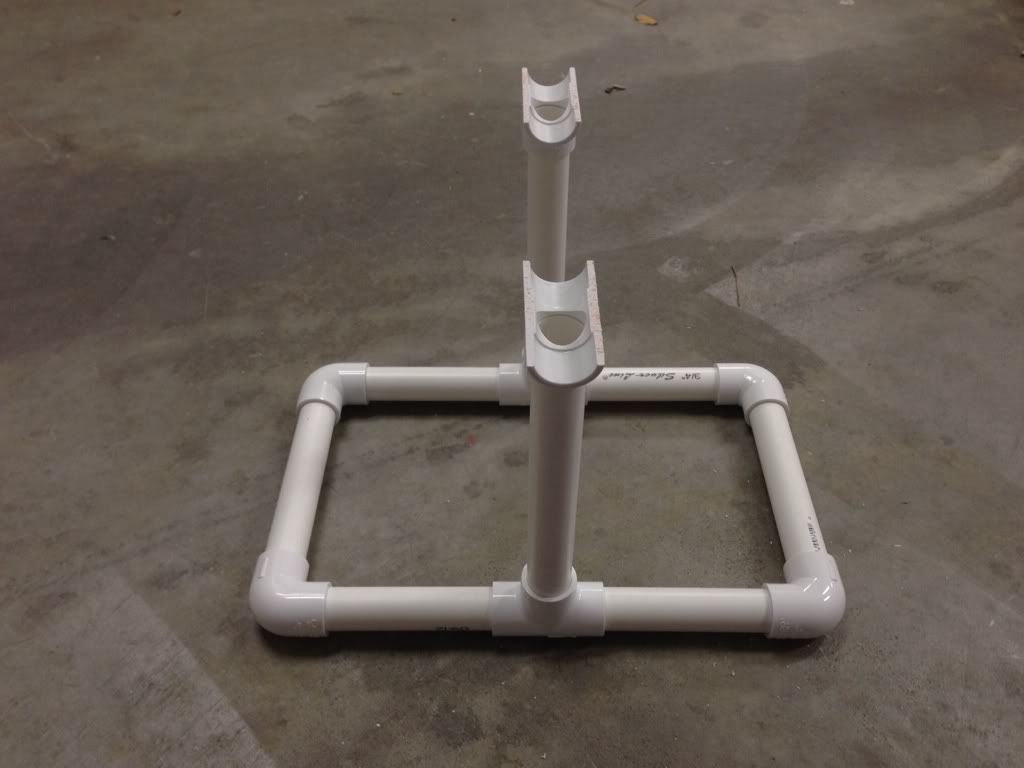 Step 9:
I would suggest to test fit everything like I have done before you attempt to cement everything together.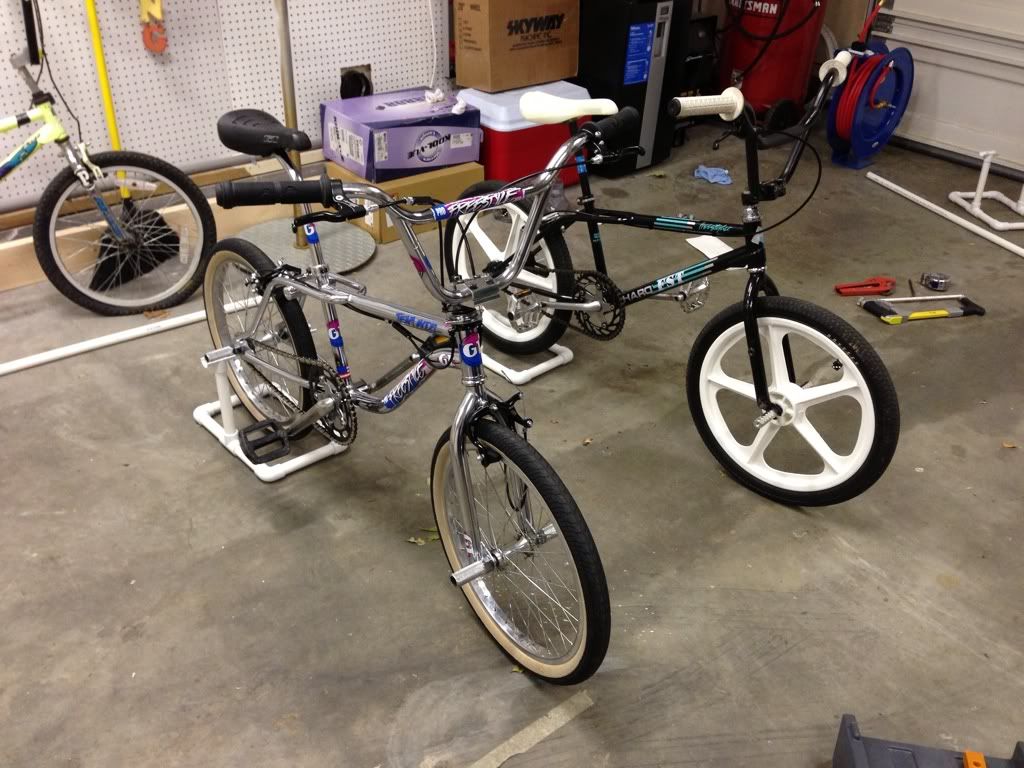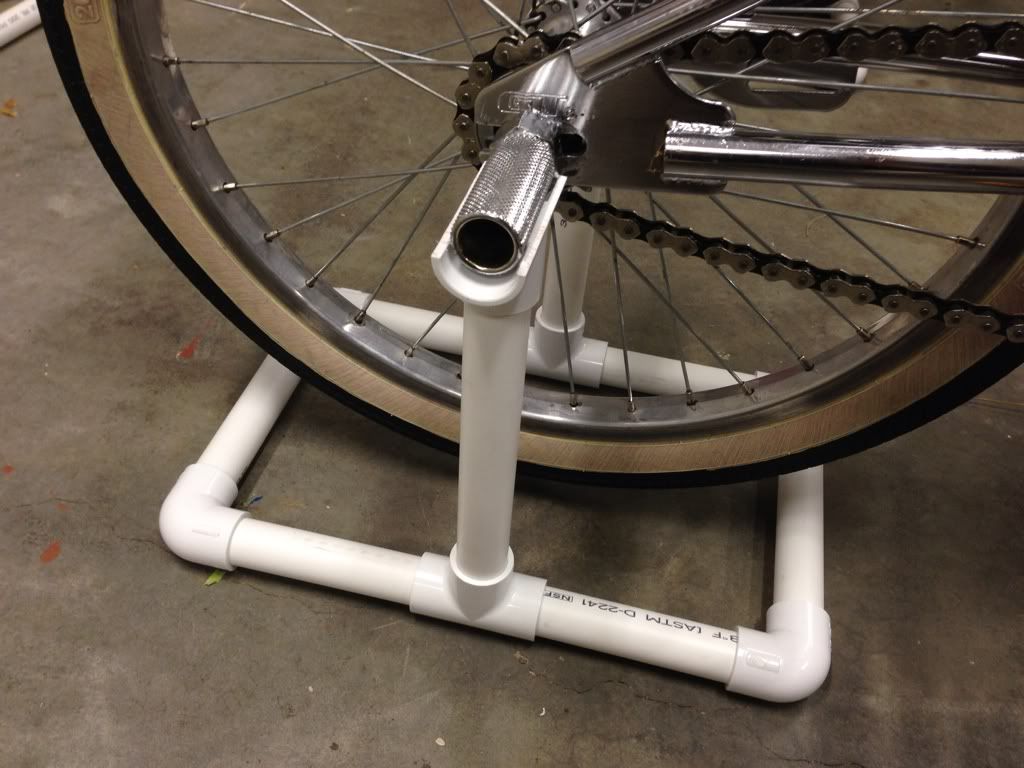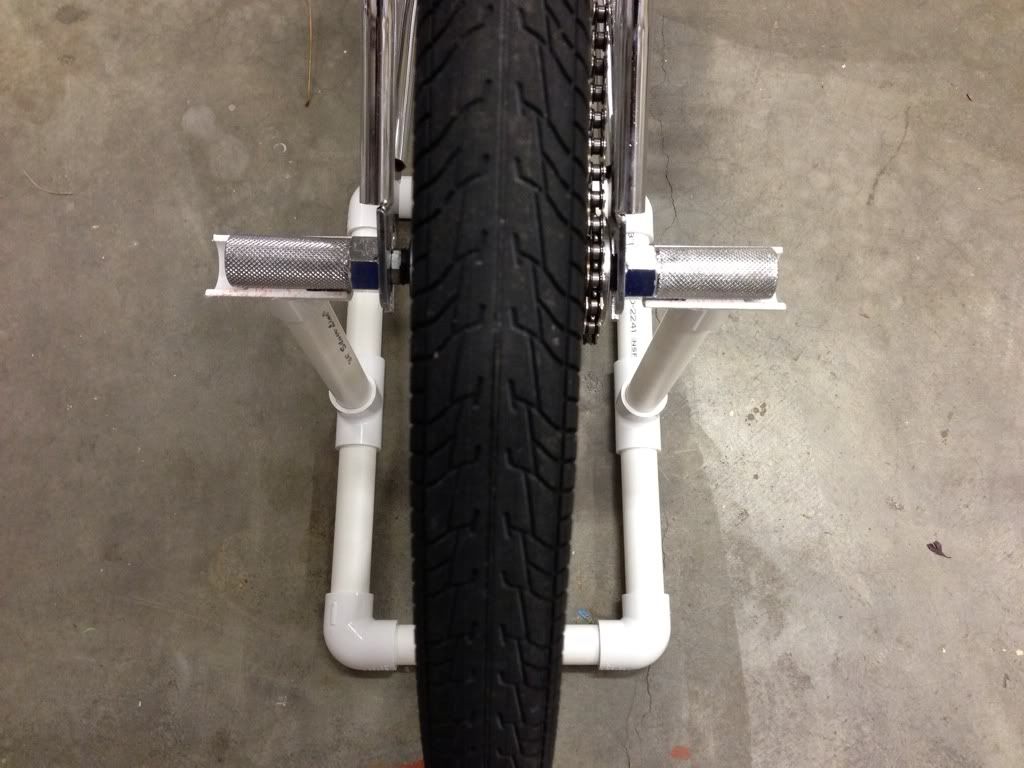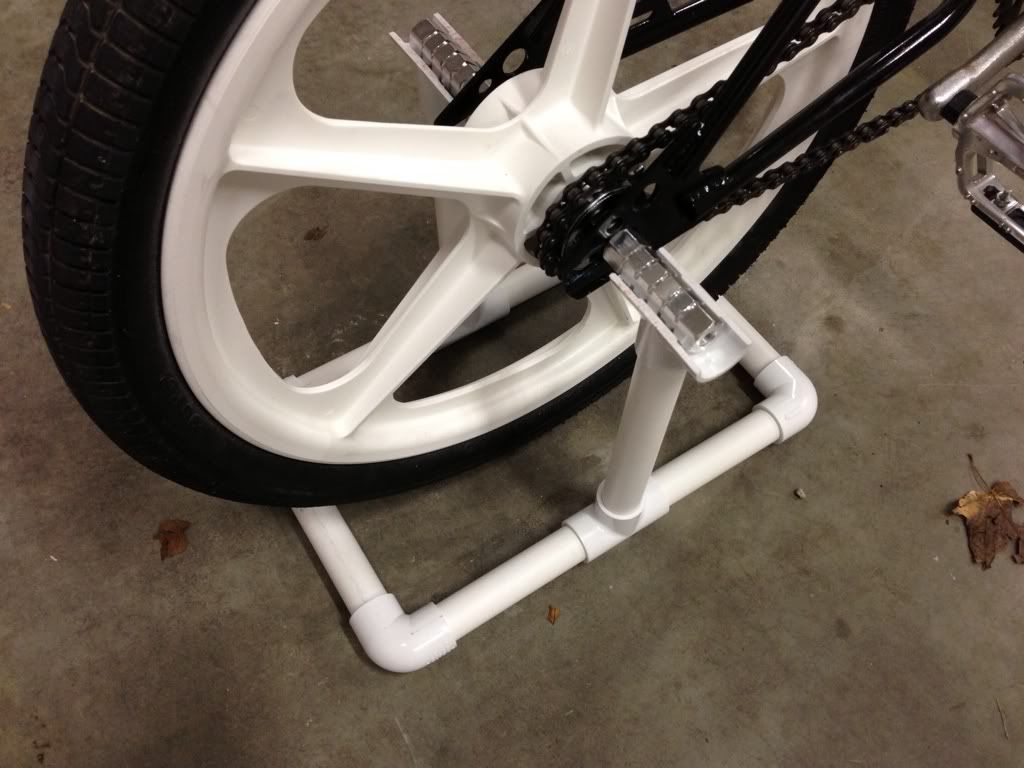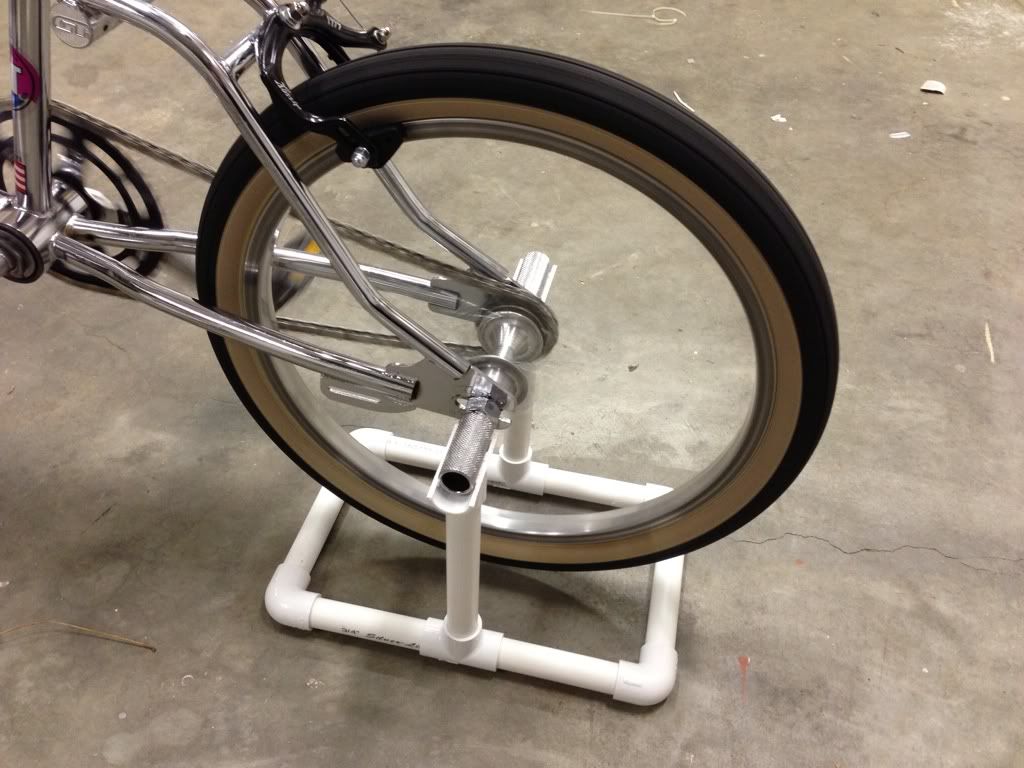 Here is a short video clip showing that the rear wheel will spin freely.
Step 10:
After you know everything is working and fits together like it should I would recommend cementing the PVC pipes together using this product right here, this can be bought in the same isle as the PVC piping.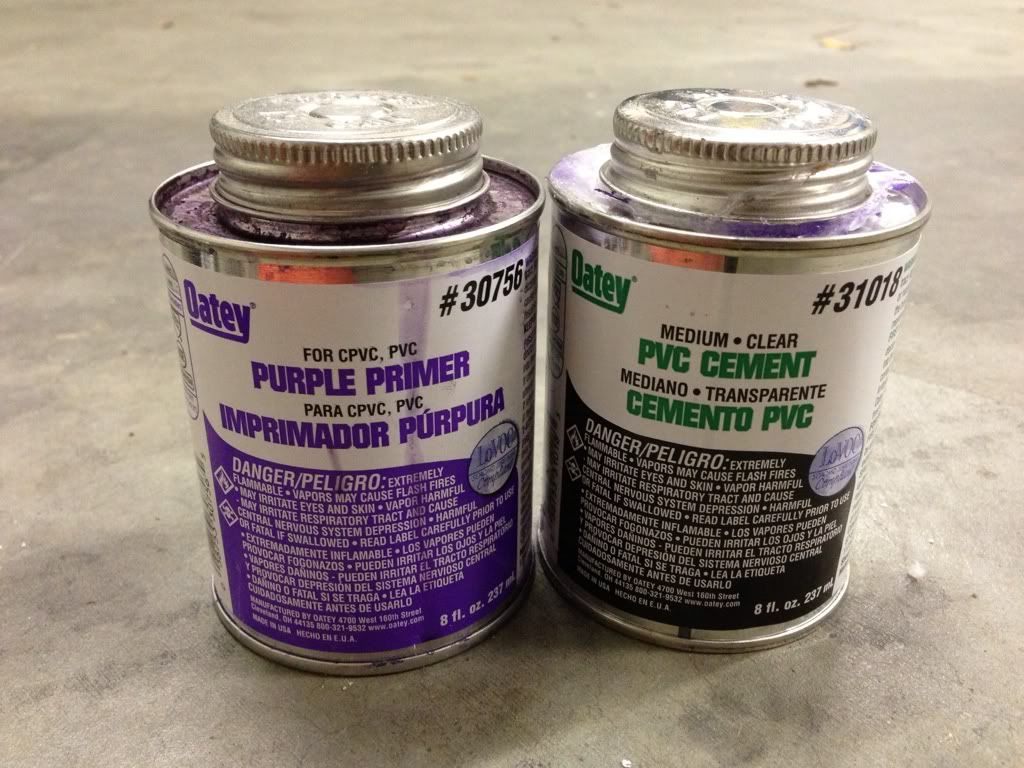 You can do it two ways, one is cement everything or leaving the PVC to the pegs removable for easy storage like so.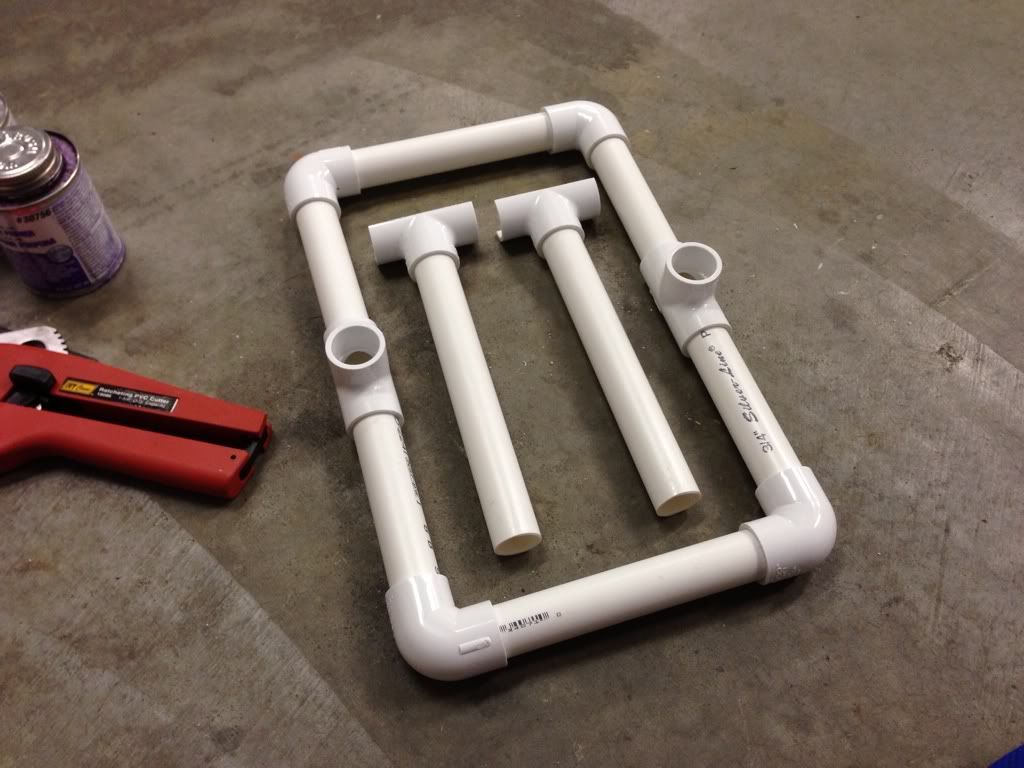 Step 11: (optional)
I'f you are building this stand for a show or to take photos then I would suggest painting it. like XJguy has done with the original stands below.
Again, I would like to give all credit to XJguy for showing me what he has built and allowing me to post this detailed guide for all to see that might be interested in building one for themselves.
I hope this guide was helpful and easy to follow.
Curtis Pivot
I just received another tip for people that run larger pegs from XJguy.
XJguy wrote:

BTW if you have very fat pegs, you can do one of two things.  Using a heat gun or maybe even an oven heat the piece the peg rests on until it softens, force peg into part and let it cool, air or under cold water.   Or you can buy larger diameter pipe using adapters.
Last edited by SixFourClownin (2012-10-09 9:49am)
---
[img]http://i1117.photobucket.com/albums/k584/SixFourClownin/BMXMuseum87Performer_zps3bbc98ce.jpg[/img]
1993 GT Performer - 1996 GT Vertigo - 1991 GT Performer
1987 Haro FST - 1993 Haro Group 1
Museum Addict
From: Strong Island, NY
Signed up: 2012-06-10
Website

Offline
Re: +++ Cheap DIY PVC Bicycle Show Stand +++ (Bicycle Must Have Pegs)
Excellent write up, and thanks!
---
WTB Bully stem.
WTB Peregrine Super Pros, not pitted.
WTB Kuwahara freestyle stem engraved.
Intermediate
From: Louisville, KY
Signed up: 2009-04-22

Offline
Re: +++ Cheap DIY PVC Bicycle Show Stand +++ (Bicycle Must Have Pegs)
XJguy wrote:

Excellent write up, and thanks!
Thanks man, I appreciate the help yesterday.
---
[img]http://i1117.photobucket.com/albums/k584/SixFourClownin/BMXMuseum87Performer_zps3bbc98ce.jpg[/img]
1993 GT Performer - 1996 GT Vertigo - 1991 GT Performer
1987 Haro FST - 1993 Haro Group 1