1975 BRC Motobike
Museum Newbie
Registered: 2010-07-12
1975 BRC Motobike


1975 BRC Motobike

rare oldschool monoshock

1976 Roadway monoshock Hi, eary 1970's monoshock bmx / old school dragster, similar to the yamaha moto-bike frame, no serial number, it does have stamped where serial number is suppose to be ROLES.......?,

Bike does look fairly similar to the Roadway or the BRC Super MX, if anyone could help me identify who exactly who the actual manufacturer of this bike is, it would be much appreciated

I have updated front shocks with later model shocks and rear shocks are also not original, seat and rear sissy bar also not original I just need some handle bar grips and a new chain and she will be back on the road, very happy with this bike



Expert
Registered: 2006-08-09
Re: 1975 BRC Motobike
diggin the ape hangers......cool ride.
The Mongoose kid
From: Tonawanda, NY
Registered: 2010-11-20
Pro Member

From: Carthage, MO
Registered: 2007-04-20
Re: 1975 BRC Motobike
Cool bike.

Here is at least one factory that made those bikes. They were badged with many different names. (All images from February 1975 Bicycle Journal) Your bike looks like a BRC. I've got one Roadway with the gussets and one without. I also have one that is front suspension only. They are all pretty rough are far back in the build queue.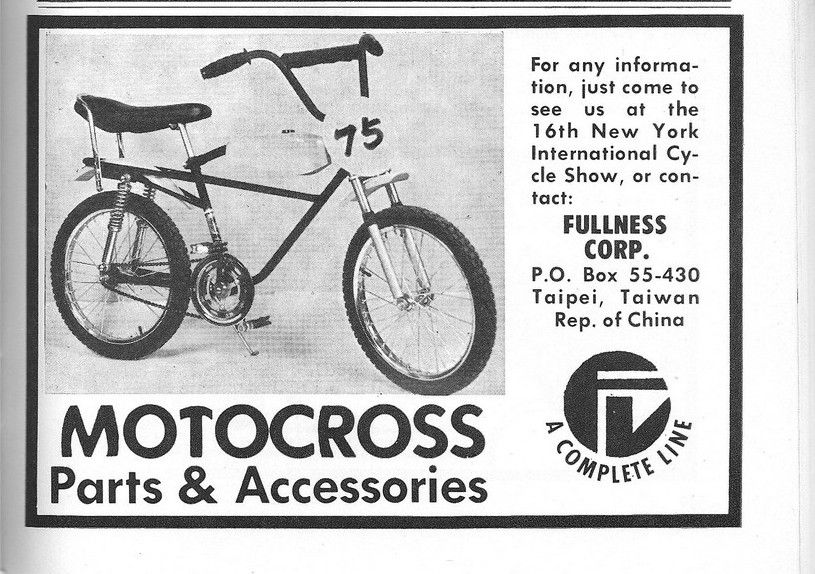 Hard to tell if this is identical but it is pretty close. I would assume that multiple factories made similar bikes.





Are you in Canada by chance?
Last edited by Monster-Robot (2012-07-21 4:05pm)
Pro Member

From: Phoenix, via LI NY
Registered: 2010-12-17
Re: 1975 BRC Motobike
Great bike.

You may not want to call it a "Monoshock". Mono means one (single shock).

The mono shock bikes of the 70's had one shock under the top tube.
---
Be good to eachother!!
Pro Member

From: NJ
Registered: 2008-06-23
Re: 1975 BRC Motobike
I had a Roadway as a kid..what a piece of crap...hated that thing...
---
I so miss REAL BMX....