1982 Kuwahara KY-1
Pro Member

From: Port Allen, LA
Registered: 2011-06-25
1982 Kuwahara KY-1


1982 Kuwahara KY-1

The rare Kuwahara KY-1 chromoly frame. ( a complete survivor with its original chrome & decals, and all its parts.

FRAME : Kuwahara KYZ
FORKS : Kuwahara
BARS : Win
STEM: Win
GRIPS : O.G.K.
WHEELS :Araya 7-C
HUBS : S.I.W. ( Japan )
TIRES : IRC Kuwahara label
CRANKS : Sugino 1982 178mm
CHAINRING : Sugino
PEDAL : KKT Rat traps
SEAT POST : Fluted alloy
SEAT : Elina E.T.
BRAKES : Dia compe 890
LEVERS : Dia compe Tech 2






Pro Member

Redline Pinoy

From: Houston/Katy,TX
Registered: 2009-05-19
Re: 1982 Kuwahara KY-1
Very nice !!! Bling bling
Pro Member

From: Port Allen, LA
Registered: 2011-06-25
Re: 1982 Kuwahara KY-1
Last edited by red stick (2012-08-23 9:13pm)
Pro Member

From: Port Allen, LA
Registered: 2011-06-25
Re: 1982 Kuwahara KY-1
The KYZ, looks like the E.T. looptail. KY-1 is a little taller and has a more raked back seat tube, and steer tube
Member
Registered: 2011-04-19
Re: 1982 Kuwahara KY-1
May I know what the difference between ky1&kyz..
Thank you
Pro Member

From: Santo Domingo, DR
Registered: 2007-02-08
Re: 1982 Kuwahara KY-1
wow hadnt seen one of these in a while! a neighbor sold me one of these in 1986, for like the equivalent to 20 bucks. rode it for a while, and then traded it in for an 85 cw california, which I should'nt have, since the geometry sucked. pretty cool kuwie. mine was just like yours with the regular gusset, not the one in the catalog pic. although the overall shape was very similar to the KZ, the geometry was totally different, more akin to a race inc frame, with really mellow head tube angle, and really tall top tube/seat tube junction, with a mellower seat tube angle as well, it was also a tad lighter from what I remember.
Pro Member

From: Santo Domingo, DR
Registered: 2007-02-08
Re: 1982 Kuwahara KY-1
I knew I had a pic somewhere, check it out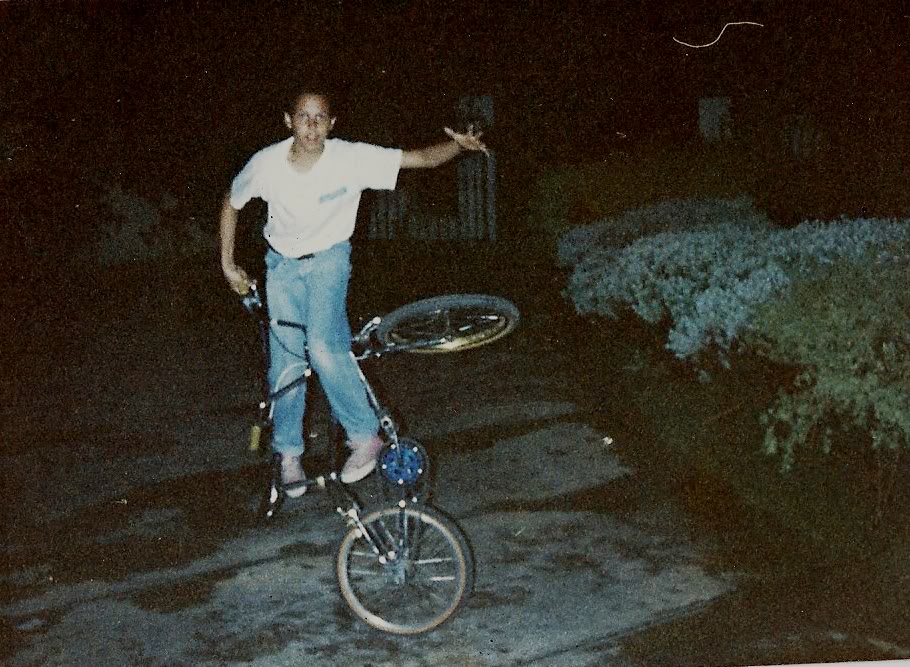 Pro Member

From: Lexington, KY
Registered: 2011-03-05
Re: 1982 Kuwahara KY-1
Outstanding..........................
Pro Member

Retired ODSY HRDR

From: North Cackalacky
Registered: 2011-09-25
Re: 1982 Kuwahara KY-1
that bike did more than survive, it thrived.


nice specimine.
---
44t BMX Club - NC Chapter

"Two hundred years of American technology has unwittingly created a massive cement playground of unlimited potential. But it was the the minds of 11 year olds that could see that potential."
Craig Stecyk - Skateboarder Magazine - 1975