1978 Rampar R11 400X Cro Mo 3T
Expert
From: Topeka, KS
Signed up: 2010-01-07

Offline
1978 Rampar R11 400X Cro Mo 3T
1978 Rampar R11 400X Cro Mo 3T
Twins shall not be separated!!
I was on my way to K.C. to check out a chrome Murray something I saw on CL. I was there for about 20 minutes looking over this pretty nice Murray getting ready to shell out $50 when I just noticed a couple of bikes pushed against the wall. Double take to notice they were identical Rampar looptails. Had to ask if they were for sale and "Shirley Pimples" they were and I got em'. Left the Murray behind raced outta town! One owner bought new, they say in 1980, for two boys on X-Mas. Everything is OG but the tires on one bike. The other still has the KIK SUPER MX-8 tires. Both have Tuff II's (one Tuff not stamped). Serial # are 1316 apart from each other. Not sure if I want to do anything to these maybe decals someday. Sure glad I went to view the Murray
---
I should diet becuz I can't see my thing.
Looking for a '79 or '80 Redline MXII with the common crack on the back of the seat mast
Pro Member

From: Inglewood, CA
Signed up: 2010-12-10

Offline
Re: 1978 Rampar R11 400X Cro Mo 3T
I grew up with twins and you can't seperate them even if you want to.
---
I don't sell to these members: ShaneHill ; Kennetho
Please be AWARE of these members!!
You know "EXACTLY " what you did.
Just a waste of time.
Museum Addict
From: Massachusetts
Signed up: 2008-08-06

Offline
Re: 1978 Rampar R11 400X Cro Mo 3T
What An AWESOME Story & Find! Many Thanks For Sharing! Never Split Them Up!
---
"Semper Fidelis!"
"Home Of The Free, Because Of The Brave!"
"Always Say You Did Rather Than You Wish You Had!"
Freestylin' In Fitchburg, MA & Racing At The Former Lakeview BMX Race Track In Lunenburg, MA In The '80's
Centurion Member
From: Leeds, United Kingdom
Signed up: 2007-02-09

Offline
Re: 1978 Rampar R11 400X Cro Mo 3T
That is an awesome find. These are lovely bikes

The bikes are Rampar R11's the 400x is the fork type used. a nos one of these finished on the bay recently i saved the pics, here they are.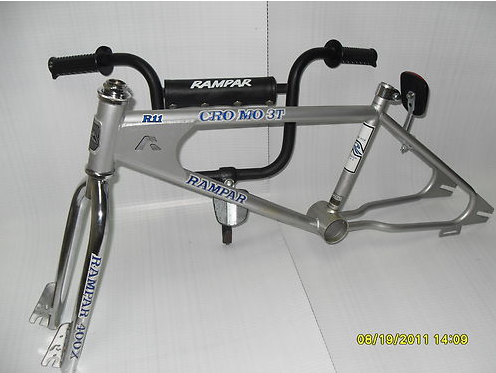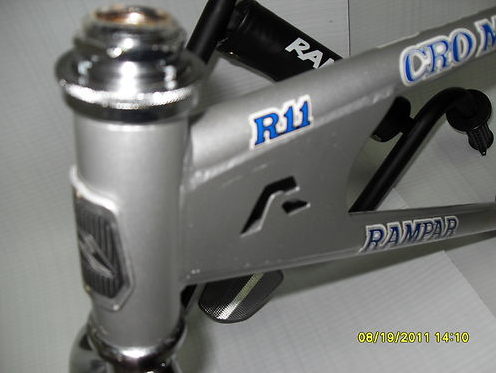 Last edited by glynnyboy (2011-08-25 9:11am)
BMXer 4 Life
From: S. Paterson, NJ
Signed up: 2008-07-15

Offline
Re: 1978 Rampar R11 400X Cro Mo 3T
Just incredible don't do nothing but wipe them down great find!!!!!
---
Everybody sing GOOOOO YANKEES !!! MAH!! COULD WE GET SOME MEATLOAF ??????????
Your gonna wear the shirt of the band your going to see??? DONT BE THAT GUY!!!!!!
R.I.P. Autmn Pasquale 12yrs. old you will not be forgotten. Murderd over BMX parts. UNFORGIVABLE.
Re: 1978 Rampar R11 400X Cro Mo 3T
HI I think I have one of these Rampar R11's Complete barn find what did the one above go for? Did they come in any other colors? Thanks, I will definitely shoot over a pic if someone is interested in seeing it
Pro Member

From: West Des Moines Iowa
Signed up: 2007-07-08

Offline
Re: 1978 Rampar R11 400X Cro Mo 3T
Instant fav.  Sweet find.  Most of them that I have seen have the left fork decal, in my opinion upside down, with the 400 on the bottom.  That must have been how that company did it because of the 2 I have seen in person and the above nos pic it is going the same way.
---
Recycle and Ride
Wanted: RL 20 II, blue shotgun II seat, bars for an 83 haro freestyler, single pinch flights