1992 GT Pro Freestyle Tour
Habitual Line Stepper
From: So Cal
Registered: 2010-10-28
1992 GT Pro Freestyle Tour


1992 GT Pro Freestyle Tour

Chrome & White Beast

What can I say? I love chrome! The chrome on this thing is amazing for it's age. I've been asked many times if this has been rechromed and I'm proud to say that it's original and unmolested. The decals are original as well with a few scrapes, but still in great shape. It's definitely a kneck breaker, especially in the sun.

PARTS LIST:
- GT Pro Freestyle Tour Frame
- GT Pro Freestyle Tour Forks
- GT Pro Freestyle Tour Bars
- GT Polished Gooseneck Stem with Pots Mod Bolt
- GT Adjustable Layback Seat Post
- GT Double Bolt Seat Clamp
- GT Profile 175mm Cranks
- GT Pro Series 43T Chainwheel
- GT Pedals
- GT Seat
- Dia-Compe Tech 5 Levers
- Odyssey Polished Pitbull Brake - Rear
- Odyssey Polished 2000 Brake - Front
- Odyssey Clear Braided Cables
- Odyssey Chrome Gyro
- AME White Grips
- KMC White Chain
- Tioga Bear Trap II Head Set
- Weinnman Zac Hoops with GT Mohawk 48 sealed hubs
- Duro Comp ST 20 x 1.75 Freestyle Tires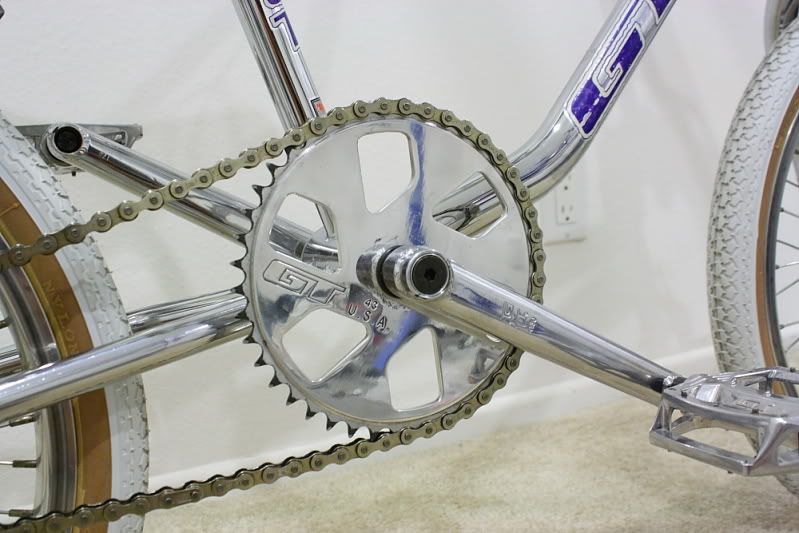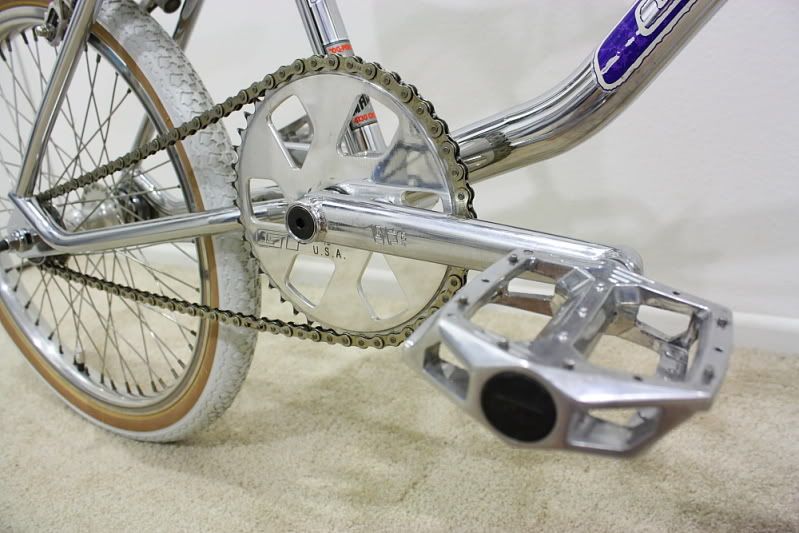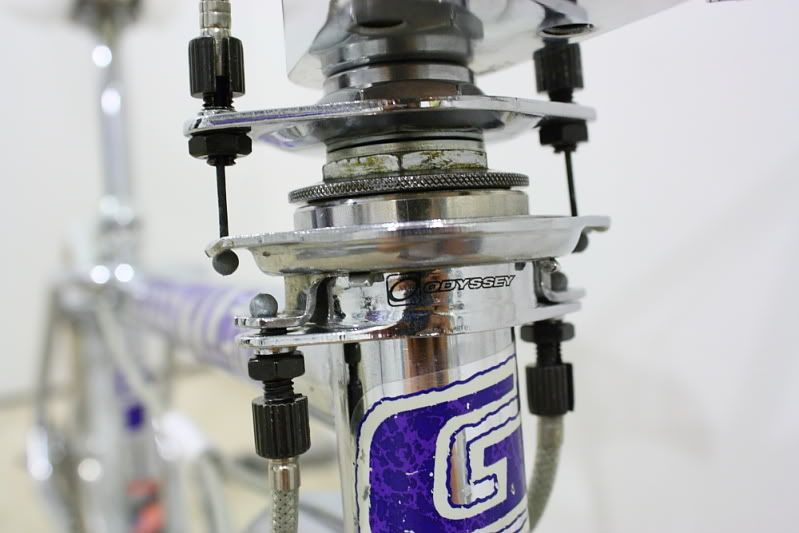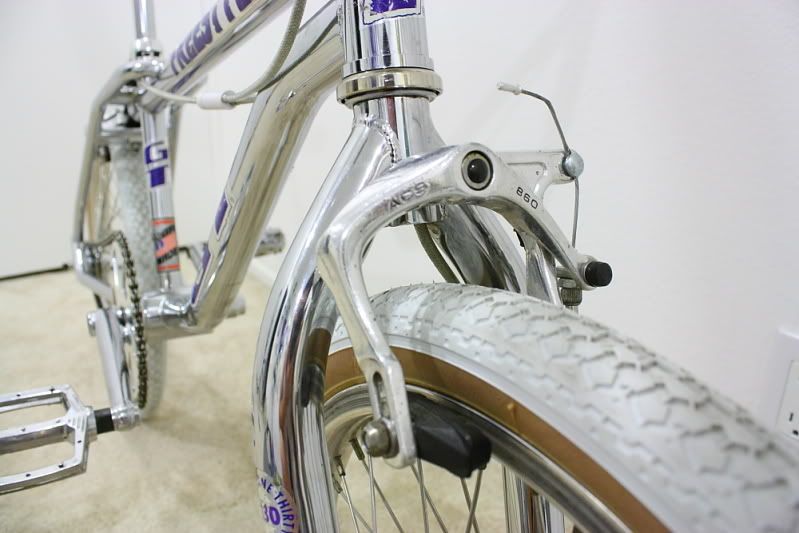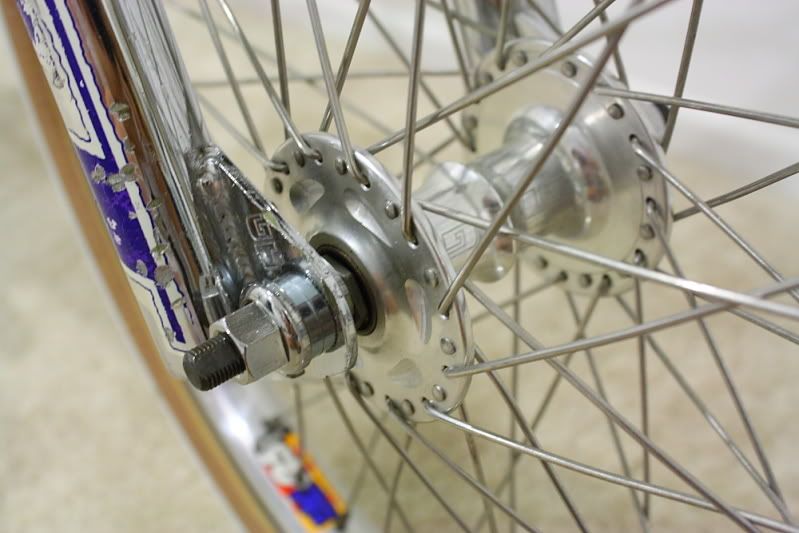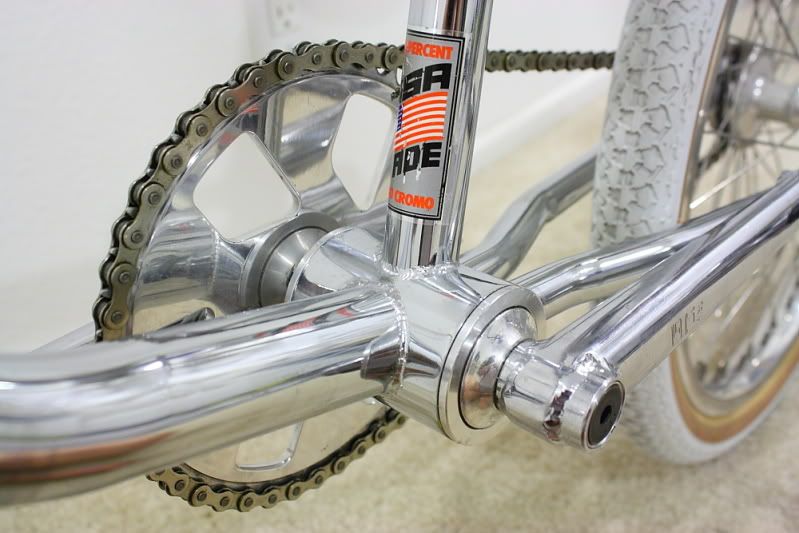 #labeachride
From: Long Beach, CA
Registered: 2010-05-28
Re: 1992 GT Pro Freestyle Tour
Seen this beauty in person, bling bling baby!
---
Midschool's cool fool

Wanted: Redline bubble font 39t
Museum Addict
From: The Peach State
Registered: 2009-06-06
Re: 1992 GT Pro Freestyle Tour
Very bling and very cool. Are you planning on putting decals on it?
---
Cool, a new bike. Wait a minute.......where am I going to hide this one. She's going to catch me...

Wanted: 90 Holmes f/f decals, Odyssey parts in vapor blue
Habitual Line Stepper
From: So Cal
Registered: 2010-10-28
Re: 1992 GT Pro Freestyle Tour
Thanks for the comments guys. Originally I was going to put decals on it, but I couldn't find the correct year decals for it. For now I think I'm just going to keep it clean like this.
Member
Registered: 2006-06-12
Re: 1992 GT Pro Freestyle Tour
damn that thing is CLEAN. love'in the chrome and white!
---
you want someone to talk to, well i'm your man, i've seen it all, and i know where you live.
Pro Member

Bars Before Bras

From: Long Beach, CA
Registered: 2008-09-17
Re: 1992 GT Pro Freestyle Tour
Very nice bro!! looks almost the same..u got the freestyle i got the race!!


we have to put them together and get some pics!
---
90s GT Crazy. Let me know if you have anything. Bars before bras.
Pro Member

Day-Glo Dynamo

From: Wisconsin
Registered: 2006-08-08
Re: 1992 GT Pro Freestyle Tour
very nice.
---
WTB: 1992/1993/1994 GT Pro Freestyle Tour
1995 Performer black light F/F
1996 Performer red splatter F/F
1992 Yellow GT Performer
1992 Dyno Slammer
Nature boy
From: Biloxi, MS
Registered: 2008-05-24
Re: 1992 GT Pro Freestyle Tour
sickness!!!!!, wouldnt change a thing
Museum Newbie
From: NJ
Registered: 2011-10-27
Re: 1992 GT Pro Freestyle Tour
I just joined this forum today because I found my 93 PFT team model in my basement. its all original less the decals and some new tires i put on it today.. is this bike worth anything? i am the only & original owner, and it is in really nice condition as far as rust goes, there is verry little surface rust that seems to just scratch off. I rode it back in the day, so there are some signs of wear but it looks really nice. Thanks.
Moderator

The Gate Keeper

From: North of Reality
Registered: 2007-09-23
Re: 1992 GT Pro Freestyle Tour
hmm, too bad you couldn't find chrome tires, seat and grips.
---
My Father once spoke to me and said "The way you look at your bike is the way I see My children, I look past the imperfections and rough surfaces to the beauty of the finished product."