1993 Redline RL 540
Intermediate
From: Brazil
Signed up: 2010-03-29

Offline
1993 Redline RL 540
1993 Redline RL 540
MY 1993 RL 540 MX2 WANNABE!!
bmx practice in Brazil since the '80s, today I have 40 years and am still addicted to this sport and I have a few bikes that have marked the sport in Brazil
never forget the day I saw a young American rider riding on a brazilian track with a redline mx2
these  days was saved in my  memory and  believe in all youths who were on the track and knew that it really was an impossible dream
on my birthday of 38 years I got this from a friend in Miami  a 1993 redline rl 540 f/f  and decided to return to past  and build  a replica of an mx2 as I dreamed  for all of  these years
i choose the colors and start my project
all parts come from ebay and from many members here and i really appreciate the people whi help me.
i did a new ano in all parts and i choose the gold/irange color with red and white
the plate as a gift from one friend
he use to race in 80s and found these plate cutted in two pieces and i did my best to keep the memory
thanks
1993 redline rl 540 frame and fork
sugino super maxy cranks
sugino bmx 44
mks pedals
araya 7c rims
sunshine gyromaster hubs
suntour bmx 16 teeths freewheel
union tires 20x2.125
redline brute stem
win handlebars
oakley grips
dia compe tech 2 lever
lee chi caliper with all dia compe hardware
selle italia seat
thanks for looking
Intermediate
From: Brazil
Signed up: 2010-03-29

Offline
Re: 1993 Redline RL 540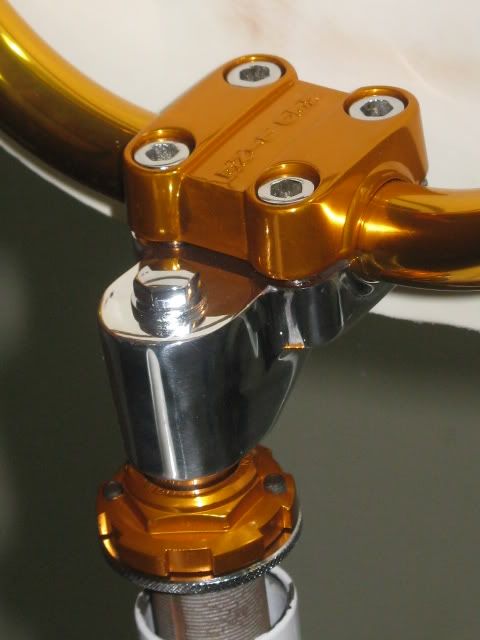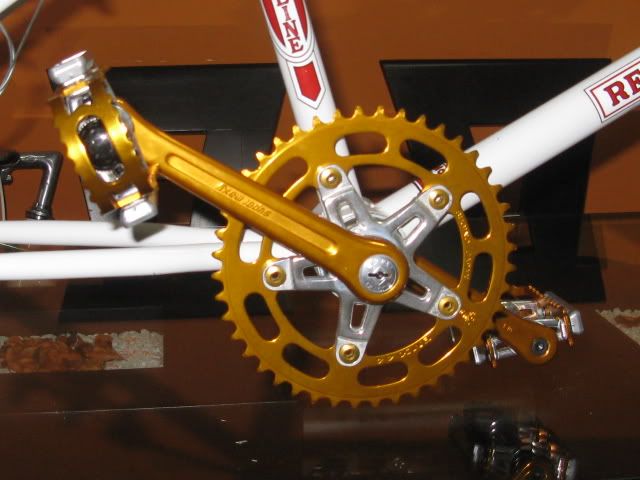 Last edited by brazilianrad (2010-09-15 11:24am)
Pro Member

Mike Hunt

From: The Upper Cumberland Plateau
Signed up: 2009-03-09
Website

Offline
"Mr.Skittles"
From: Canton, MI
Signed up: 2009-05-09

Offline
Re: 1993 Redline RL 540
kinda odd to see , im diggin the old school /mid school look

at least youll never see one like it "in brazill" especially . nice job .
---
I part out all my mongoose. any and all . 1983-1987 its all I buy its all I sell . I have more than ill ever need ,
my kids ride the dented stuff ..." for free " you buy the goods cheep . ive assembeled more than 30 geese to og condition
it sucks parts are hard to find , but semi completes aren't hard to find at all . if I buy your ride it will be parted w/o remorse .
but it will come back in pieces , and possibly become part of a complete ....
BMXer 4 Life
From: S. Paterson, NJ
Signed up: 2008-07-15

Offline
Re: 1993 Redline RL 540
Just amaising perfect RL.
---
Everybody sing GOOOOO YANKEES !!! MAH!! COULD WE GET SOME MEATLOAF ??????????
Your gonna wear the shirt of the band your going to see??? DONT BE THAT GUY!!!!!!
R.I.P. Autmn Pasquale 12yrs. old you will not be forgotten. Murderd over BMX parts. UNFORGIVABLE.
Member
From: JABOTICABAL - BRAZIL
Signed up: 2011-09-18

Offline
Re: 1993 Redline RL 540
Parabéns, linda bike! Sou fá de Redline. Sei como é dificil encontrar bons projetos (quadros e garfos) por aqui. Estou no interior de São Paulo. Tem intenção de montar novos projetos? Podemos trocar algumas idéias e peças. Abraços
---
Brasileiro CaÇador De Old School Americano/brazilian Buyers Of Old School Bmx
Museum Addict
From: Carmel,Indiana
Signed up: 2010-06-22

Offline
Re: 1993 Redline RL 540
Beautiful build. The parts list is amazing. Too sweet!
---
Cancer is not a death sentence. I am living proof.
Needs=82' National Pro Long frame. Want one bad!!!!
Needs=80' Malvern Star Super Max frame and fork
Needs=79' Team Jag or 80' Jag