1982 VDC Made Traker 24"
Price:

$2700.00

Posted

Jun 20 '14

4:19PM PDT

Shipping

Free

Ship

International

Int'l

Yes

Trades OK

Yes

Company

Category

Views

473
Want to knock them dead at Rockford this year?
I never thought I would sell this bike but I need the $. This bike is 1 of less than 10 made and 1 of 2 known to still exist. Made by Vorris Dixon for Traker. It has a very distinct oval top tube that is pierced by the seat tube.
It was in rough shape when I got it and it has been mostly restored. The only things left to do to make it a show winner is to rechrome the frame, fork, seatpost and handlebars, and respoke the wheels.
The bike has most of it`s original parts except for the ones I had to replace. The tires were a guess but they are perfect for the bike IMO. I will provide the new owner with the bike`s history and everything I have done to it. I also will include a NOS sticker set for it.
It does have a small ding in the downtube that was caused by the previous owner carelessly packing the bike before shipping it. You can see it in pic #5. It can be filled with brass before rechroming (which it needs anyway) and will be completely unnoticable when done.
$2700.00 + actual shipping (if out of the USA). I prefer cash and local pick up. Paypal is an option though I would highly prefer cash or a money order.
This bike is likely too big to ship to Australia though I will give it a shot. It would take two boxes and would have to be shipped global express. Contact me for more details.

Parts list:

Traker frame, fork, seatpost, and handlebars
Pro-Neck stem
Suntour headlock
Kashimax Aero seat
Tange seatclamp
Oakley 3 grips
DC MX 1000 brakes
Kool Stop finned brakepads
Araya 7X rims
Campagnolo Record hubs
Cycle Pro Snakebelly skinwall tires
Takagi 175mm cranks
Tuff-Neck sprocket
Pro-Neck powerdisc
Shimano DX pedals





You can see it here (more pics on request):
http://bmxmuseum.com/bikes/traker/23111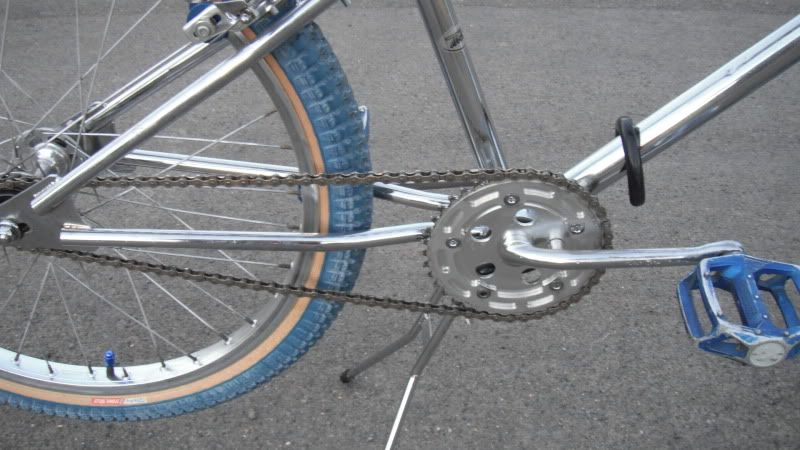 Seller Info
Pro Member

Taste My Metal

From: Portland, OR
Registered: 2006-12-11
Offline
Item sold.