1999 S&M Challenger XL
Please read the Long Description below...
After my 1996 S&M Challenger BMX bike was stolen in the late-1990's, I quit riding trails, got a driver license, and 'grew up'. Now 14 years later, I had earned a Bachelor's degree (civil engineering), a Master's degree (civil and environmental engineering), a beautiful wife (married almost six years), and a steady engineering job, but something was missing...
As some of you already know, I worked down in Southern California (Orange County) from late-2013 through 2014. After talking to my younger brother in early-2014 about the trails that he's been building in Northern California (he's a Pro BMXer), I remembered that Sheep Hills was somewhere in So. Cal. I did a quick internet search that same night and realized that Sheeps was only a few miles from my hotel! I was pretty excited, so the next day after work, I made the 5.4 mile drive to the trails to see what they looked like, and I was blown away!!! There were maybe 15 guys there; some were riding, some were digging and building, and others were watching and filming. Since I didn't have a bike, I talked to the first guy I saw (I later found out that he was the founder and owner of Black Market Bikes), picked up a shovel, and helped him build a new line. I then helped another group of guys build up an existing berm and watered some lips and landings that were dry. After about two weeks of consistent digging (both during my one-hour lunch break and after work), I knew that I needed a chromoly bike to give trail riding another go :) .
I bought this 1999 S&M Challenger XL bike off of a fellow Museum member (SteelRacing) on November 27, 2011. I honestly only wanted his 2002 Standard 125R bike, but after he offered me his Challenger for an additional $200 cash, I had to take it. Since I primarily only collect high-end mid-school aluminum BMX race bikes, this Challenger got very little use and I almost forgot about it. But when I found Sheep Hills and discovered that I wanted to get back on a bike, I took the Challenger out of storage and my brother and I put it back together in early-2014.
Well after driving the bike down to Southern California last weekend (March 8, 2014), I hit my first dirt jump in 14 years on Monday (3/10/2014). After four days of riding, I'm still only hitting very small tabletops and the like, but I'm having an absolute blast! I bought some new Vans shoes and another Bell helmet too ;) .
Parts List
Frame: 1999 S&M Challenger XL (original yellow powercoat)

Fork: Ciari Pro (original yellow powercoat)
Handlebars: S&M Race XLT (chrome, cut to 27" wide)
Stem: Answer Stubbie 2 (anodized black)
Headset: Chris King NoThreadSet (1-1/8", anodized black with silver logo)
Grips: S&M Logo (black)

Bar Ends: Hoffman Nylon (black)


Seat: Haro (Pivotal, white)




Seat Post: ? (25.4mm, Pivotal,black)




Seat Post Clamp: Profile Slim Jim (28.6mm, anodized black)






Crank Arms: Profile Racing (175mm long, chrome plated)






Crank Spindle: Profile GDH Titanium (5-5/8" long)Crank Spindle Bolts: Profile GDH (chromoly)
Crank Bearings: Profile (American)
Chain Wheel: Profile Imperial (42T, anodized black)
Chain: Shimano (silver/gray)
Chain Tensioners: Answer (anodized black)
Pedals: DK Platform (9/16", black)
Front Hub: Profile (36H, high-flange, polished)
Rear Hub: Profile Cassette (36H, high-flange, polished)
Cog: Profile (15T, chromoly)
Rims: Sun Ringle Rhyno Light (36H drilling, pinned joint, double wall construction, aluminum, chrome plated)
Tires:
IRC Siren (Front: 20 x 1.75", Rear: 20 x 2.125")
Tubes: Generic (Schrader valve, 20" x 1.95-2.20")
Brake Arch: Shimano Deore V-Brake Arch (black)
Brake Lever: Shimano Deore V-Brake Lever (black)
Brake Cable: Shimano (black)
I also expect to make a few more changes soon:
Cog (12T Profile 12T, chromoly)
Sprocket (Black 36T Profile Elite Spline Drive sprocket, 4.9 oz.)
Seat Post (Silver 25.4mm Thomson Elite seat post, cut to about 7" long and weighs 6.35 oz. -- Originally used on a display bike at Interbike, then used by Christian Simmonds, owner of Hitman Bikes, and can be seen in the PROPS Issue 76 video magazine and numerous Fuel TV edits/clips)
Seat (Odyssey Pro Padded, black)
Stem (Thomson Elite BMX, anodized black)
Chain (something new)
Here are some photos of my old trail bike...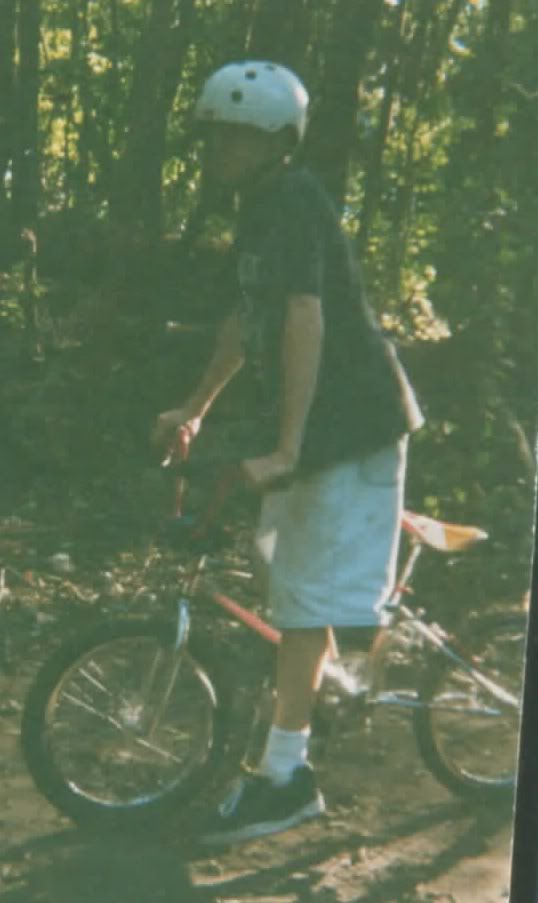 And here's a parts breakdown of my childhood bike: (http://bmxmuseum.com/forums/viewtopic.php?pid=3376651#p3376651).
In closing, I've learned that you're never too old (or fat) to ride a BMX bike, you don't need to go out and buy a brand new bike (use what's comfortable), and you just have to give it a try (http://vimeo.com/34002960)
Submitted by pharv85
Race
Company: S&M Bikes
Model: Challenger
Wheel Size: 20"
Headtube angle: 73.5 deg.
Seattube angle: 71 deg.
Toptube length: 21.0 in.
Headtube size: 1-1/8"
Details http://bmxmuseum.com/reference/3564