1985 Redline Prostyler
Finally my Radberry Redline...
Why Radberry:
Back in 87 I participated in a freestyle clinic a LBS was hosting. The shop had a couple locally sponsored riders and all three sported RL 20 II's. One Cali Red, One White and the third was Radberry. I fell in love with the Radberry one the second I laid eyes on it. That color screamed to me then and set in stone my desire for a Radberry RL.
Fast forward 25 years. I never did buy that Radberry Redline I wanted before hitting high school a few years later and retiring my freestyle bike for an 81 Monte Carlo. My 87 Predator sat in my parent's storage for 20+ years and one day I guess I was feeling a little nostalgic and decided to break it out and dust it off when I moved in 2012. I was going to "freshen" it up and hang it on my office wall. Cool idea right? Surely nobody else is into this "80's freestyle stuff" anymore... So I started searching the net. Oh! What's this? The BMXmuseum? It was on like Donkey Kong...
So as I was getting familiar with all the bikes again, bmx history, pissing off mods with my ignorance on the museum, and building up anything I could find on Craigslist, Chromey got in touch with me on a trade deal for some bars I had posted. Over the course of the trade and many PM's Matt and I waxed all kinds of old school topics. Actually, these conversations mostly consisted of Matt filling me in on 25 years of history and parts (thanks bud!). During these conversations I had mentioned that I always wanted a Radberry Redline. A short time later I received a PM from him letting me know that he was selling most of his Radberry Prostyler and remembering the conversation we had, he asked if I would be interested in a frame/fork and assorted goodies package deal. I was all over it.
A few weeks passed and the package arrived. I had not seen the color Radberry in 25 years and when I unpacked this frame it did not disappoint. The bright almost glowing Radberry paint seemed to light up the room. The decals just sparkled as I just sat there and stared at it for what seemed like (and probably was) hours. I put it up on the mantle and began collecting components for it, getting a little more excited each time a package showed up at the doorstep. Finally I collected enough parts to begin the build…
The bike:
For the most part, the components are in survivor condition and decals are OG all the way around. I didn't intend to build it up as an exact factory correct example. Adopting it's previous owners approach, I wanted it era correct with some cool recognizable components. Going with an ACS rotor posed a problem as I had the headset I wanted to use and no cable stop built into the frame. I decided to take the lower unit of an old Gyro I had, grind off about 45% of it, paint it to match and install at 90 degrees from its standard position. Worked out great (IMO) and I think it looks as if it's part of the headset.
The cranks are temporary, so please be kind and don't freak out. I had another opportunity come up so cranks are on hold, these were handy, and I wanted to ride my Radberry awesomeness. lol
So first and foremost, I want to thank Matt for hooking me up with such a killer deal on most of the bike you see here. Thanks for putting up with all the questions and helping with suggestions above and beyond this build. You are the man. Also, thanks to all the other members as well who helped me out with parts on this build. It's a long time dream come true for me and I appreciate all the deals that fell into place for me from you guys. I was very lucky on more than one occasion during the procurement process. So here you go guys. My Radberry Prostyler:)
Parts List:
1985 Radberry Redline Prostyler RL 20 (manufactured late 84)
Redline Prostyler RL 20 II forks
Redline Fork Pegs
Redline Forklifter Race Bars
Redline/Sugino 400 Cranks/spindle w/sealed bearings (shown in pics below)
Shimano DX Pedals (shown in pics below)
A'ME Bubble Font Tri Grips
ACS Slant 55 Stem
ACS Rotor
Rear Brake Cable Headset Stop - Gyro lower cup cut down and painted to match
Dia Compe 880 Brakes F/R (stamped 85)
Dia Compe Tech 7 Levers
Redline Chromoly Stamped Seatpost
Redline Seat
Peregrine Seat Post Clamp
Peregrine Master Mags in Radberry w/new Peregrine Swivel Axel Nuts
Suntour Freewheel
IRC High Pressure Freestyle Tires
Redline Frame Standers
Redline Bubble Font 44t Sprocket
KMC Freestyle Z Chain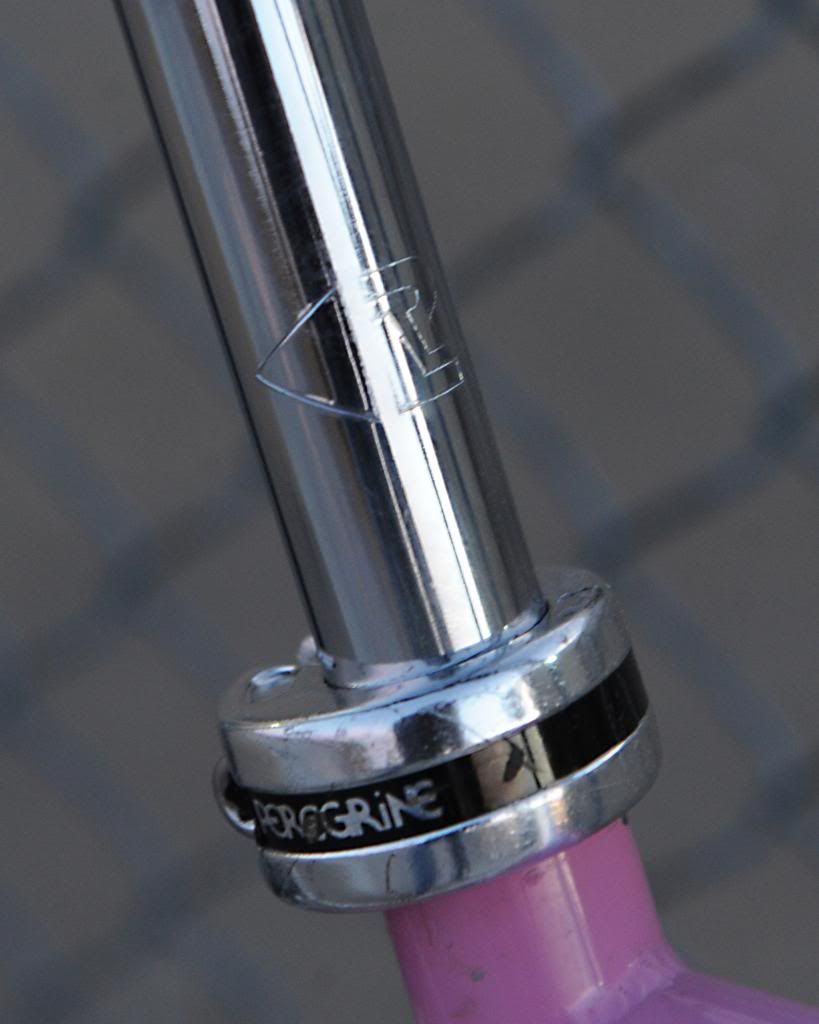 with his radberry bro

with some spokes out on a cruise
Submitted by DarthBatman