1994 Powerlite Pro AL
The 1994 Pro AL was Powerlite's first pro sized aluminum frame. It was only sold in 1994 as a frame only (3 lbs 5 oz) and it was also Powerlite's first frame to require a 1-1/8" threadless headset.
I picked up this early aluminum Powerlite in San Jose, CA. The guy who I bought if off of said that he got it in 1995 from a friend who used to ride for GT/Powerlite and had it custom made. I got the bike in rough shape, but it came with a Powerlite fork, stem, and seat post clamp, GT Power Series cranks (175mm long), GT Overdrive chainwheel (46T), Araya Super 7X rims (chrome, but very pitted) on GT Mohawk hubs (36H, flip-flop rear), ACS Claws freewheel (16T), a Narrow KMC Z-chain, an original Dia-Compe Steel Aheadset, cantilever brakes, and GT pedals, seat, and seat post. The previous owner recently had the grips and tires replaced (Redline grips and Animal GLH tires).
After some reserach, I believe that this bike used to belong to Chris Acaccia (http://www.youtube.com/watch?v=WOTiWXCZgqA). Back in 1994, he was 15 or 16 years old and Chris, who was known to his competitors as the "Landshark", was "one of Team Powerlite's top amateur riders" (Source: 1997 Powerlite catalog). He was also from San Jose, CA.
This particular frame has no serial number. The only Powerlite markings on this frame are stamped Powerlite 'P' logos on both sides of both rear dropouts. Other than the top tube lengths, the only difference (that I know of) between the 1994 Pro AL and the 1995 P-61 AL is seen in the head tube welds; the Pro AL has a boxier upper head tube gusset and no lower head tube gusset. Also, like the '95 P-61 AL frames (see the rear dropouts - http://bmxmuseum.com/forums/viewtopic.php?id=25129), the '94 Pro AL was designed to use 14 mm dropout savers. In 1995, the Powerlite P-61 AL (sold as a complete bike and also as a f/f kit) replaced the Pro AL frame. The 1994 Powerlite Pro AL was made from 6061-T6 aluminum, was TIG welded, and had a 20.5" top tube. The 1995 Powerlite P-61 AL had a 21.0" top tube. Frame made by Gilbert Axt, who was Race Inc.
If you have any additional info on this frame, please post a comment. I have also posted additional pictures of this bike on my PhotoBucket page (http://s1202.photobucket.com/albums/bb370/pharv85/1994%20Powerlite%20Pro%20AL/?start=all). I'm thinking that I will restore this bike in time, but I'll finish my '98 GT Speed Series Team XXL bike first ;)
Here is a picture of the 1994 Powerlite Pro AL frame from the 1994 Powerlite catalog.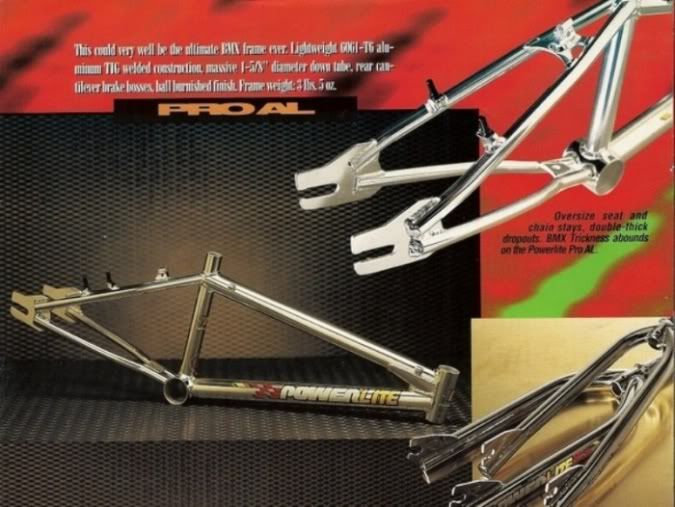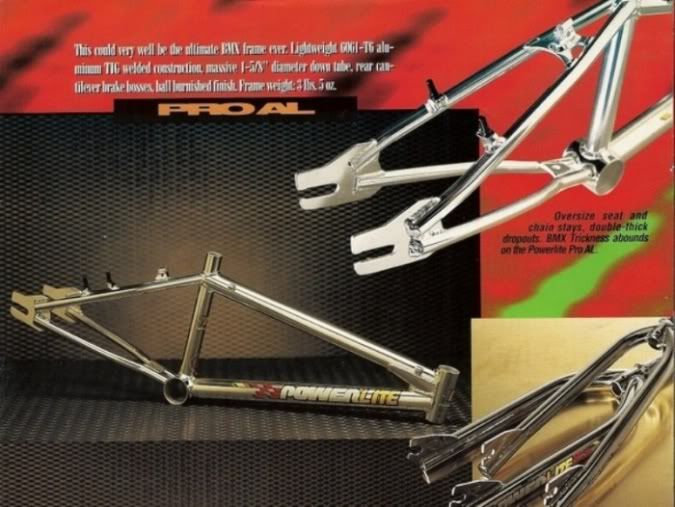 Lastly, here are a few pictures of parts that I have purchased for this restoration project.


Photo 1. '94 Powerlite P-38 decal set (includes fork and handlebar decals).


Photo 2. Powerlite Powerbend handlebars (aluminum, 26.5" long, 7.5" tall, 485g, circa 1994).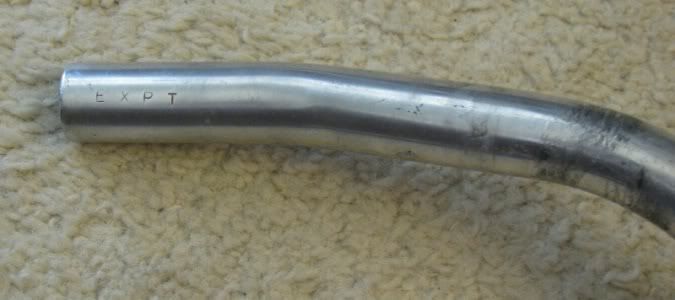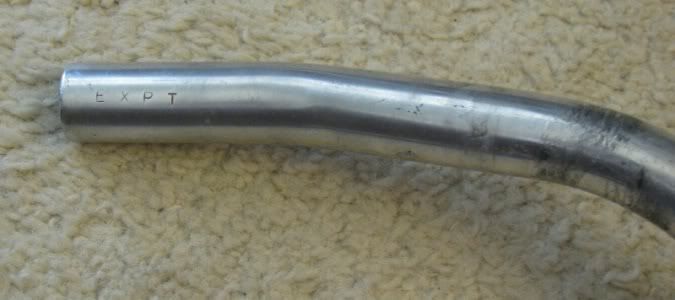 Photo 3. EXAL (Expert Alloy ?) Powerlite Powerbend bars (uncut, stamped "EXPT").
Photo 4. Alloy Powerlite Powerbend handlebars (a wrench is used here to hold the bars vertical).
Photo 5. '97 Powerlite grips (clear, Retro Tread design) and '94 Powerlite grip decals.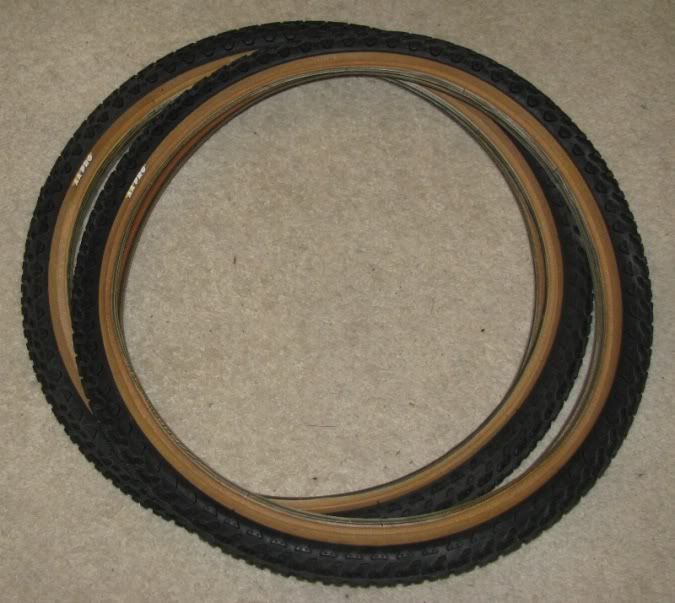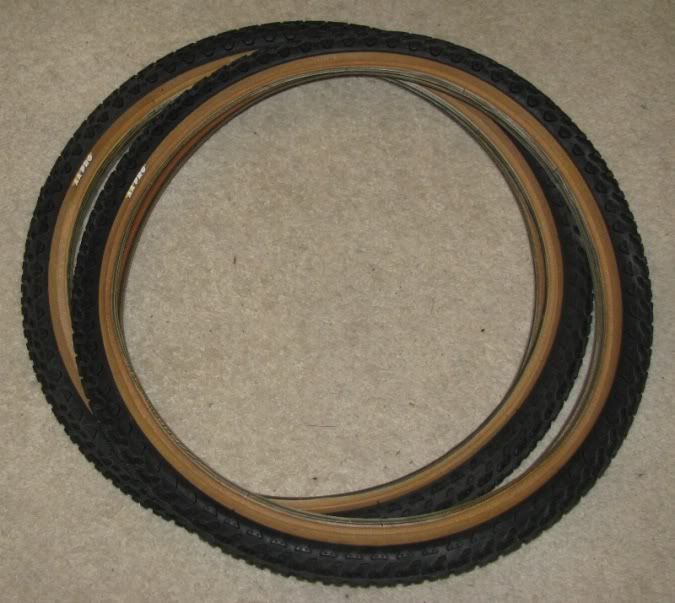 Photo 6. '94 GT AA Pro tires (GT's '94 and '95 top-of-the-line race tire, features a "unique High-Performance tread design, and race compound", Source: '95 GT BMX Catalog).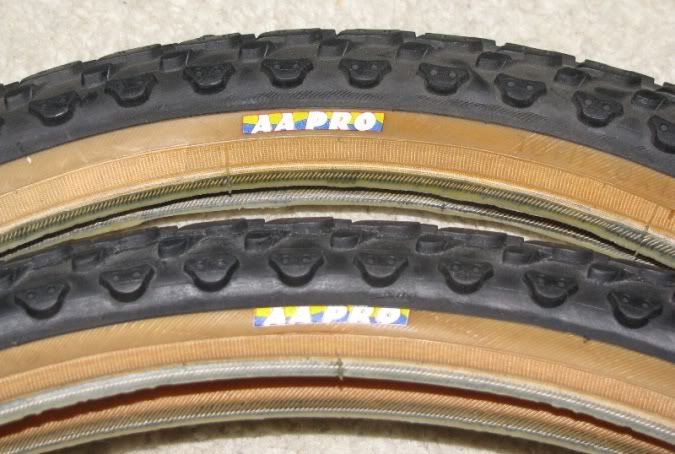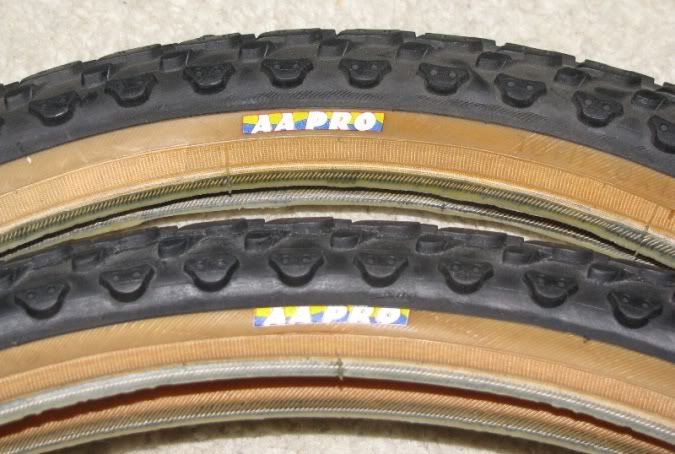 Photo 7. '94 GT AA Pro tires (skinwalls, original logo only on '94 and '95 GT AA Pro tires).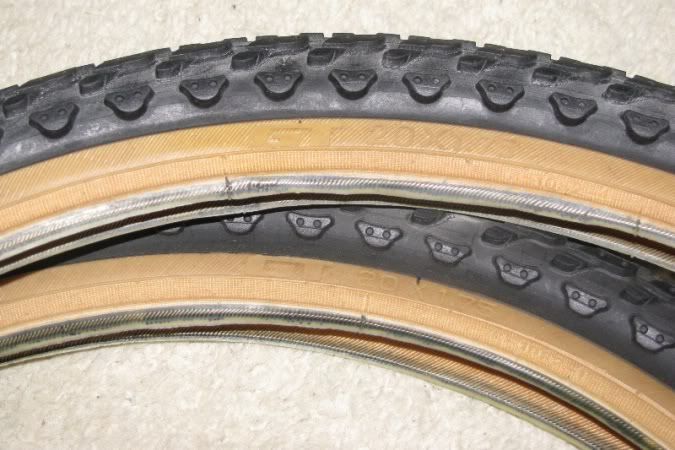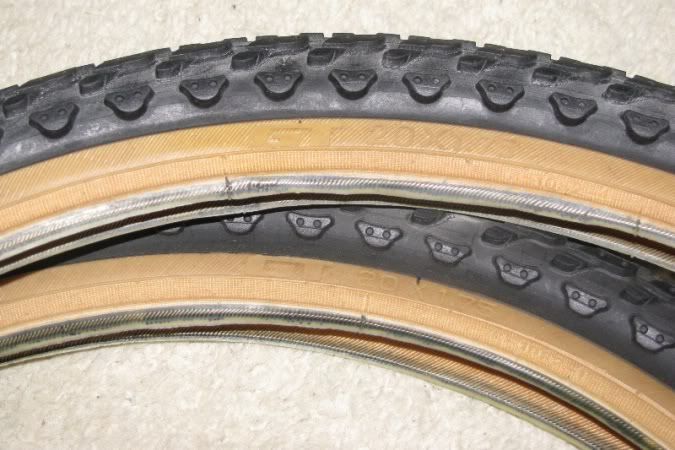 Photo 8. '94 GT AA Pro tires (120 tpi (thread per inch) sidewalls, 1.75" wide - front/rear).
Photo 9. '94 Powerlite sprocket (44T, 6061-T6 aluminum, CNC cut, made in USA).
Photo 10. '97 Powerlite padded saddle (9mm hollow chromoly rails, durable "SPANDURA" cover, multi-colored Powerlite embroidered logo, came stock on the 1997 Powerlite P-61 bike).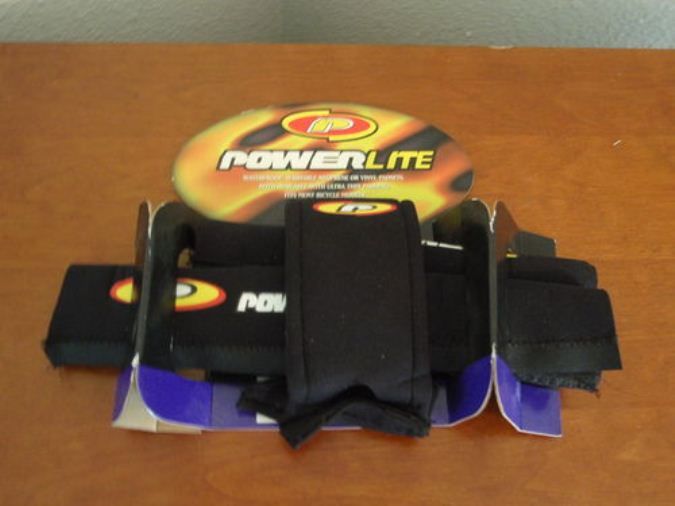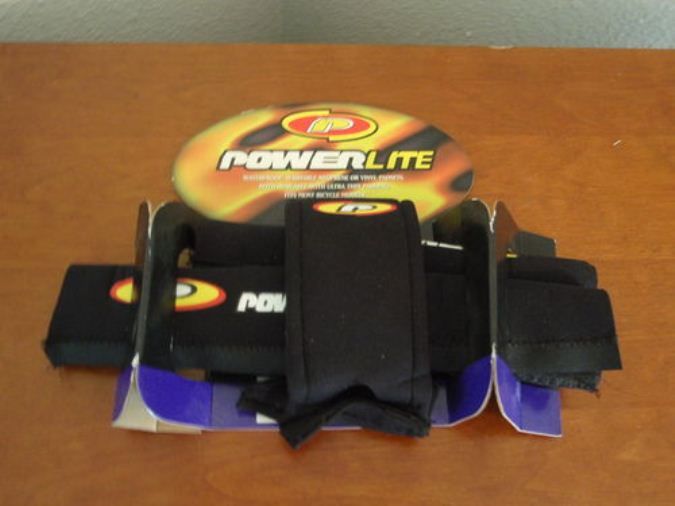 Photo 11. Powerlite Neoprene pad set (circa 2001).
As you can see, this restoration won't be "era correct", but I hope to put some use some of the nicer Powerlite and GT parts from the 1990's. Additionally, I plan to purchase the following parts for this build:
Powerlite 3 pc. chromoly cranks (180mm, chrome plated, chromoly spindle, sealed bearing, made by Profile),
GT Mohawk hubs (32H, silver, sealed bearings, hollow Cr-Mo axles),
Araya Super 7X rims (32H, chrome plated, 1.75" wide)
Alloy nipples (silver),
Chrome plated spokes (double-butted, chrome plated),
GT "Big Man" pedals (polished aluminum body and cage, chromoly axle, cutout "GT" logo on cages, Pro-sized version)
Avid Tri-Align brakes (cantilever mountain bike brakes, silver)
I don't have that much money, but If you have any of these parts for sale, please give me a PM and we can work on a price.
Thanks!!!
Submitted by pharv85