1981 Nomura Racing Cruiser 26
Rare original black anodized Nomura 26" cruiser 2011 Old School 26" Cruiser Bike of the Year winner on www.bmxsociety.com
Here is my 26" Nomura. It was built on Oct.12,1981 as part of the 4th batch-the
last- built as 26" frames. There was only (45) 26" cruiser frames made and only 17 exist today. Of the (45) 26" cruiser made, 7 of them where Original Black anodized.
Out of 7 black anodized bikes there is only 3 known exist and mine is one of them.
In Chandler Arizona during a National championship race, Wade himself, raced my Nomura at least once and was confirmed by Bob Matherly and Wade Nomura. This bike was typically used as a backup factory rider bike.
My bike originally came with the factory rider head badge decal and the ultra rare "rainbow" Nomura decal that went on the seat post tube. Wade only made one batch of these decals; a majority of the factory riders did not like them so they were never installed! Only three Nomura's are documented to have these "rainbow" decals on them and mine is 1 of the 3.
Wade and other factory riders including Ernie Ballard raced this cruiser then later Wade sold the frame to a Phoenix bike shop called Bicycle Harbor. Around 1982 my good friends high school friend purchased this bike from Bicycle Harbor and owned it ever since! I purchased the bike from him.
Here are the stats of the bike:
FRAME: black anodized Nomura 26"
FORK:Non stamped landing gear (Rechromed)
HEADSET:GOLD Tange 125 and GOLD Dirt Skirt (all NOS before install)
STEM:Black Pro Neck Invert
BARS: Early no knurling SE cruiser bars (Rechromed)
GRIPS:Black Oakley 1's w/ red crud plugs (NOS before install)
BRAKES:GOLD Dia compe MX1000 with skyway pads and fins Tech 3 lever
CABLE: Terry cable (NOS before install)
CRANKS:180mm Redline single pinch full wrap 401 flights with Hadley Bottom bracket
SPIDER:Phil Wood
CHAIN RING:SUNTOUR 41T (NOS before install)
CHAIN RING BOLTS:Suntour (NOS before install)
CHAIN:Early black DID chain (NOS before install)
PEDALS:Suntour MP-1000 (NOS before install)
FREEWHEEL: Suntour 18T (NOS before install)
SEAT POST CLAMP:Gold Dia Compe hinged (NOS before install)
SEAT POST:Race Inc 13/16 chromoly (NOS before install)
SEAT: Kashimax Super (First-generation SHOTGUN II seat broke)
RIMS:Black pro class
HUBS:Early Thru bolt Bullseye hubs
TIRES:26 x 1.75 Yellow/green COMP III (NOS before install)
PADS:NOS Cal-lite Johar
SPECIAL THANKS:
I would like to thank Dweezle without him I wouldn't have had gotten the chance to buy this bike!
More thanks goes to Bob Matherly (Bomat), Matt (chromey) and Tony (blikum) thanks for all your help in helping complete this bike!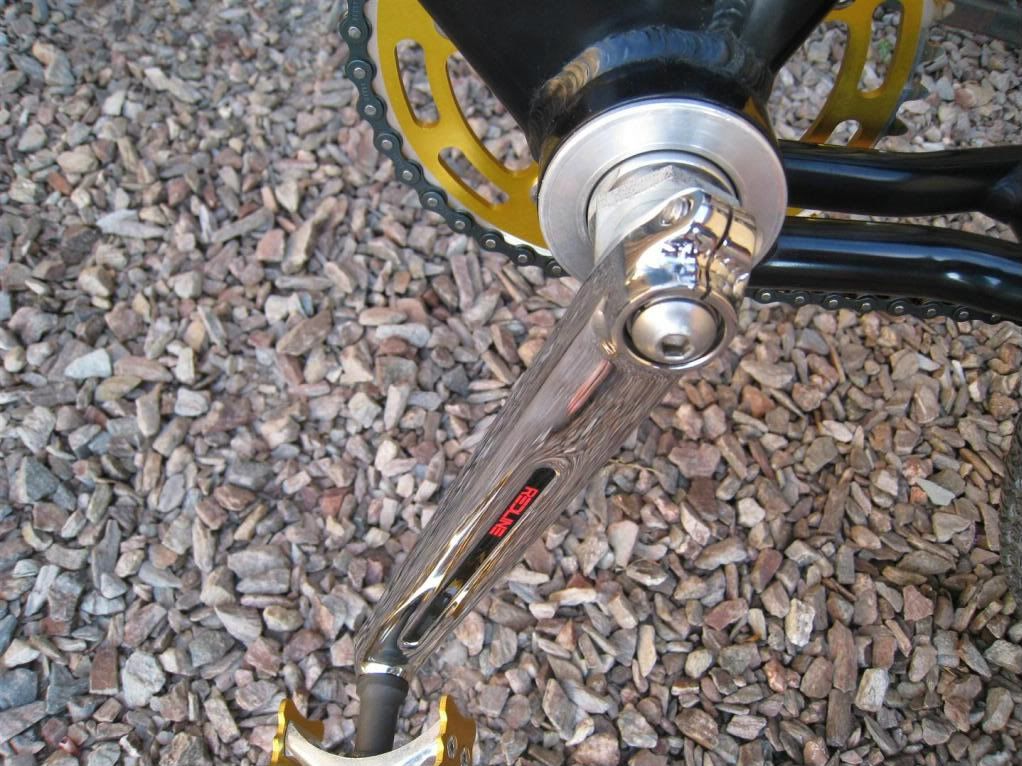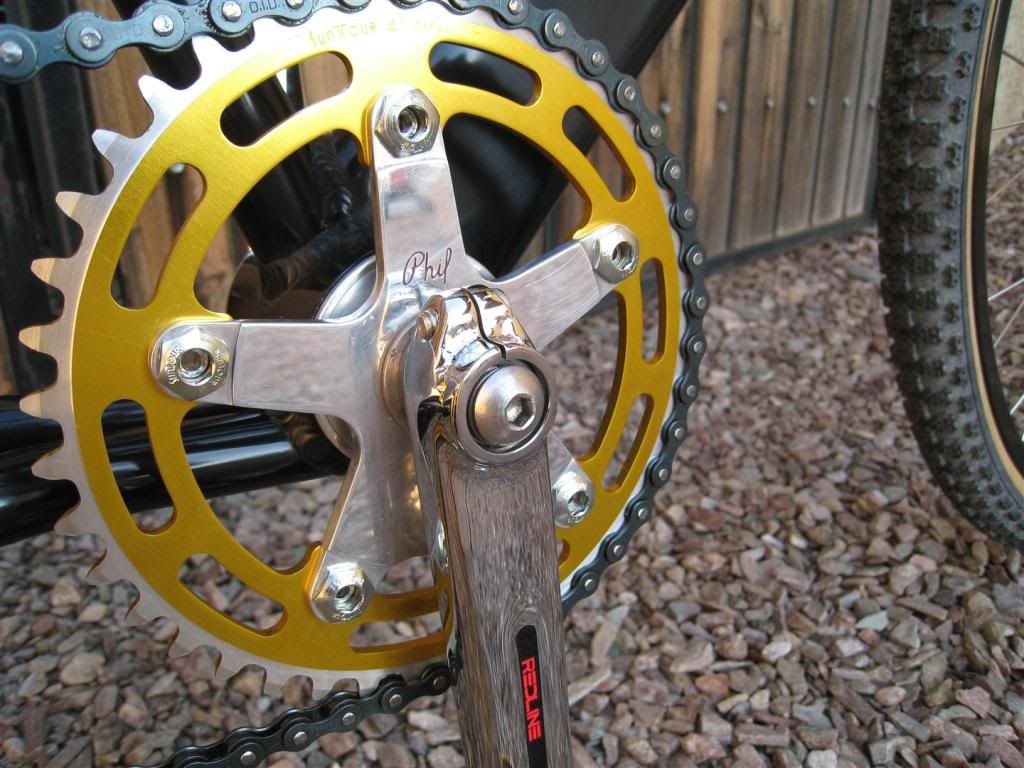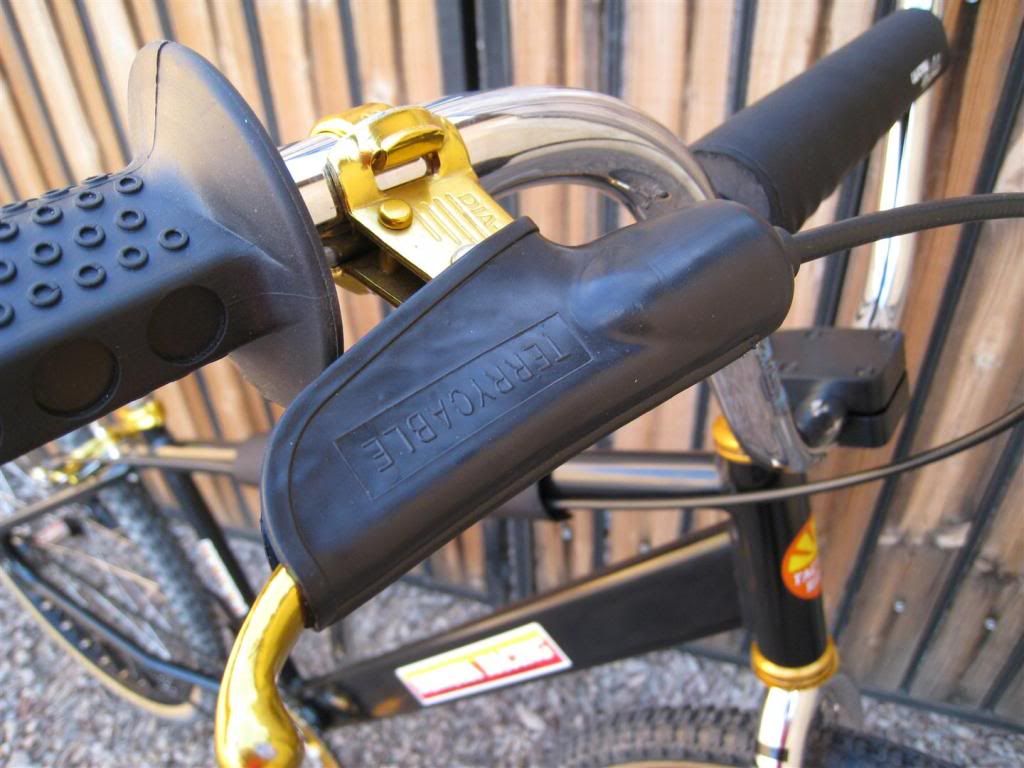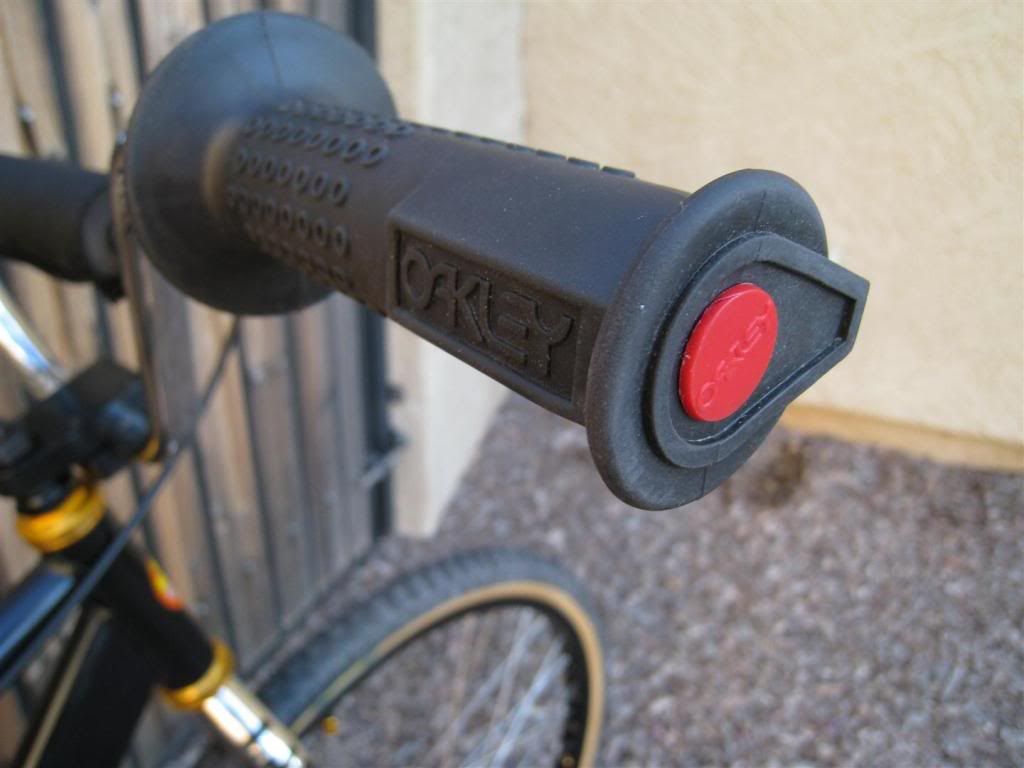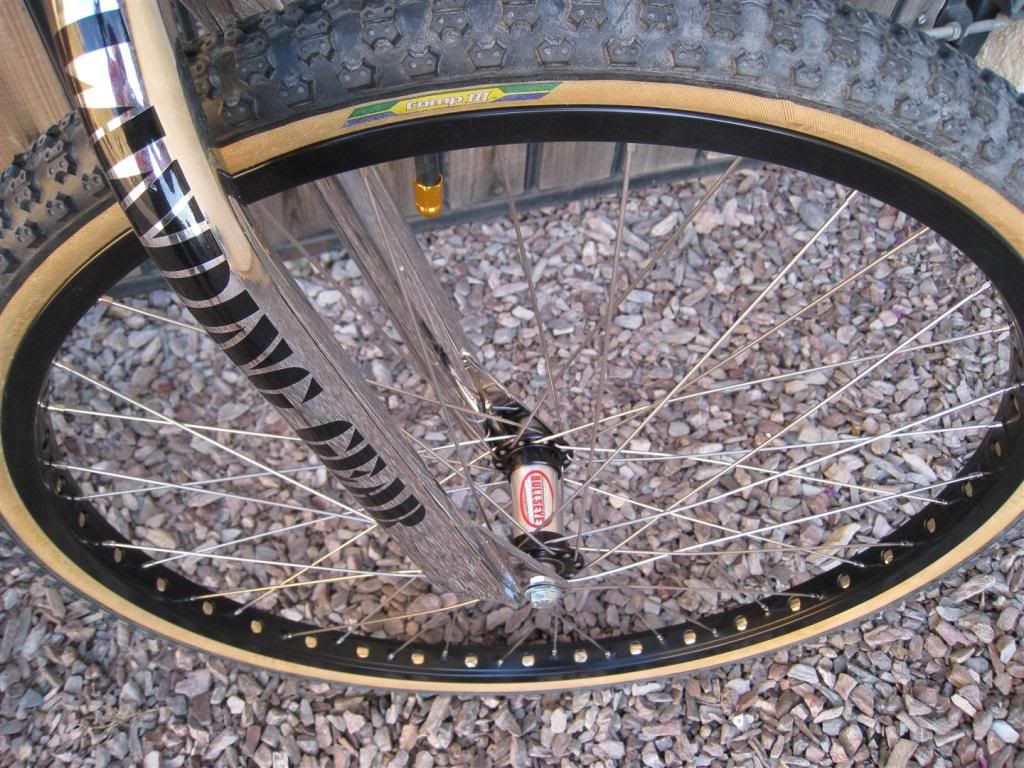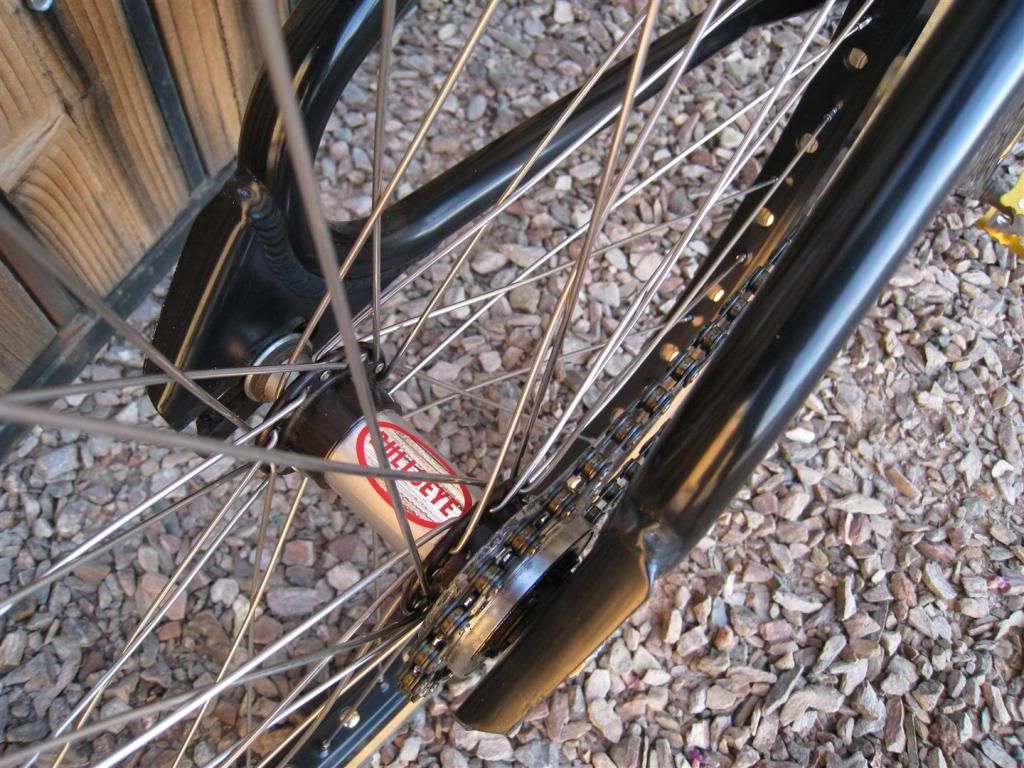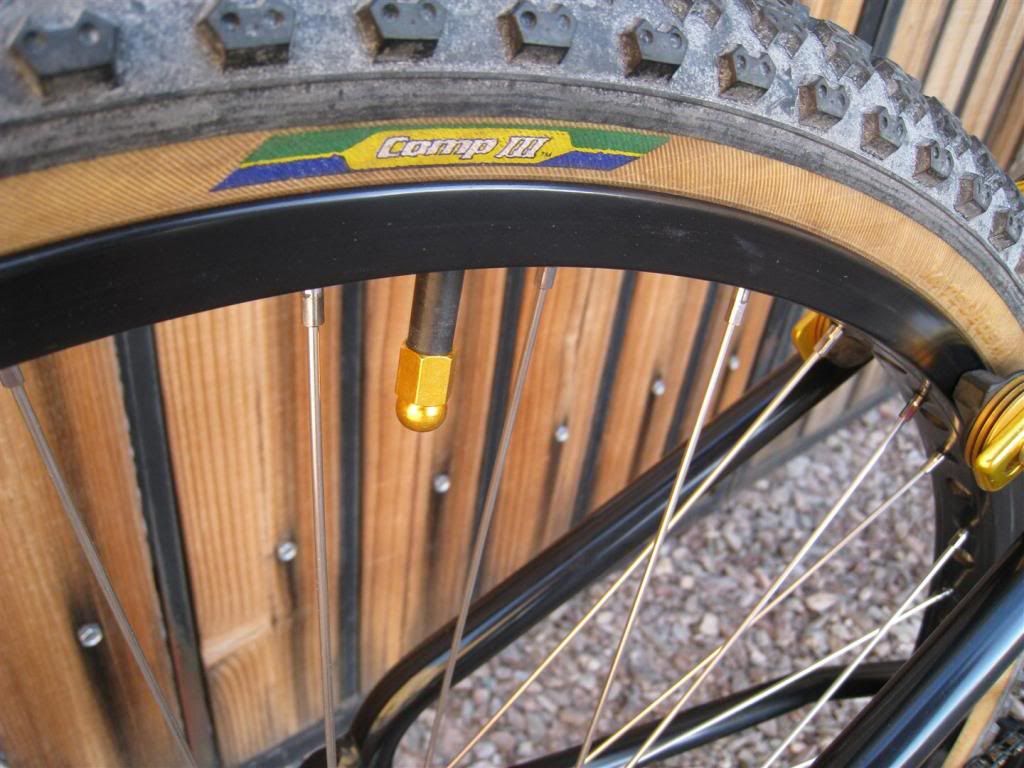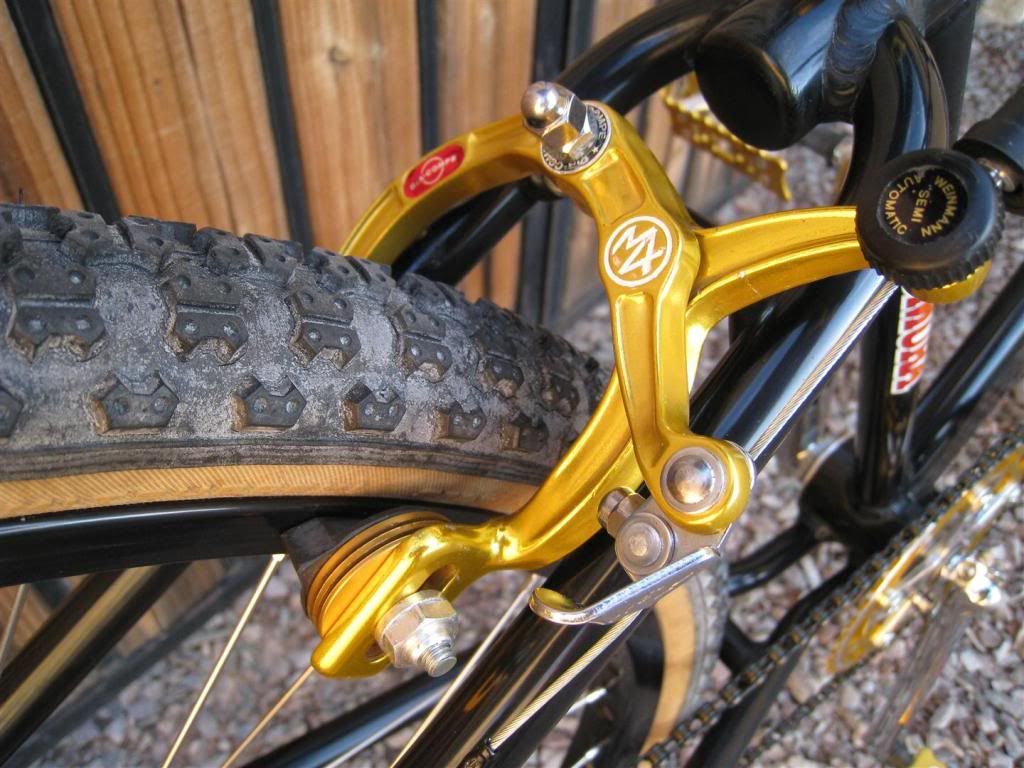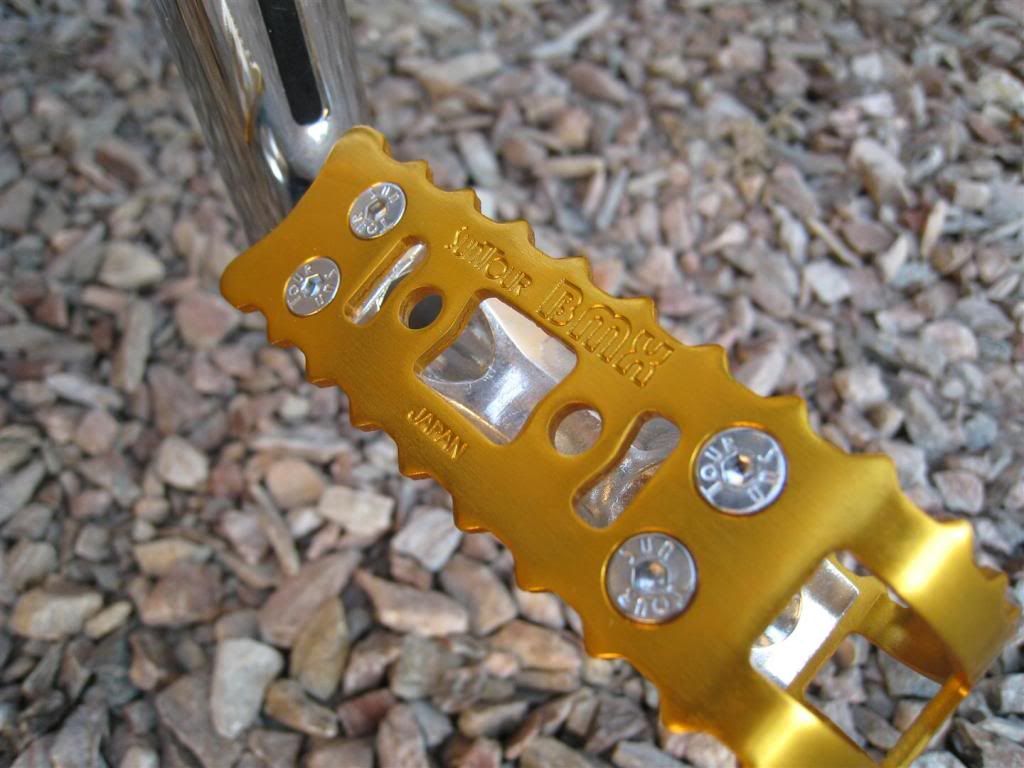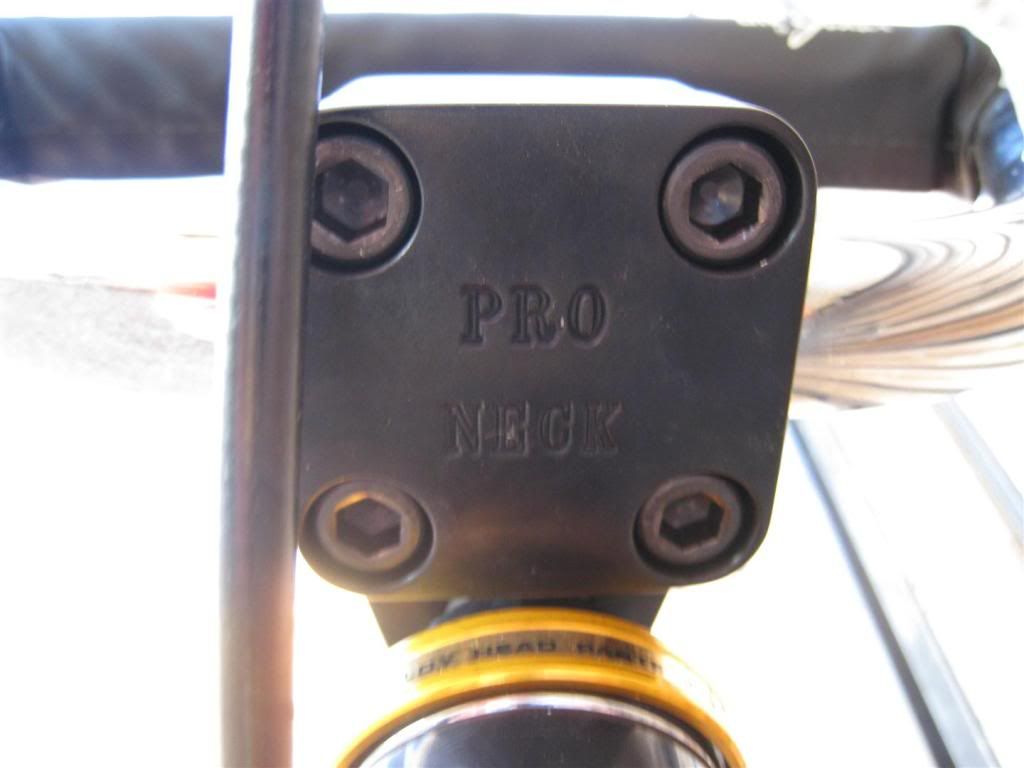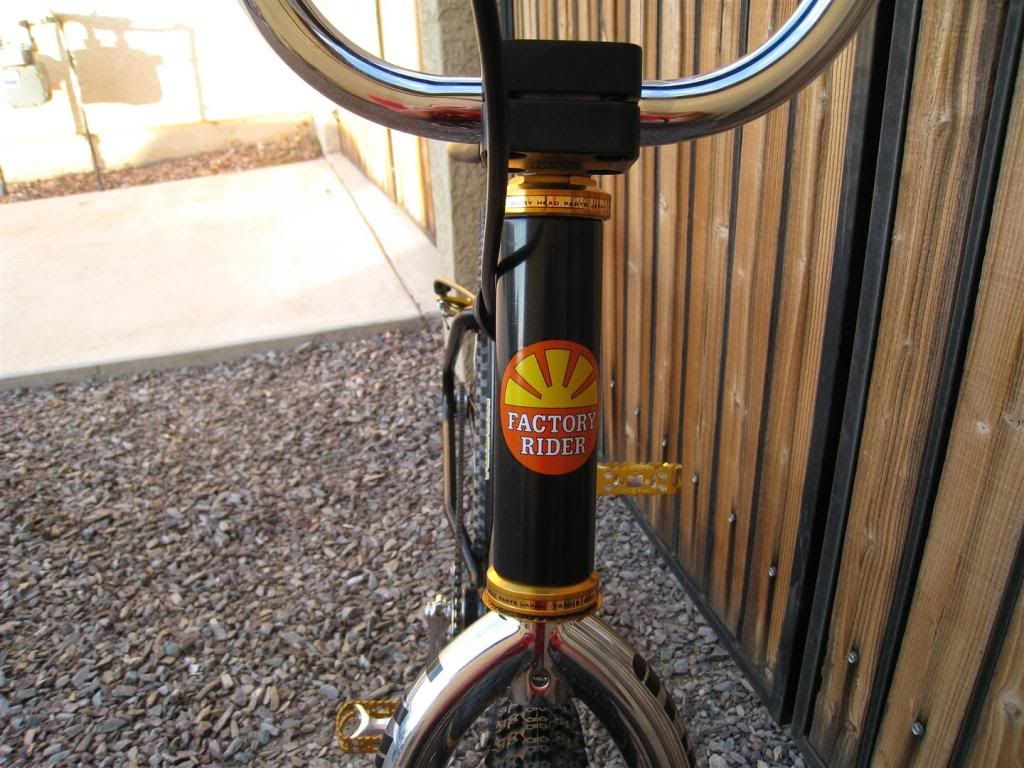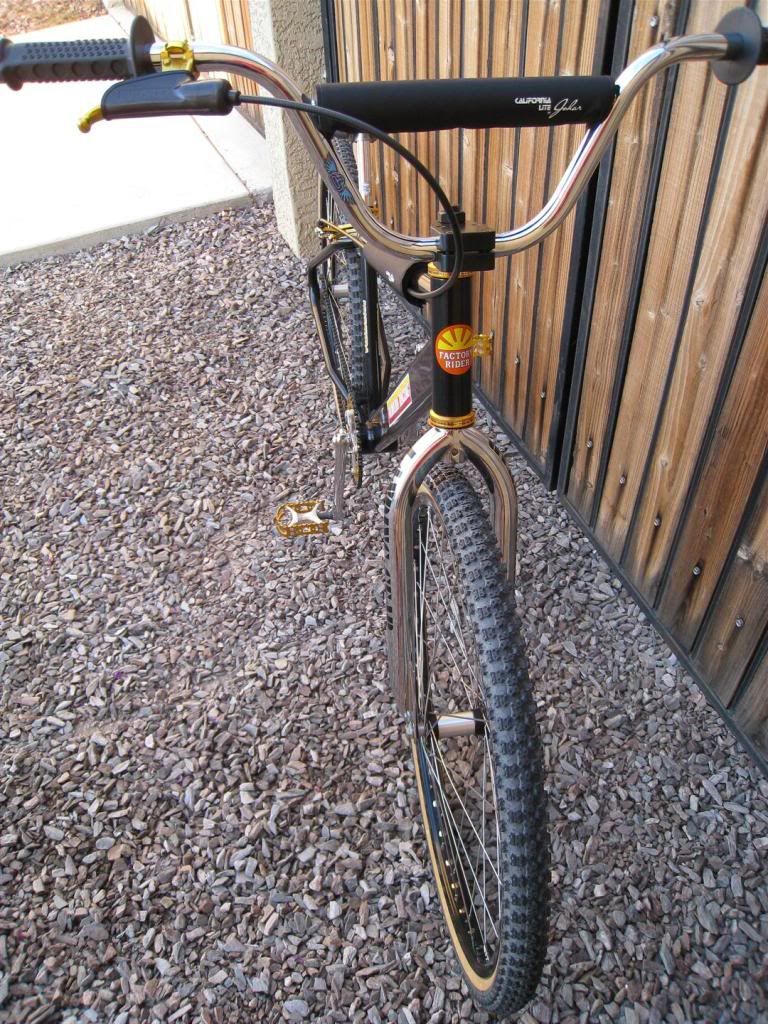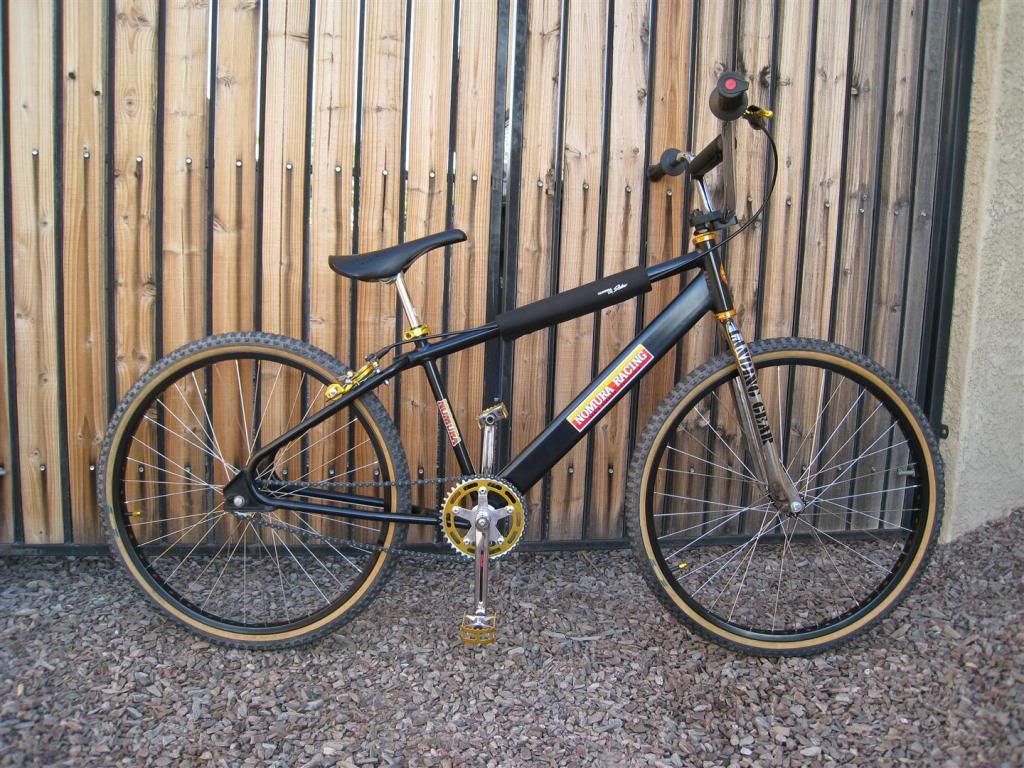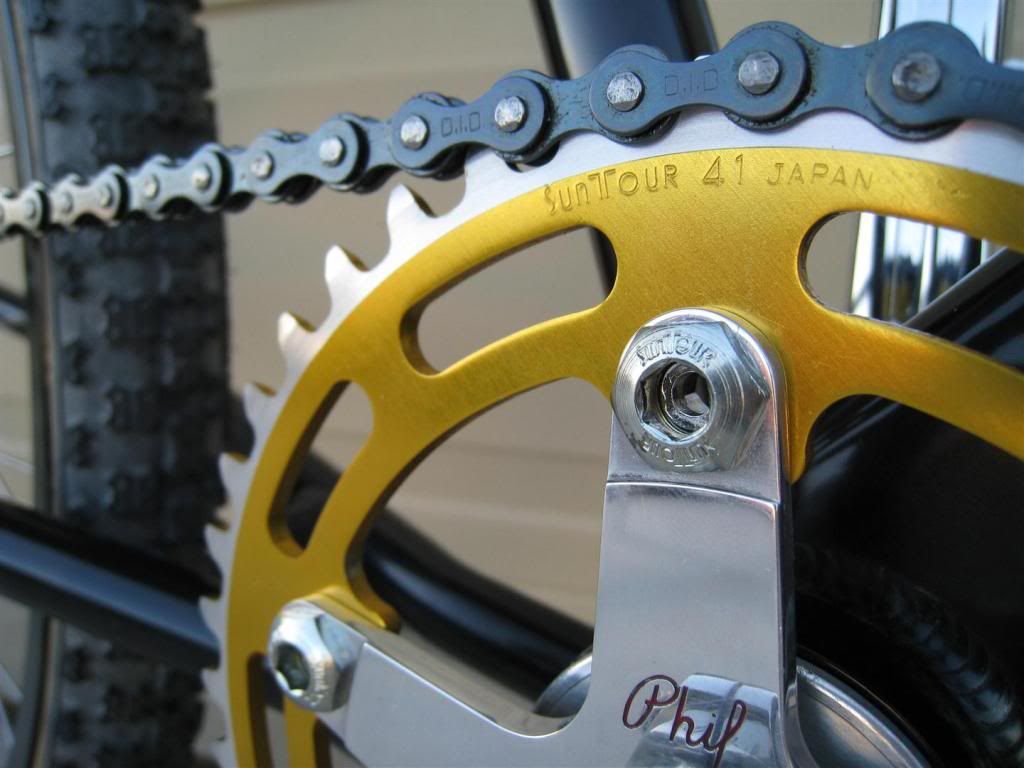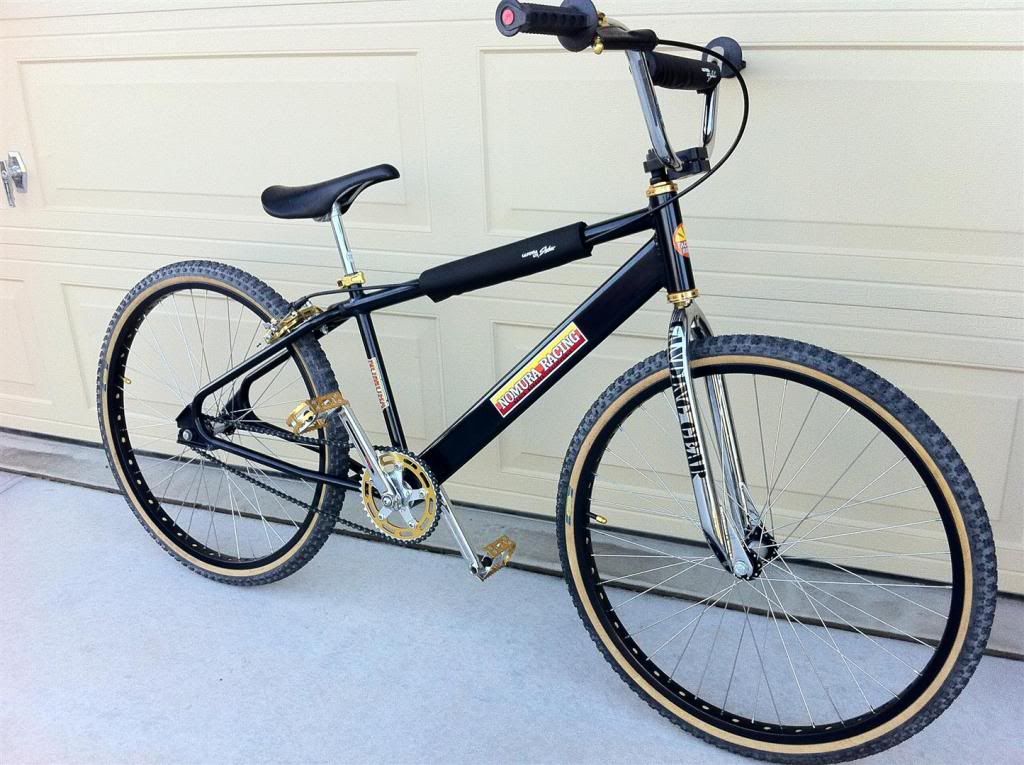 My Bike in action below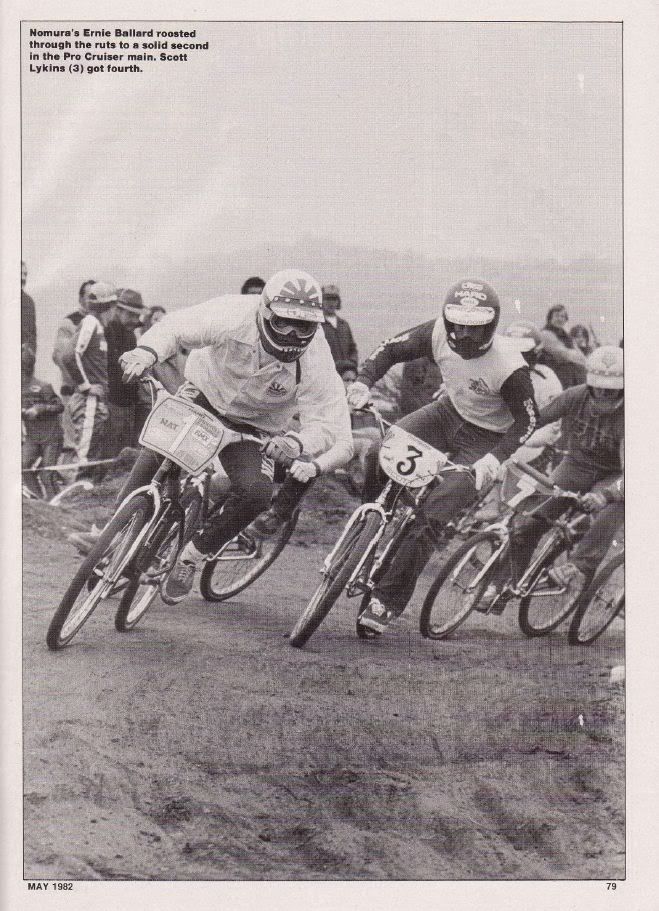 Submitted by Thornton