1998 Mongoose Phase-2
Inspired and co-designed by #1 ABA Pro Robert MacPherson, the Phase 2 RM-series frame features super-light ovalized 7005 heat-treated aluminum tubes and an extra-stiff rear triangle w/ "TwinJet" stays
The stock 1998 Mongoose Phase 2 bike retailed for $495.00 USD (Source: BikePedia) and was only available in the color shown (polished alloy). The frame was made in Taiwan, but fabricated by Kinesis (according to the decals that are on the frame). The frame has a 21.0 inch top tube, the head tube angle is 73.0 degrees, and the seat tube angle is 71.0 degrees (Source: BikesDetails.info). The bike has a 38.0 inch wheel base and a 15.3 inch chain stay length while the fork rake is 1.0 inch.
This particular bike was originally sold at Campus Bicycles, which is located in downtown Chico, CA. This was a pleasant surprise because I lived in Chico for six years while I went to Chico State (BS, Civil Engineering).
Below are the parts that came on this bike when I purchased it. It was completely stock - down to the tires, tubes, grips, and even reflectors...
Frame: 1998 Mongoose Phase 2 (7005 super heat treated aluminum, 21" top tube, 1/4" thick dropouts, American bottom bracket, 1-1/8" head tube, TIG welded, "TwinJet" stays, machined head tube, designed in So. Ca., fabricated by Kinesis, made in Taiwan for Service Cycle Bicycle Company, weight: about 3.5 lb. (source: BMX Museum member "fossa bmx 1") )
Fork: Mongoose Pro RM series (1-1/8" threadless, 4130 chromoly, butted and heat treated, 3/8" thick dropouts, ovalized legs)
Handlebars: Mongoose Pro (4130 chromoly, chrome plated, 28" wide, 8" tall)
Stem: Mongoose Pro (1-1/8", high polished aluminum, front load design, about 55mm of reach)
Headset: Dia-Compe SE-1 A-headset (1-1/8" threadless, unsealed/loose-ball bearings)
Grips: Mongoose (Kryton rubber, black, 5.5" long)
Bar Ends: Mongoose (plastic)
Seat: Mongoose BMX/Freestyle (8mm rails, embossed "Maurice" logo, made by Viscount)
Seat Post: Mongoose Pro (27.2mm diameter, micro adjust, aluminum, 12.75" long, made by Kalloy, stamped "97.10", minimum insertion length: 3.75")
Seat Post Clamp: Mongoose Alloy (scalloped 2 bolt, aluminum, approximately 31mm)
Cranks: Mongoose O/S 1-piece (chromoly, 180mm long)
Chainwheel: Mongoose Pro Alloy (43T, black/silver, 5mm thick, CNC cut, reinforced stainless steel insert)
Chain: KMC (1/2 x 3/32", nearly half of the links say "KMC", but a few also say "VD")
Chain Tensioners: N/A (...but the frame is designed to use ITC (internal chain tensioner technology) )
Pedals: Mongoose Alloy (1/2" cr-moly axle, aluminum body)
Front Hub: Mongoose (36H, low flange, unsealed/loose-ball bearings?, slotted solid axle, silver body, steel axle nuts and washers)
Rear Hub: Mongoose (36H, high flange, cassette, unsealed/loose-ball bearings?, round solid axle, silver body, steel axle nuts and washers)
Cog: Mongoose (16T, chromoly)
Rims: Araya RB-907X (Araya Super 7X) (chrome plated aluminum double wall rim, 36H, 31.0mm wide and 17.5mm tall, welded seam, weight: 425g to 430g per rim, designed for 1.75" to 2.125" tires, made in Japan)
Spokes: DT (stainless steel, 2.0mm straight gauge, brass nipples)
Tires: Mongoose Blur (20 x 2.25" front, 20 x 1.85" rear, nylon bead, made in Taiwan, recommended infiltration pressure: 40 to 65 psi)
Tubes: generic w/ Schrader valve (20", stock)
Valve Caps: Mongoose "Maurice" (chrome, from 1998, shown below)
Brake Lever: Dia-Compe DiaTech mx 1 (black body, silver blade, max torque: 90 KGF-CM, made in Taiwan)
Brakes: Shimano Deore LX BR-M600 V-Brake (silver, made in Japan)
Brake Cable: generic (black)
Pad Set: Mongoose (3 pc. BMX pad set, from 1998, shown below)
Number Plate: Mongoose (11" x 8", from 1998, shown below)
I bought this bike on December 7, 2011.
Below is a picture of the '98 Mongoose MacFearsome and '98 Mongoose Phase 2 (Source: 1998 Mongoose BMX Pro catalog).
Here is a picture of a pad set and number plate set that I bought for this bike. Both are dated 1998.
Lastly, here are a few more larger pictures of my bike: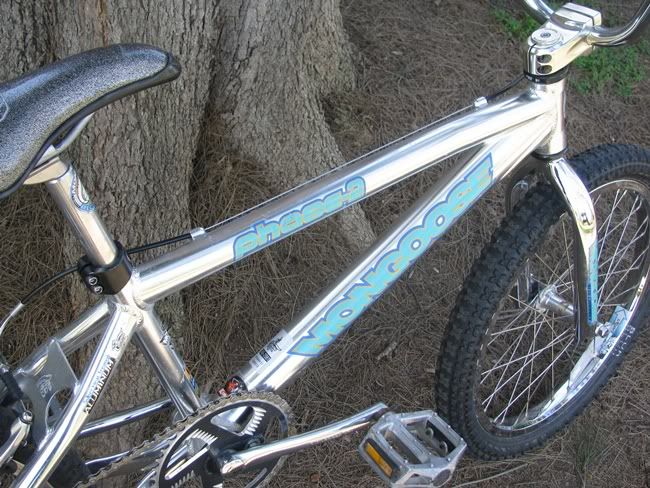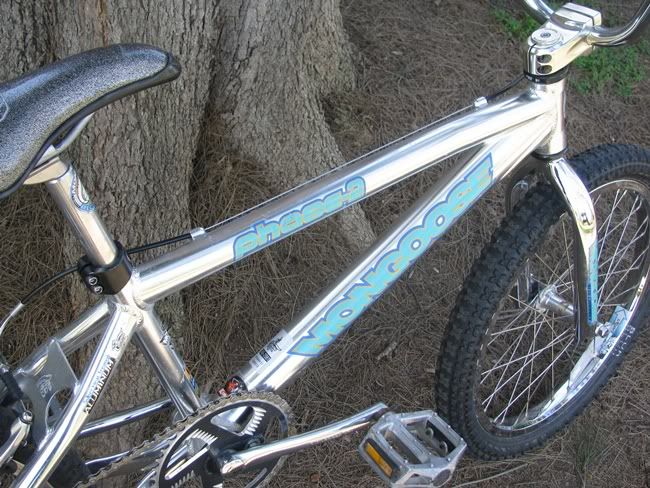 So... Does anyone have any additional info on these Mongoose cassette hubs???
Submitted by pharv85