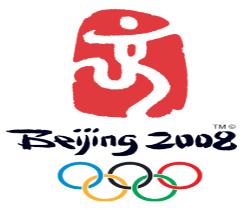 The official emblem of Beijing 2008 entitled "Chinese Seal-Dancing Beijing" cleverly
combines the Chinese seal and the art of calligraphy with sporting features, transforming
the elements into a human figure running forward and embracing triumph.

The figure resembles the Chinese character "Jing", which stands for the
name of the host city and represents a particularly significant Chinese style.

The artwork embodies four messages:

- Chinese culture,.................................................
- the color of red China.........................................
- Beijing welcomes friends from all over the world..
- to challenge the extreme and achieve the perfect..
and promote the Olympic motto of "Citius, Altius,
Fortius (Faster, Higher, Stronger)........................

~~ The Official BMX Mascot of the Beijing 2008 Olympic Games: ~~




BMX Racing is a type of off-road bicycle racing. BMX bicycle races are sprint
races on purpose built off-road single lap racetracks. The track usually consists
of a starting gate for up to eight racers, a groomed serpentine dirt racecourse
made up of various jumps, banked and flat corners, and a finish line.

The organization of BMX racing is facilitated by a number of regional and
international sanctioning bodies. These sanctioning bodies provide a set
of rules governing the conduct of the races, specify age-group and skill
level classifications among the racers, and maintain some kind of points
accumulation system over a racing season. The sport is largely participant
-driven with the average racer age of approximately 13 years. Professional
ranks exist for both men and women, where the average age is higher.

A BMX bicycle is a strong, relatively quick-handling, lightweight deriviative
of the standard 20"-wheel single-speed youth bicycle. Variations include larger
24" wheel BMX bikes and occasional multi-speed bikes.

While BMX racing is an individual sport, racing teams are often formed
from racers in different classifications for camaraderie and often for
business exposure of a sponsoring organization or company. BMX racing
rewards strength, quickness, and bike handling skills. Many successful
BMX racers have gone on to leverage their skills in other forms of
bicycle and motorcycle competitions.

BMX Racing is a medal sport at the 2008 Summer Olympics in Beijing.

~~~~~ The Olympic Oath ~~~~~

[The athlete]:
In the name of all the competitors I promise that we shall take part in
these Olympic Games, respecting and abiding by the rules which govern them,
committing ourselves to a sport without doping and without drugs, in the true
spirit of sportsmanship, for the glory of sport and the honour of our teams.
[The judge]:
In the name of all the judges and officials, I promise that we shall officiate in
these Olympic Games with complete impartiality, respecting and abiding by
the rules which govern them in the true spirit of sportsmanship.

Beijing 2008 Olympics KEY FACTS:
Opening date: 8 August 2008
Closing date: 24 August 2008
Official website: beijing-2008.org .