1995 Hoffman Big Daddy
*MY FIRST PRO-FLATLAND FRAME* HOFFMAN BIKES KEVIN JONES SIGNATURE FLATLAND BIG DADDY!
Frame: 1995 Hoffman Big Daddy
Fork: Morales 1" Street Fork (with survivor decals)
Stem: S&M Bikes Redneck 1" Stem
Bars: Hoffman Bikes Love Handles
Grips: ODI Longneck Grips
Bar Ends: Primo Bar Ends
Seat Post: Primo Rod NOS
Seat: Primo Steroid NOS
Seat Clamp: Primo Viking NOS
Cranks: Redline Flight
Bottom Bracket: Sealed American BB for 3-piece cranks
Sprocket: Profile Imperial 44T
Pedals: Primo Tenderizer
Front Hub: 14mm 48-hole Primo Son of a Bomb
Rear Hub: 3/8's 48-hole Primo Son of a Bomb
Rims: Primo Hula Hoops 48-hole front & rear
Spokes: Primo
Tires: Odyssey Frequency G's 1.75
Pegs: 3/8's Primo Tube Stake
Front Brake: Dia Compe FS990
Rear Brake: Dia Tech Hombre 990
Brake Levers: Dia Tech Tech-99
Gyro: 1" SST Oryg
Chain: KMC Z Chain
Chain tensioners: Primo Venus
The Morales That Never Was
As the description states, the Big Daddy was my first pro-level flatland frame. It was also the first NEW bike (frame) that I had ever owned! Before that I had a '88 Dyno Compe - white with black spatter and chrome pretzel bars that I had bought used. I was a huge fan of the Flatland Fugitives and I was saving up for my dream bike the Morales Flattie (which is a story I'll tell in an upcoming Morales post soon). After saving up for what seemed like an eternity, I finally had enough cash to order the Morales Flattie that I had wanted so badly. Around that same time, if we (Ron D, Marcus Freeman, and myself A.K.A. the Concrete Criminals) weren't riding downtown OKC, we would often go out to Matt Hoffman's place and ride near the ramps on a small area of flat concrete near the building (the same area that the flatland portion of the B.S. Comps were held), and since we had no interest in riding the ramps he mostly let us ride for free. On one occasion we met up with three other cats who were flat/street riders, two of which rode Hoffman Big Daddy's. One of the guys let me check out his ride and take it for a spin, green Big Daddy decked out with Peregrine 48's, Q Bars, and Hand Grenades. I loved it. Rock solid tank on 100psi RL Edge's felt like a steam roller compared to my old Dyno. As luck would have it Steve, of The Bicycle Store in OKC happened to have a chrome one in stock and was willing to take in the Compe FF for some trade. I ended up leaving with the Chrome Big Daddy FF, a set of Haro Kneesavers and a brand new black S&M Redneck stem. Needless to say the bike was built up quicker than the blink of an eye and I was out riding it that night. Again, I loved it. The Dyno parts I had on it didn't compare to the set up of the bike I had test ridden but it was still pretty damn SWEET…at first.
Getting Dialed
With the right parts everything about this bike was perfect: the geometry, response, weight and the way it handled. I still feel this way today. My only issue with the frame was that no matter what I tried I could not get the rear brakes dialed correctly. They were sloppy at best. After switching out brakes, pads and hours of adjusting cables and gyros I had to take it in to the bike shop. They tried and tried all to no avail. Eventually Charlie, of The Bicycle Store, figured out that the angle of the chain stays was off which threw the 990 mounts out of alignment as well. It wasn't off by a whole lot, it wasn't immediately noticeable, but it was just enough that the brakes were going to be off. Charlie called up Matt and he told me to bring it in and he'd have a look at it. So I drove over to Hoffman's and met up with Matt inside the warehouse. He had one look at it and asked his welder to come check it out and they both laughed and Matt said "Yeah, it's off, that's our bad. Tear it down and I'll get you another one." I was ecstatic! I was getting a brand new Big Daddy and Matt himself was handing it to me! He showed me where his tools were and I had that old Big Daddy torn down in about 10-15 minutes. He comes back with a frame that wasn't even boxed yet looked it over and handed it over…only it was the wrong color decal set! So, he went and retrieved me a set of decals the same color as my old frame. I was on my way. Happy, elated and inspired! I slowly built up that new frame to have what I considered the best parts of the time, including Love Handles and Primo everything else, replacing parts as I could afford them. I never did open or use that set of decals that Matt had given me though.
Flatland Fugitives Strike Back
As I said earlier, I was a huge fan of the Flatland Fugitives and after a chance meeting with Sean McKinney in '96 and checking out his prototype Sabbath I decided to trade in my beloved Big Daddy and get the Sabbath when it came out in '97. While I don't regret that decision (couldn't afford both), I do wish I would have been able to keep that Big Daddy.
Hi, My Name Is JHARJO. I'm A Mid-Schooler
Well, eventually (16 years later) I was in the position to get another Big Daddy frame. There was this thing called the BMXMUSEUM (stumbled upon this place searching for Morales frames in 2012) and I was now what's called a Mid-schooler. I didn't feel any different and I never completely stopped riding, but the parts were harder to find and just as expensive as they used to be. My heart sank when I found the bike as a complete on CL, the guy selling it was just 3 hours away, and it was what I felt was a killer price! It turned out the guy was a member of the museum. From the moment I got it I knew I wanted to build it up and use the decal set that Matt had given me. "Purple with a splash of pink, built around a chrome and black tank", I thought to myself, "that will bring back some of the 'fun' that the early Hoffman stuff used in their branding, fonts and decal sets. I also wanted to use as much Primo components as I could get my hands on. The Morales forks are from a guy I know who had them since they were new and said they meant a lot to him so I left them as they were. Needless to say, life had changed and I had moved several times within those 16 years. I would occasionally come across those purple decals from time to time and I had remembered showing them to my now girlfriend at some point. But, as life would have it, now that I had the frame I couldn't find the decals anywhere! I looked and then looked again twice, still…NOTHING! The clock was against me because I had entered the frame into the 2014 Flatland Build-off and needed to find them quick. One day I just had a feeling, the feeling that's more like a memory or a reliving of a moment. I got up and drove over to my storage unit and pulled down one box, opened it, and BAM!!! there they were…except they weren't purple. They were RED! My memory had failed me and I was confused about which color I had originally and which color decals Matt had handed me. As I said earlier, there is this thing called the BMXMUSEUM and it is an amazing place because of it's members and as a resource. I had scored most of my parts for the build here and on the bay, but scoring some 20 year old decals in less than a month seemed impossible. Enter Kiem. Kiem is a member here who's a really cool cat…that's still in middle school. He had the exact decals that I needed to finish the build! I found myself to be a Mid-schooler buying Mid-school parts from a Middle Schooler! See I told you this place was amazing!!
I hope you enjoy the build and my little (long-winded) story. Any comments are much appreciated.
Thanks,
JHARJO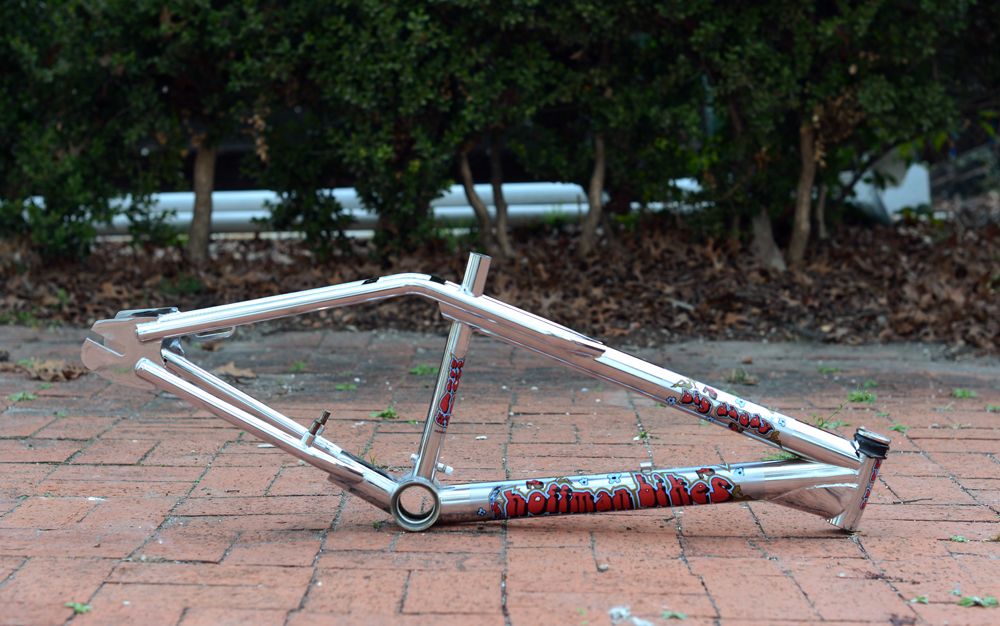 " alt="Before pic:" />
Submitted by JHARJO
Freestyle / Flatland
Company: Hoffman Bikes
Model: Big Daddy
Wheel Size: 20"
Headtube angle: 75
Seattube angle: 69
Toptube length: 18.5
Headtube size: 1"