1998 Haro Monocoque
The frame is a 1998 Haro Monocoque and made of 6061 aluminum. It was manufactured by Kinesis in the USA and has serial number KU7G4851. The frame's retail price was $574.99 (Dan's Comp).
I credit this bike for sparking my interest in BMX again - it's also one of my favorite bikes to ride. I bought it in July of 2005 from a guy in Staten Island, NY. Other than changing the tires (they were bald Specialized Spanky tires with red walls - see pictures below), adding bar ends (not shown in these pictures), and removing some chewed up decals (it had white Landing Gear decals on the fork and Hanebrink decals on the chain stay), this bike is as I got it. When I get around to it, I hope to get a black Chris King headset and maybe a mid-school high-flange polished Profile Cassette rear hub. I'm also looking for some Araya Super 7X decals (for 36H chrome rims). The frame was made in the USA and the complete bike (stock) retailed for approximately $790 USD. Although I'm not positive that this is a 1998 Haro Monocoque, since it is stamped "Kinesis" on the bottom bracket (and it was sold in the USA), I believe that this frame was produced in 1998.
The bike has the following parts (as pictured):
Frame: 1998 Haro Monocoque (21.5" top tube; 15.25" chain stay length)
Fork: SE Landing Gear (1-1/8" threadless, chromoly, 20")
Handlebars: Crupi ProAL (aluminum, 28.25" wide)
Stem: Powerlite (aluminum, CNC machined, 1-1/8")
Headset: Dia-Compe SE-1 A-headset (unsealed)
Headset Cap: Chris King NoThreadSet (red)
Grips: ODI Rogue (red) w/ Lizard Skins Grip Donuts (blue)
Bar Ends: ODI Thug Plugs (plastic)
Seat: Selle Italia Flite saddle (titanium rails)
Seat Post: Fusion (aluminum, 31.6 mm)
Seat Post Clamp: Haro
Cranks: Profile 3-piece (180 mm, chromoly spindle and arms)
Cone Washers: Profile (aluminum, red)
Chainwheel: Fusion Nuke (45T, silver)
Chain: KMC Z-chain (1/2" x 1/8")
Chain Tensioners: integrated
Pedals: FPD (9/16" -- similar to model NWL-277)
Front Hub: Profile (36H, flip-flop, high flange, alloy axle nuts)
Rear Hub: Profile (36H, low flange, steel axle nuts)
Freewheel: ACS Claws (16T)
Rims: Araya RB-907X (Araya Super 7X) (chrome plated aluminum double wall rim, 36H, 31.0mm wide and 17.5mm tall, welded seam, weight: 425g to 430g per rim, designed for 1.75" to 2.125" tires, made in Japan)
Spokes: Stainless steel straight gauge w/ alloy nipples (blue)
Tires: Kenda MX K50 (K6302) (20 x 2.125" front, 20 x 1.75" rear)
Tubes: generic w/ Schrader valve (20" x 1.75-2.125")
Brake Lever: Shimano DX V-Lever (red)
Brakes: Shimano DX V-brake (red)
Additional (and more detailed) pictures are on my PhotoBucket page (http://s1202.photobucket.com/albums/bb370/pharv85/1997%20Haro%20Monocoque/).
The following advertisment is for the 1998 Haro Monocoque (complete bike). This image was obtained from the 1998 BMX Plus! Buyer's Guide.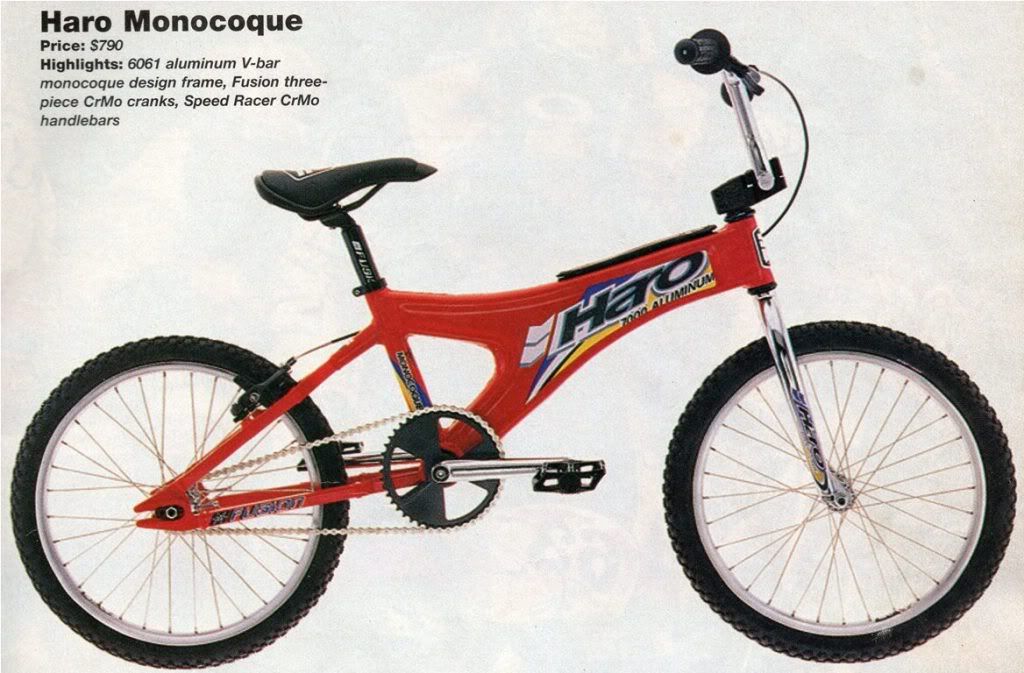 And since you made it this far... here's how much I paid for this bike :) .
UPDATE - - - - August 25, 2011 - - - - UPDATE
BMX Museum member "Ripper" sent me a PM to let me know that this was his old race bike when he raced professionally! Below are a few pictures of what this bike looked like back when it was raced (circa 1998).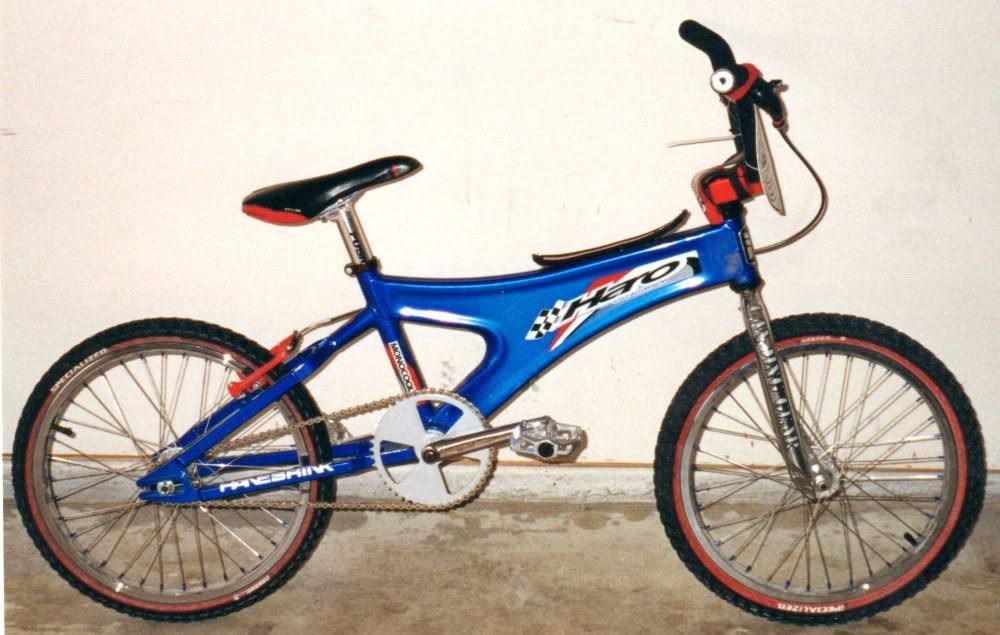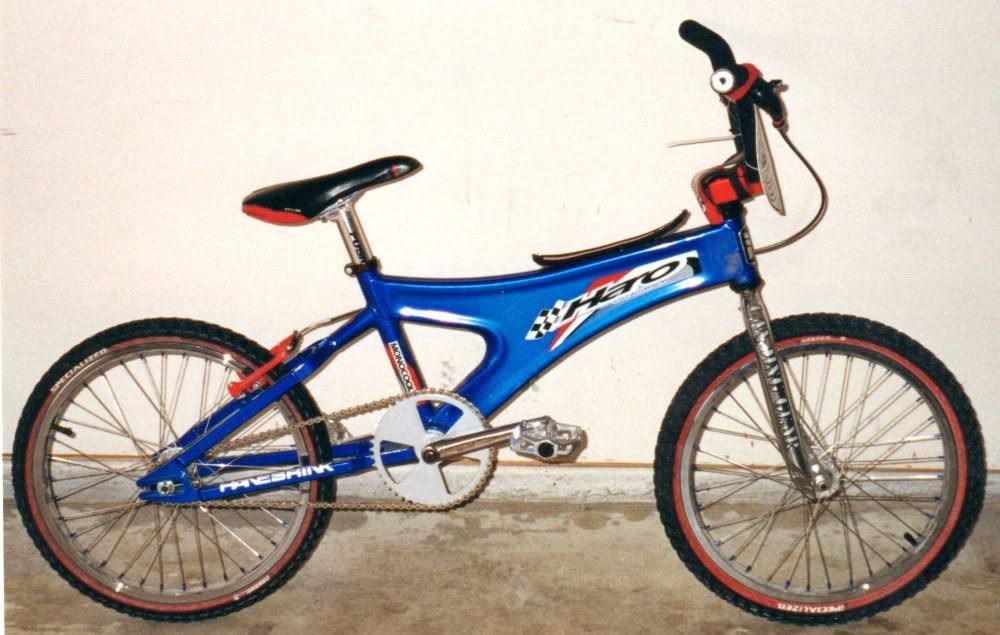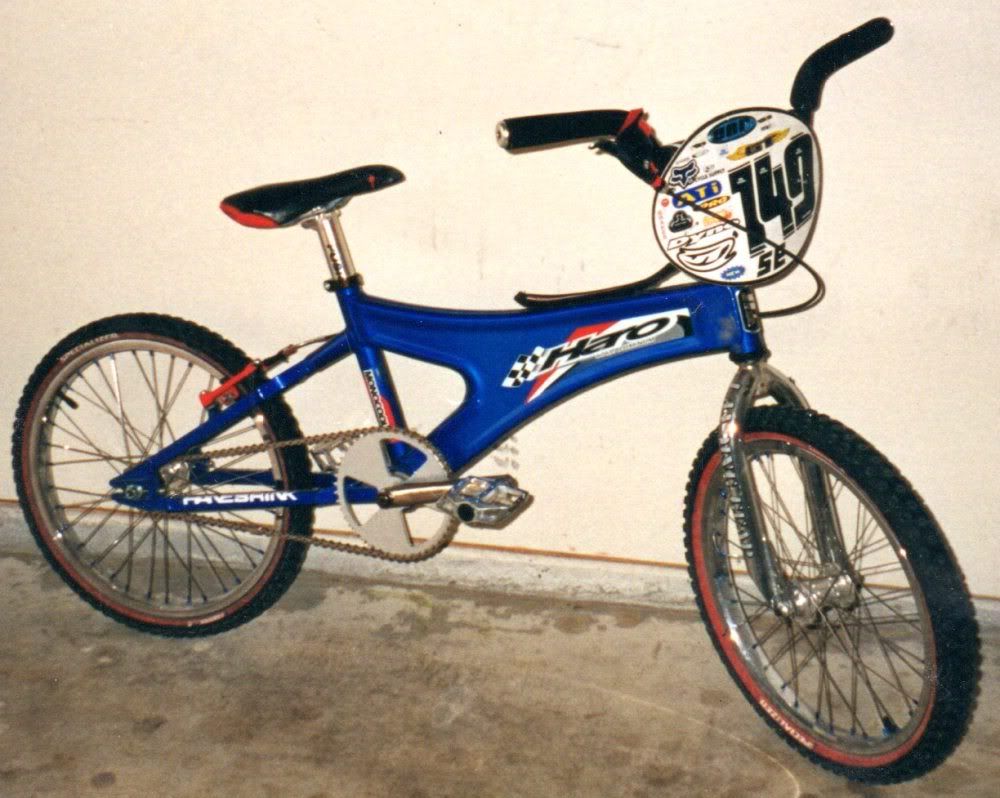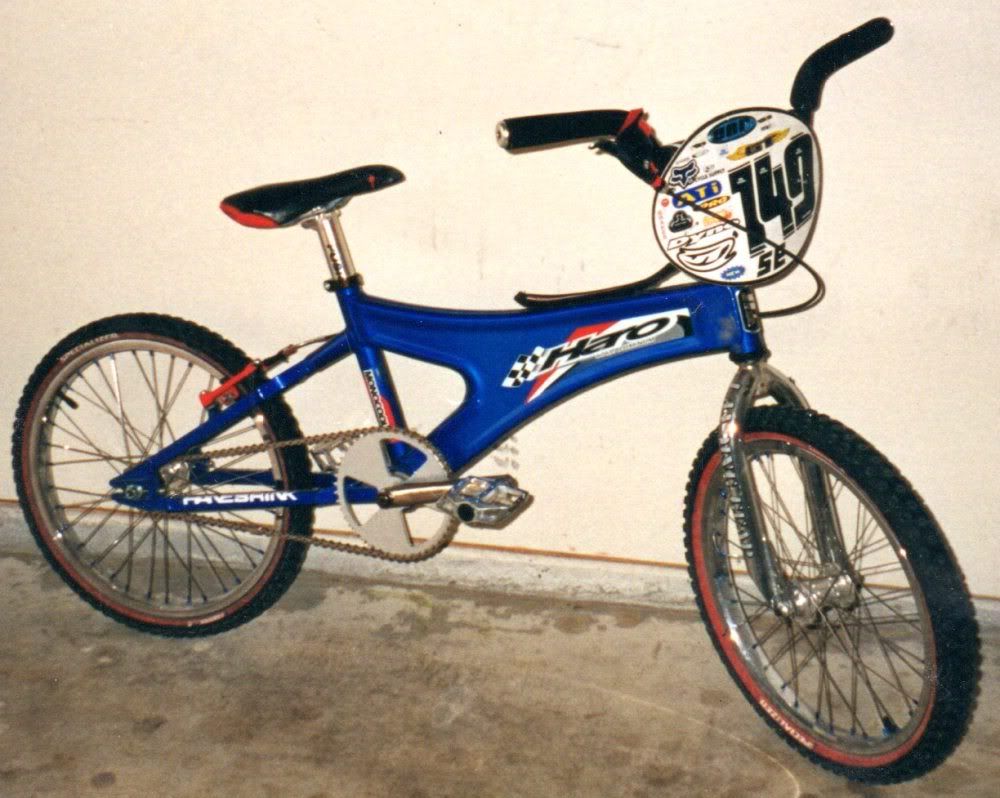 Submitted by pharv85