1998 GT Speed Series Team XL
ALUMINUM MASTERPIECE!! THE WELDS ON THIS BIKE ARE LIKE SILVER DIMES STACKED UP!!! ABSOLUTELY BEUTIFUL BIKE
I bought this bike on 08/03/2012, took me about a month to complete, 09/05/2012, and quite happy with the outcome.
I acquired a complete bike, with some decently good parts already on it. Frame was in great condition, stickers were good and complete. I stripped her down, completely polished her up, and rebuilt what you see. But I decided to add some other parts to make it a 90's era racing machine. With the innovation, technology and creativity that brought some cool parts for the time. Whether good, bad or otherwise, Here she is!!
Frame: 1998 GT SPEED SERIES TEAM MODEL XL
Forks: Brand X w/Red anno top (also have original forks)
Bars: Answer Expert Power Bend Aluminum hand polished
Stem: Unknown Polished (still undecided on style to use)
Headset: AHeadset Red
Seat: GT Speed Series covered in Grey Tweed
SeatPost: Brand X
Seat Clamp: Intergrated into Frame (Team Model)
Cranks: Techniques 3 Piece 181mm Fully Polished w/custom Red Lettering and Bolts
BB: American Sealed all aluminum w/spindle
Chainwheel: GT 45 Tooth w/Red bolts
Chain: KMC Z chain w/Red pins
Chain Tensioner: Red Aluminum
Pedals: DK Maltese Crosses
Brake Lever: Magura Raceline painted Red and customized the lever & Polished
Brakes: Magura Raceline Hydro Evolution Painted Red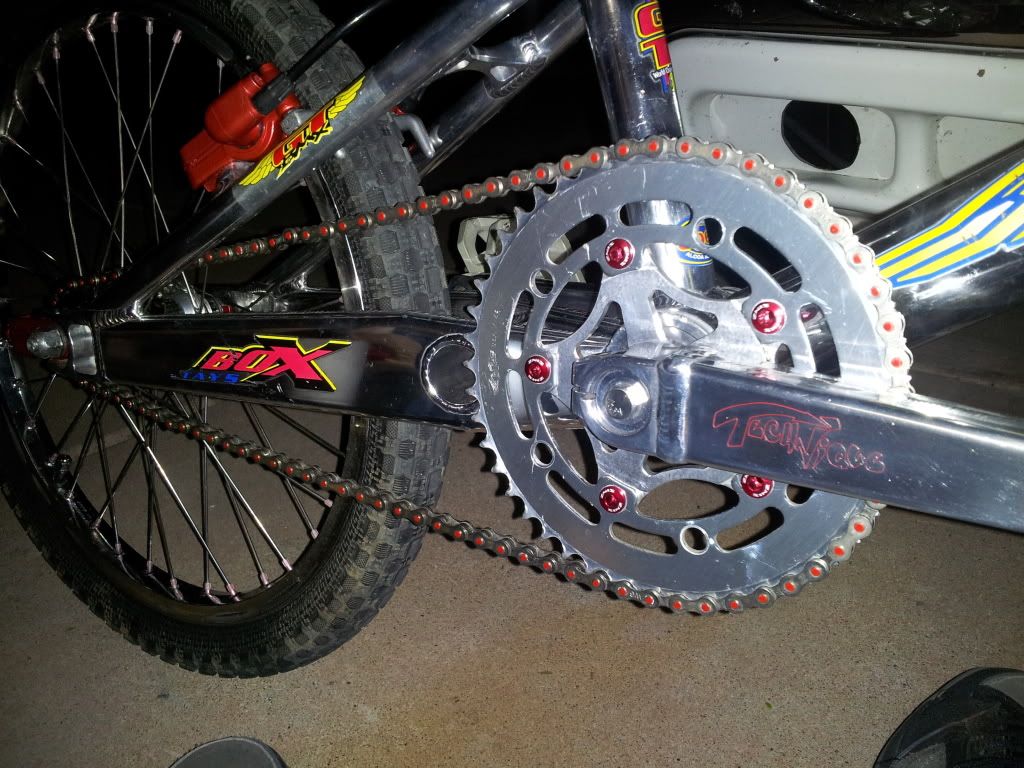 EDIT: 2-9-2013
I changed a few parts on the bike. Got some Fetish Carbon Fiber forks. I thought they would go well with the Nuke Proof Carbon Fiber hubs. Still unsure about them?? I put my Original GT stem back on, and Speed Series seat. Also was able to find a hard to find FSA Orbit 3D headset. Absolutely love this headset, spins amazingly smooth, and looks sick!! I have a set of Araya Super 7X wheels with GT Mohawk sealed hubs I may put on this. Just up in the air on keeping forks on, if not, may put those wheels on. LMK whatcha think.
NEW PARTS:
GT stem
FSA Orbit 3D headset sealed
Fetish Carbon Fiber forks
GT seat
Flite padset
Race
Company: GT Bicycles
Model: Speed Series Team
Wheel Size: 20"
Headtube size: 1-1/8"
Details Bike has ALL ORIGINAL TEAM SERIES DECALS and Integrated Seat Clamp. From referancing all other like bikes on this site with same like Serial #, Integrated Seat clamp and Decals. Makes this bike a Team Model