2011 Fit Mike Aitken Signature
No other fit bike like it on the planet...
ONE OF A KIND bmx. Custom powder coat, Hand Painted Lettering and Hand painted Captain America Shield. The frame is a FIT CO Mike Aitken powder coated in a 3 phase process. It is 2 coats of Lollipop red layered over one coat of Sparkle Silver powder coat. The handle Bars and the cranks are also 3 phase powder coated in Cool white with Metallic flake and a super high finish....The pictures dont even do the paint job justice for how good it really looks in person. 4130 Chromo Tapered OG Forks, Rear wheel is a 9t hollow core in Blue matched to the colors of the rest of the bike...Blue welgo pedals, White KMC chain, Crome 6mm crankbolts, new sealed Bottom Bracket, new sealed head set, GT Affix Stem matching blue, White Odyssey Aitken Seat, BLue Sputnic grips, Blue matching Kenda Kontact 2.25 tires, Shadow Conspiracy Screamer 25t chainwheel in red, and Alienation Plain Black front wheel in matching blue also.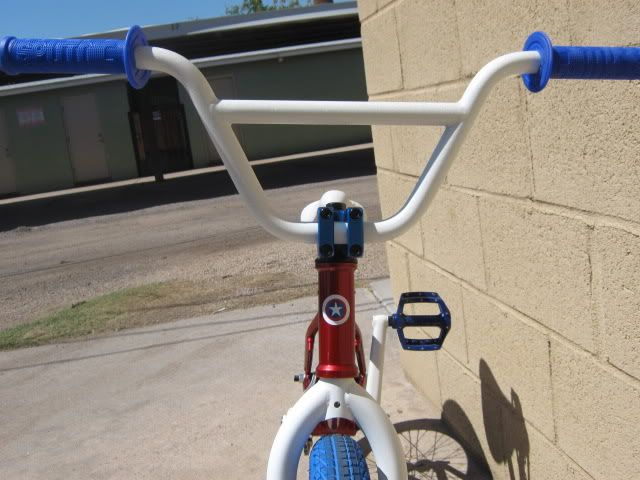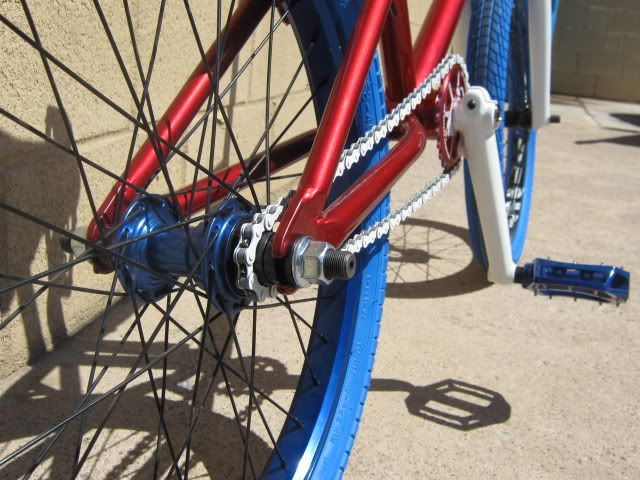 I Just added new tires, so here is what she looks like now....