1996 Dragonfly Double Dynamite
This is my newest addition my 96' Dragonfly Double Dynamite or as I like to call it Double Trouble since I gave it a face lift w/all NOS parts!
Here is my 1996 Dragonfly Double Dynamite that I've been building from the ground up using all the rare NOS parts that I could round up to make this the Ultimate Flatland vessel! This is also #40 out of only 200 made the way I understand it and I don't know of anyone else in the states that has one but surely there is one or two out there I would think!
Dragonfly Double Dynamite.
Tested in Ride BMX UK october 1996: Matthias at Dragonfly has been promising a bike for a hell of a long time -pretty much as soon as Dragonfly started up making all its bike parts word of a DF frame was being passed around the industry. But Matthias wanted something different -and judging by the Double Dynamite, they certainly made something that ain't usual at all. The most striking thing about the DF frame is that it has double toptubes which is pretty rare to say the least. Back in the day of course, you couldn't move for double toptube frames (that's because everyone had a Haro Master though). But these days of trails and parks, every frame sports a single toptube and maybe a platform -only one or two companies make double toptube bikes today. Haro still have their Master (now called the Ultra) of course and Morales have their now world famous (and world beating, thanks to Phil Dolan) flatland frame. The double toptube has all the benefits of a platform frame (it has more to stand on) yet everything is out of the way. The DF frame's toptubes are a hair under 1 inch OD each, and with a downtube of 1.5 inches OD, the front triangle is stiff and strong. Under the downtube is a gusset (a bit like a Big Daddy), and between the toptubes near the headtube is a small neat plate to add strength there. Halfway down the toptube is a cross-brace, an oval tube. Also halfway along the toptube is a pair of cable adjusters -the DF frame does away with the traditional Gyro splitter lower cable in favour of a double-cable setup for the rear AD brake. Two cables come from the Gyro and each goes to one side of the AD brake. Its debatable whether this improves braking, but it does mean that lower cables are cheaper, and easier to replace, and the whole thing is more adjustable. I'm not a big fan of having AD brakes underneath the seatstays, but when dialled in the rear brake on our test bike worked fine -not as good as the Shimano U-2 brake on my black bike, but generally speaking it worked OK. The rear chainstays are thick too -1 inch OD stays are ovalised and formed to avoid the chainwheel and fat tyres, and there is a wraparound gusset between them at the BB shell. Both the ends of the chainstays and the seatstays are capped off neatly. Which brings us to the rear dropouts These are monsters! Dragonfly claim to be the first to use 100% 4130 cromoly for the dropouts, and they could be right. These dropouts are not simply cut from 6mm plate, they are cold forged and vary in thickness from 5mm to a whopping 8mm! The surface where the pegs contact the dropout is rougher so the wheel is less likely to slip, and there are cutting guides if you want to cut the drops to fit 14mm axles. There is maximum weld contact area, and overall these have to rank as the best dropouts in BMX. They will not bend, split, pac-man, break off the stays, or twist. You will have to drive over them in a truck to damage them. The chrome is good quality, and we can't wait to see the other colours either -Dragonfly will have these frames in regular chrome, matt chrome, black chrome, and plenty of colours over chrome. Nothing will be boring from Dragonfly! So how does it ride? Well, there is plenty of room up front for barspin type stuff, plenty of room to manouvre during boomerangs etc The head angle is sweet (about 74.5 degrees) and sharp, making the bike quick to ride. The toptubes are slung low and out the way for step-thrus, and the back end is short and workable manual rolls are a sinch The DF frame it heavily built making it weigh a bit more than the average bike, but its stocky, strong and very stiff - no flex, whatsoever. The Double Dynamite is a rock solid bike to ride, it rules And for only £199 a frame, its indecently good value for money as well If you like the look of it, buy one: that's all we have left to say.
Mine is however only 90% finished would like to get a set of Crupi cages on it and would like to get a set of Purple Tioga Comp Pools but I'm still waiting on some stuff currently! But please let me know what you think of my build?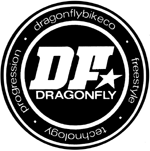 Submitted by carguy1972317