2009 DK Convex
Her name is 'Lady Luck'...
So I started out with a tank of a frame (my old 2004 Dk 'Step Up' frame) and added some new flavor to my methods for 2012. With the help of my lovely wife, who bought the frame off a local, I was able to put together a new ride for the 2012 season. Her name is 'Lady Luck', check out the set up and transformation!
*Update (03-19-12): The knarps and gyro were a TERRIBLE idea so I ditched them for a straight cable!

Frame: 2009 DK Convex
Weight: (CURRENT WITHOUT PEGS) 25 lbs, 8 oz
Headset: Shadow Conspiracy 'Corvus'
Bottom Bracket: Demolition sealed SPANISH
Post: Primo
Seat: DK
Clamp: DK
Fork: DK 'ATF' (14mm drops)
Stem: GT 'Piston'
Bars: Shadow Conspiracy 'Vultus' 8.25" (trimmed down 2")
Grips: DK 'Tsuka' (with Stolen plugs)
Cranks: Stolen 'Mob' (8 spline drive, 19mm)
Pedals: Odyssey 'Twisted'
Wheels: (HANDBUILT by me)
Front: *Shadow Conspiracy 'Stun' rim
*Proper 14g spokes
*Shadow Conspiracy 'Rant' female hub
Rear: *Shadow 'Stun' rim
*Proper 14g spokes
*Bicycle Union 'Process' V1 sealed, hollow axel 10t cassette driver
(Proper Rim strips on front and rear)
Chain: KMC
Sprocket: Shadow Conspiracy 'Crank & Bones' 28t
Brakes: Odyssey 'Evo II' limited edition pink!
Cable: Odyssey 'Slic'
Lever: Odyssey 'Monolever' limited edition pink!
Tires: Odyssey Mike Aitken Signature tyres (20x2.10)
Special Modifications: Trick Topz 'Smiley' caps that have a spec of red on them to look like the logo from 'The Watchmen and grip tape on the pegs as I like to try a little flatland now and again...
Here are some pics of the transformation from the old 'tank' frame to the new setup!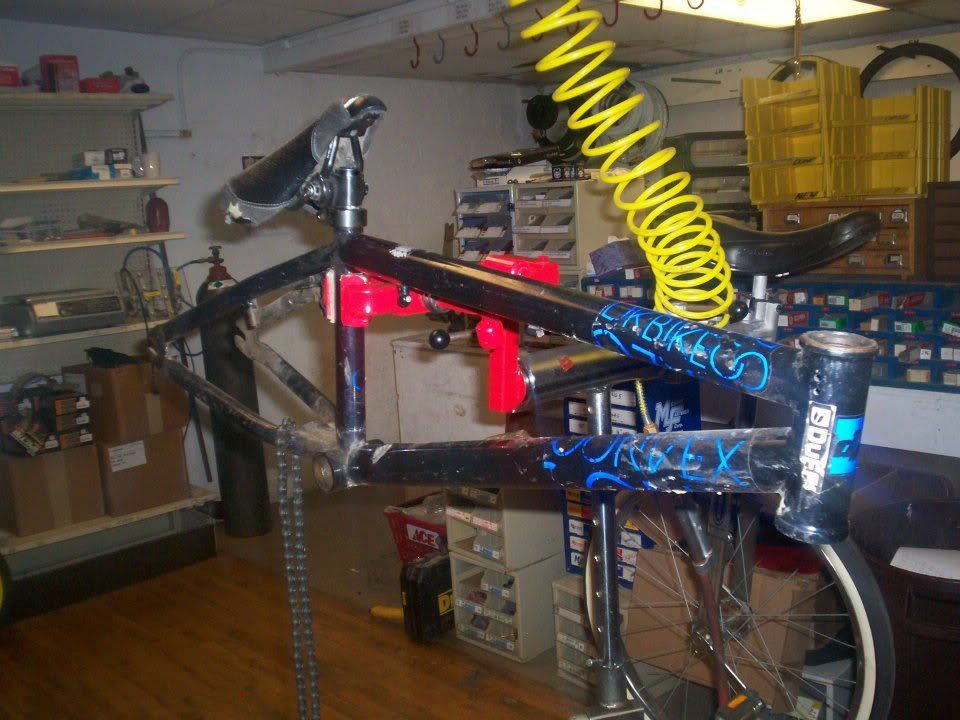 The beat up, dinged up, dirty as hell frame as I received it...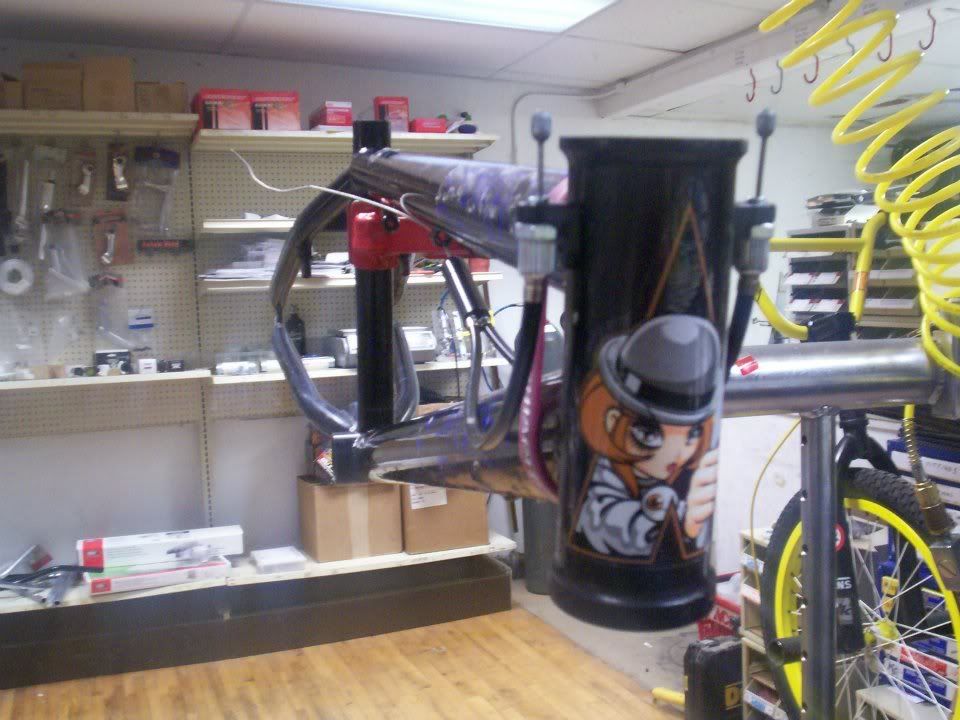 A little elbow grease, a little patience, some new stickers and presto! Lookin' good!
Midway through the process and you can still see the old frame in the stand (background)...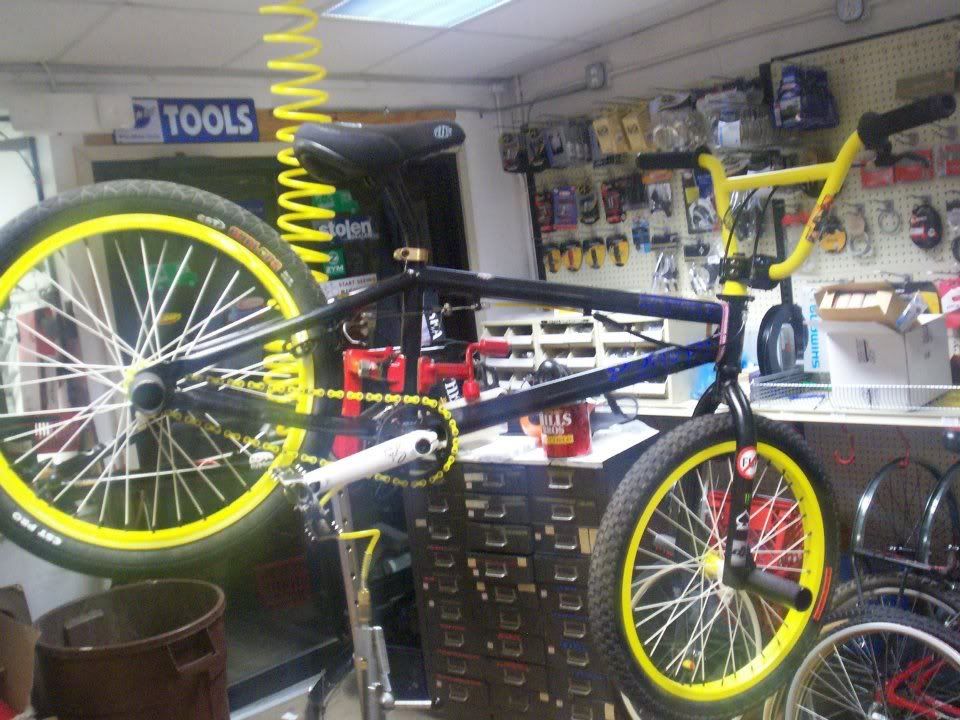 One frame massacred and cannibalized, one complete bike...Funny how things work out...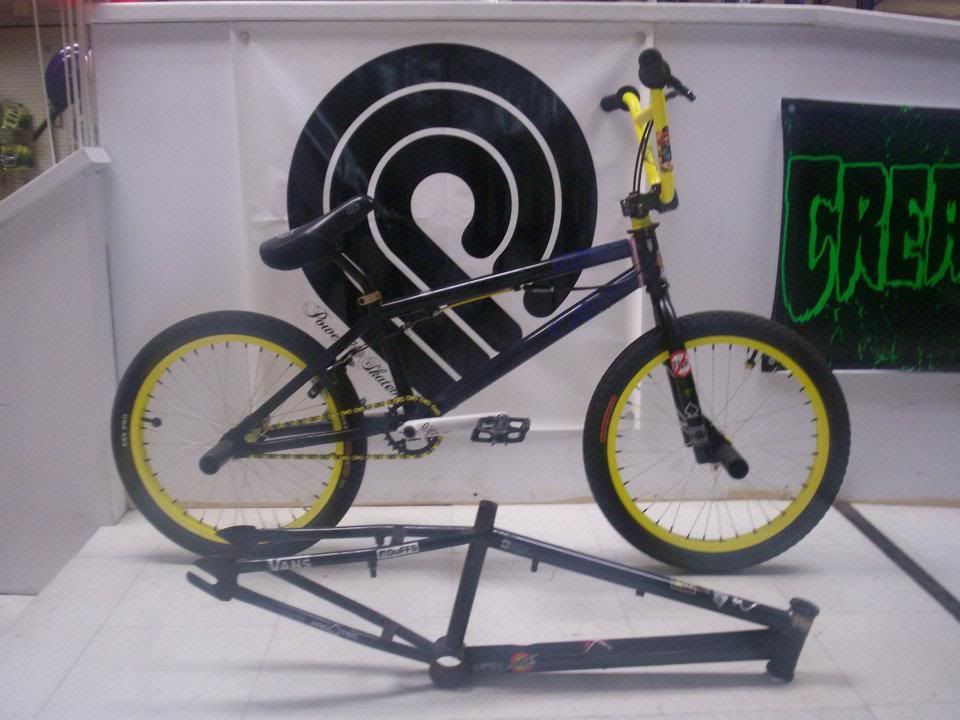 Goodbye 'Black Beauty', hello 'Lady Luck'!
All-Around
Company: DK Bicycles
Model: Convex
Wheel Size: 20"
Headtube angle: 74.5
Seattube angle: 72
Toptube length: 20.5
Headtube size: Internal
Details New school bike