1982 Cook Bros. Racing Cruiser 26
Smooth riding Cook three bar turned Klunker
Finally have a finished Cook three bar of my own!
I don't have the back story on this frame set, just know I love it! The Cook has to be my favorite of all the three bar cruisers out there and overall, just an all around cool bike. Was extremely impressed with how smooth it was to ride even on it's maiden voyage. Made me wish I hadn't taken so long to finish putting it together. (Thanks locort for nagging me to finish it!)
I picked up this frame set off eBay a couple of years back. It sat for some time before assembling. Partly because I move at a snails pace, and partly because I wanted the right parts. Most of the parts were easy to find with a little searching, but the fork on the other hand... This particular frame has what appears to be OG cantilever brake bosses, and while it came with a canti boss mountain bike fork from the correct era, I wanted to source an OG Cook fork that also had cantilever brake bosses. Didn't realize at the time, but this isn't something that pops up too often. At one point, I even bought a normal Cook 26" fork to have modified, but couldn't bring myself to do it. Patience paid off, as the right fork finally popped up. (About had a heart attack when the listing popped up...) As far as the rest of the braze-ons go, I'm pretty sure they are not OG, but least the cable stops seem to be era correct. I can say that while I personally wouldn't have modified an OG frame like this, I'm definitely not removing any of the modifications. This bike fits me to a tee as it sits. Can honestly say this one is a keeper!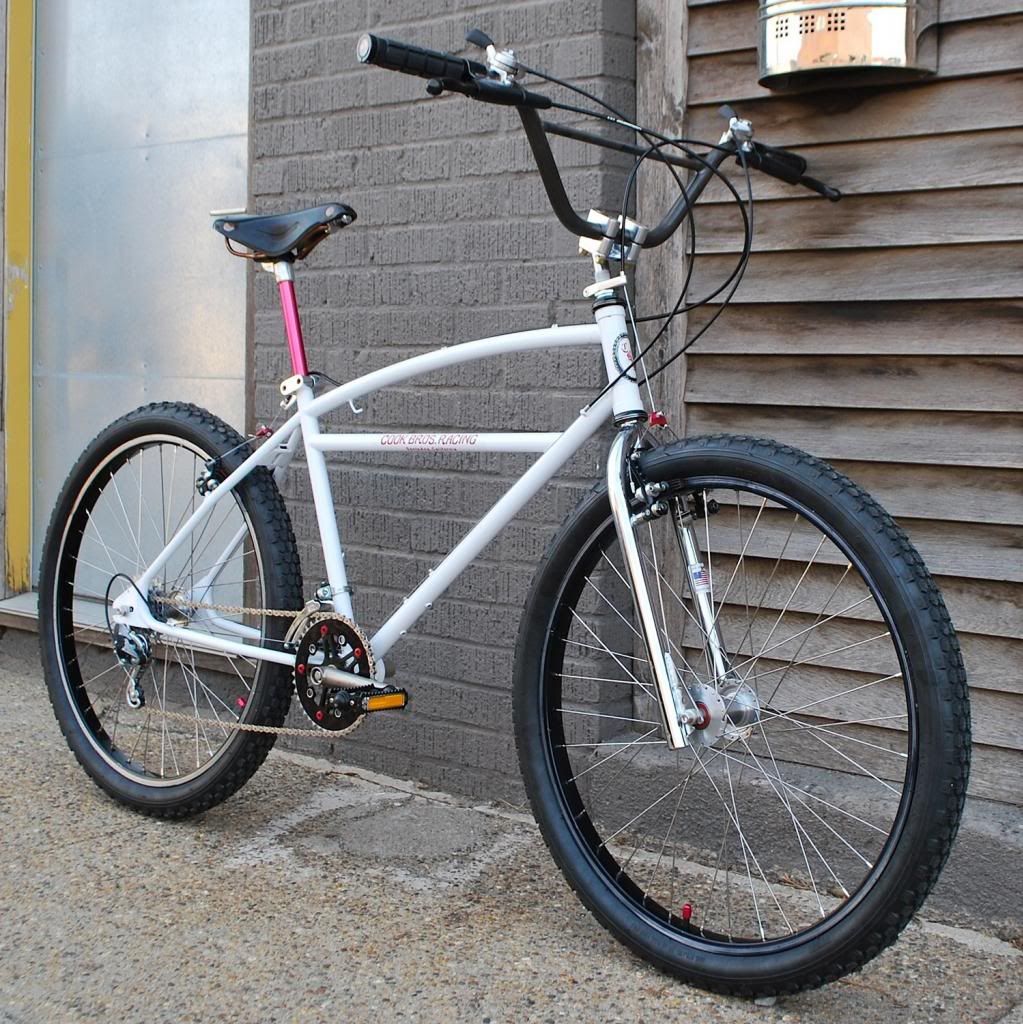 Frame: 1982 Cook Bros 26" Three Bar Cruiser w/ OG cantilever bosses
Fork: Cook Bros 26" w/ OG cantilever bosses
Bars: Mr Tick (raw finish)
Stem: Cook Bros Slant Stem
Seat Clamp: Cook Bros
Cranks: Cook Bros (Steel w/Cook Spider)
Bottom Bracket: Cook Bros
Chain ring: PPP 42t
Pedals: NOS KKT Rat Trap
Seat Post: SR Laprade
Seat: Brooks (Thanks Greg!)
Headset: NOS Hatta MX 100
Hubs: Phil High Flange (70s era road hubs sent to Phil Wood to be rebuilt and converted to allen bolt axles)
Rims: Ukai 26 x 2.125 7c style
Tires: Kenda Cruiser
Brakes: Paul Stoplights Cantilever (Drilled Style)
Brake Shoes: Mathauser (finned)
Brake Levers: Magura (Early Motocross Levers w/Hoods)
Grips: Oury Lockons
Shifters: NOS Deore XT Deerhead
Rear Derailleur: NOS Huret Duopar
Front Derailleur: Huret
Freewheel: NOS Suntour New Winner
Chain: SRAM
Cables: Jagwire
Submitted by redcar