1983 Hyper
1983 Hyper


1983 Hyper

"Greg Grubbs" personal factory team

from eby ad:
What have here is Greg Grubbs' personal factory team Hyper frame and fork from 1983. Hyper was the brainchild of the late Billy Farrell from New York and was only in business for a short time. This is one of the first frames from the first production run. Greg only rode it a short time as it was too small and flexed too much for him with the twin tope tube and eliptical down-tube configuration. They built a longer, stiffer Hyper for Greg that he is keeping. The serial number is 683294 but neither Greg or I have any information as far as decoding it. a piece of BMX history and a personal frame from 2007 ABA Hall of Fame inductee Greg Grubbs' personal collection.



Pro Member

From: Grafton, OH
Registered: 2007-02-04
Posts: 985
Re: 1983 Hyper
My friend Scott owns this frame/fork. Heres Greg Grubbs himself checking it out, at the OS-BMX.com show in Long Beach Cali this past June. I still have the bike here in OH from showing it at BrianP`s party, I`ll get some pics of it later this week if the weather is decent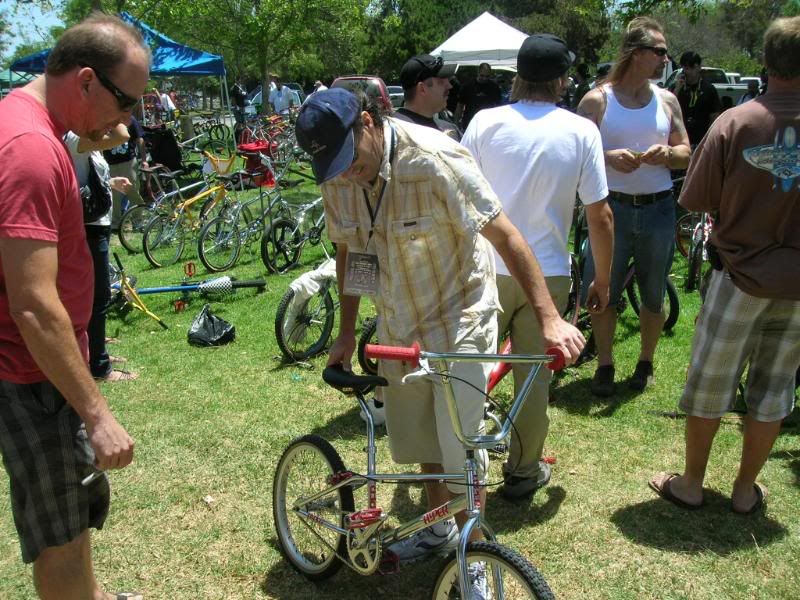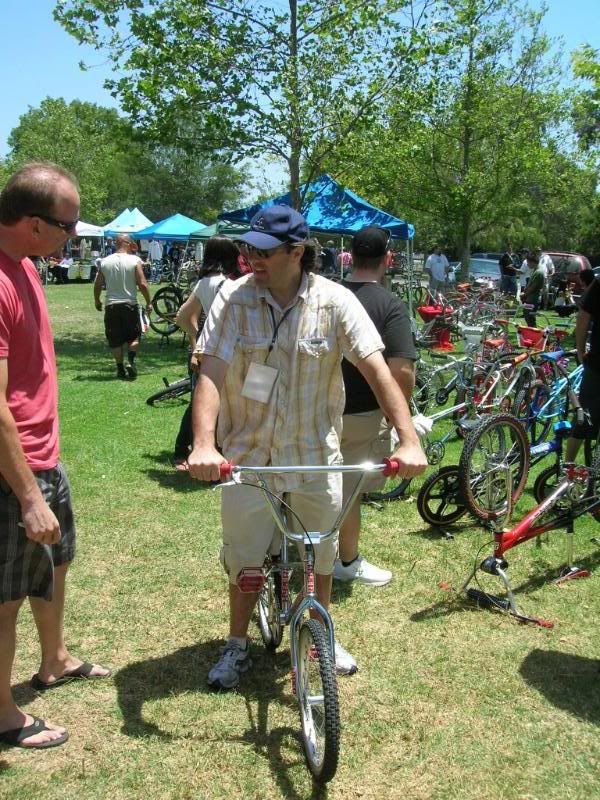 Last edited by 8587GN (2008-12-14 10:53am)
Pro Member

From: Tuckahoe, NY
Registered: 2008-05-31
Posts: 627
Re: 1983 Hyper
That bike is sweet. I took a pic of it a BrianP's


Last edited by downhillmania (2008-12-14 11:09am)
Pro Member

!!!The Sales Man!!! "1000 CLUB"
From: MA
Registered: 2008-02-04
Posts: 6711
Re: 1983 Hyper
that is one sweet and rare bike...great part of bmx history
---
Respect yourself enough to walk away from anything that no longer serves you, grows you, or makes you happy.
Beware of false knowledge; it is more dangerous than ignorance.
Member
From: NJ
Registered: 2009-05-14
Posts: 47
Re: 1983 Hyper
Beautifully designed bike. WOW
---
always looking for Thruster stuff
Pro Member

From: Omaha, NE
Registered: 2007-11-02
Posts: 3656
Re: 1983 Hyper
GRUBBS!
---
YOUR SCENE SUCKS.
Pro Member

White Boy With An Afro
From: Skippack, PA
Registered: 2008-06-17
Posts: 9257
Re: 1983 Hyper
---
out with the new in with the old!!!!!!!!!!!!!!!!!
mongoose decade guru, hit me up with any questions you may have
R.I.P Autumn Pasquale. May she rest in Peace!
Instagram! @freedo70
Member
From: Los Angeles, CA
Registered: 2010-04-06
Posts: 63
Re: 1983 Hyper
Hey I'm golfing with Grubbs tomorrow! He'll probably spank us all like he usually does.
Pico Sanchez
From: Nor-Cal
Registered: 2010-06-17
Posts: 1201
Re: 1983 Hyper
---
BMX=COOLNESS
Pro Member

From: Essex UK
Registered: 2011-08-16
Posts: 9
Re: 1983 Hyper
my 83 hyper is going up for sale
email me for details
Museum Newbie
From: New York City
Registered: 2012-11-26
Posts: 1
Re: 1983 Hyper
I remember billy from way back then. He and I used to ride out at James J. Braddock BMX Track out in New Jersey (ABA Sanctioned), and he was always thinking of new ways to to produce new frames, where he would premier them and what pros he would have ride for him. He was truly a gifted friend, and I still miss him much. The sport was a better place whith him in it.