Pages: 1
» Sprocketts presents 4th Annual Great NW Vintage BMX Show at Seatac bmx
Sprocketts presents 4th Annual Great NW Vintage BMX Show at Seatac bmx
Pro Member

From: Sitka, AK (living in seattle)
Registered: 2012-09-28
Sprocketts presents 4th Annual Great NW Vintage BMX Show at Seatac bmx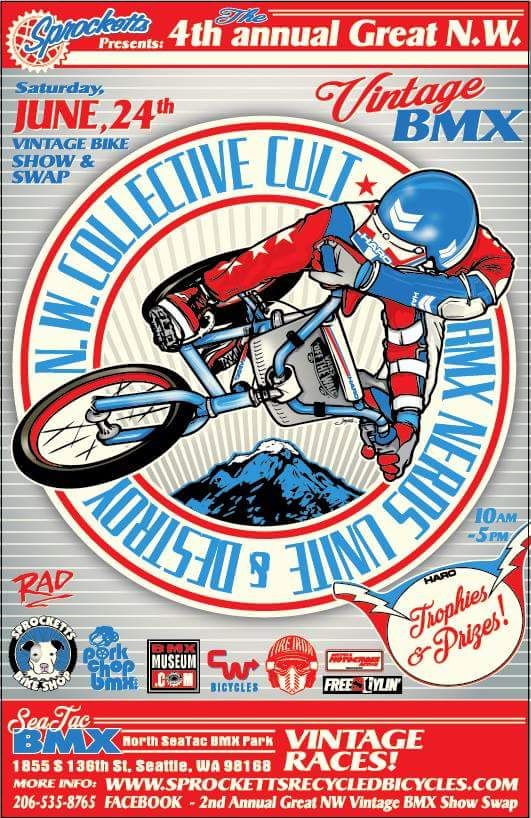 its going on rain or shine! SeaTac, Washington. Contact me for any questions.

Karl
Last edited by AlaskanAssassin (Yesterday 9:49pm)
---
"So if the Son sets you free, you will be free indeed". John 8:36
Pro Member

From: Cloverdale. B.C.
Registered: 2013-10-21
Re: Sprocketts presents 4th Annual Great NW Vintage BMX Show at Seatac bmx
Pro Member

27 & Counting...
From: Gotham City
Registered: 2010-05-22
Re: Sprocketts presents 4th Annual Great NW Vintage BMX Show at Seatac bmx
See ya there Karl!!!
---
HELLTRACK BYLAW 812.3 BRAVO-
To be eligible, a rider must be sponsored by a company with at least $50,000 in sales.
Pro Member

From: B.C., Canada/Washington, USA
Registered: 2008-02-10
Re: Sprocketts presents 4th Annual Great NW Vintage BMX Show at Seatac bmx
---
Need wheels laced or trued and you live in the British Columbia Lower Mainland? Send me a PM.
Pro Member

From: Sitka, AK (living in seattle)
Registered: 2012-09-28
Re: Sprocketts presents 4th Annual Great NW Vintage BMX Show at Seatac bmx
---
"So if the Son sets you free, you will be free indeed". John 8:36
Pages: 1
» Sprocketts presents 4th Annual Great NW Vintage BMX Show at Seatac bmx