1985 CW Racing Z-3000
Pro Member

Live Love Sleep BMX
From: Oregon City, OR
Registered: 2007-01-31
1985 CW Racing Z-3000
---
Wanted: OURY grip jersey patch

**** Friends don't let friends ride Moosegoose's ****
Pro Member

Original Finish Only
From: Victoria , Australia
Registered: 2013-11-04
Re: 1985 CW Racing Z-3000
Very Nice
---
Turning Negative Into Positives
( Since 1968 )
Museum Addict
From: Michigan
Registered: 2007-04-16
Re: 1985 CW Racing Z-3000
BMXer 4 Life
From: San Diego, CA
Registered: 2008-05-15
Re: 1985 CW Racing Z-3000
---
"How much could you know about yourself if you've never been in a fight?"
- Tyler Durden

[img]http://i584.photobucket.com/albums/ss283/orjr101/bw-sanD-faction.gif[/img]
Pro Member

From: Inland Empire,SoCal
Registered: 2013-12-02
Re: 1985 CW Racing Z-3000
Cool looking CW.
---
Aba Ca-13 1982-84 #926 #547 #123
Moderator

Retired Action Man
From: Sydney, Australia DownUnder
Registered: 2011-09-10
Re: 1985 CW Racing Z-3000
very nice ,,,never seen that color before ...................
---
This Post is .........."CHUCK NORRIS APPROVED" [img]http://i1129.photobucket.com/albums/m520/savic666/sticker_220x200_pad_220x200_ffffff_u6.jpg[/img] "The Quintessential 80,s Action man"
Pro Member

WAYYYY in the red since 1983
From: Mt. E., NJ/ NOLA
Registered: 2006-12-31
Re: 1985 CW Racing Z-3000
Aqua-Fresh! Why you no turn seatguts the other way?
Pro Member

patty work
From: 44T HQ, Chicagoland, IL
Registered: 2010-06-21
Re: 1985 CW Racing Z-3000
---
44T BMX Club, Chicago -- USA-MADE SINCE 2010
Beware of my alter ego, PLANTAIN -- "If there's one thing I won't guarantee, it's your safety!"
Luther Is A Good Ol' Dog Club -- See you at the Rainbow Bridge, my friend!
Ford Mustang
BossSupercrossSkywayKappaProfileProfileRobinsonRobinsonRobinson
PowerlitePowerlitePowerliteBontragerFree Agent...and non-BMX SchwinnSchwinnSchwinnSchwinnWorksman!
Family, Friendship, and Fortitude -- that is all.
The warrior embraces all around him. The desire to kill no longer exists. Only peace remains.
Pro Member

From: Ask Me Tomorrow
Registered: 2015-09-10
Re: 1985 CW Racing Z-3000
LOVE this color!! I remember racing against a kid on one of these in the late 80's! He thought because his grandpa bought this for him, he could beat ANYONE. I humbled him lol. He was a cool kid though.
---
Keeping BMX history alive, one bike at a time!
Pro Member

From: Rochester, NY
Registered: 2008-04-01
Re: 1985 CW Racing Z-3000
sweet. I didn't think there were many of these.
I have an almost all original for sale but I might just keep it.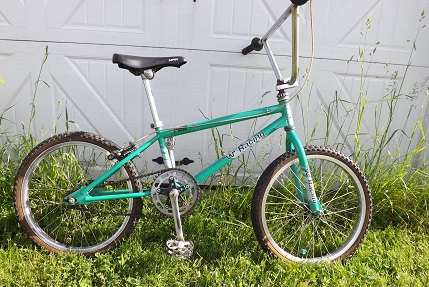 Last edited by gsxr141 (2016-07-04 5:39pm)
Pro Member

semi-retired ODSY HRDR
From: North Cackalacky
Registered: 2011-09-25
Re: 1985 CW Racing Z-3000
I've never seen this color. It's damn cool.
---
44t BMX Club - NC Chapter

"Two hundred years of American technology has unwittingly created a massive cement playground of unlimited potential. But it was the the minds of 11 year olds that could see that potential."
Craig Stecyk - Skateboarder Magazine - 1975