1980 Schwinn Sting
Member
From: G
Registered: 2006-07-08
Posts: 49
1980 Schwinn Sting


1980 Schwinn Sting

A little different...

Schwinn Sting Frame & Fork
Sunshine sealed hubs
Asahi Spokes
Araya 7C Rims
Snakebelly Front/Comp II Rear tires
Shimano 600 Alloy headset
Square Corner Tuf Neck
Alloy V Bars
AME Grips
Dia Compe brake lever
Haro Type II Plate (Thanks PK)
VDC Bottom Bracket
Taya Chain
Galli Crankset with Sugino chainwheel
Reedy Pedals (Thanks so much Cheez)
Alloy Seat clamp
Kashimax Super Pro Saddle
Alloy Fluted Post (Thanks Jeremy)
Weinmann brake with Matthauser Shoes
Suntour Freewheel



---
BMX bikes were meant to be ridden, even if that riding is only in your mind as you admire your latest build
Pro Member

From: Cincinnati, OH
Registered: 2007-03-05
Posts: 2643
Re: 1980 Schwinn Sting
Another incredible bike, you don't do it any other way. I love white with red.
Pro Member

Hey Santa, you geriatric wanker...where's my bike?
From: Atlanta, GA
Registered: 2006-12-01
Posts: 2720
Re: 1980 Schwinn Sting
Nice Sting. I can really relate to the white!!!! You don't see this combo often.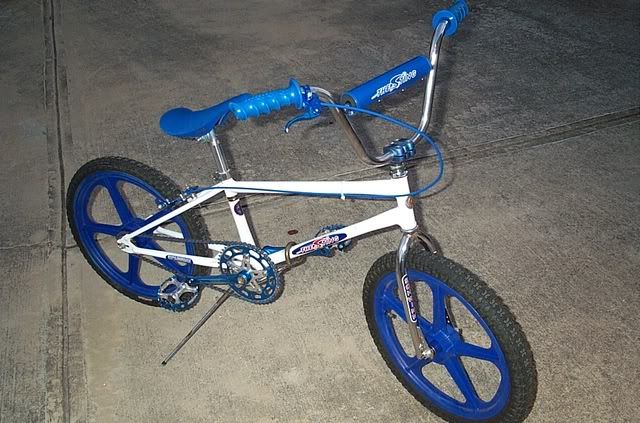 ---
Wanted- White Industries Freewhee 19T and 20T, Mongoose Stainless Steel bars for a Moosegoose, and Big Gulp bars- because I think they look goofy enough to cruise with!
Intermediate
From: Northern NJ
Registered: 2007-11-25
Posts: 326
Re: 1980 Schwinn Sting
Super nice Stings. I have a red one any blue ones out there??

[img][/img]
---
It don't mean a thing if you aint got no Sting !!
Pro Member

"1982"
From: Colorado Springs, CO
Registered: 2006-11-08
Posts: 7237
Re: 1980 Schwinn Sting
Any of you guys looked in the Name it forum lataly?
---
The Mongoo$e rides
Museum Addict
From: Queensland, Australia
Registered: 2007-09-20
Posts: 1030
Re: 1980 Schwinn Sting
very nice!
the more i see these stings the more i like them.
Pro Member

(fantstik Spellr)
From: Fountain Valley, CA
Registered: 2007-06-28
Posts: 11809
Re: 1980 Schwinn Sting
nice stings I had a chrome sting team model.your bike is maken me wish I keeped it.
---
Show bikes are nice. but bikes wear ment to be Petaled
YES I RIDE A PINK BIKE!! WANT TO MAKE SOME THING OUT OF IT!
Nature boy
From: Biloxi, MS
Registered: 2008-05-24
Posts: 2540
Re: 1980 Schwinn Sting
that is unbelievable! this is the bike i wanted when i was 12 y/o.
Pro Member

From: San Fernando, CA
Registered: 2011-01-13
Posts: 834
Re: 1980 Schwinn Sting
Very Different and very cool!!!! Great build!!
Pro Member

From: Chicago IL
Registered: 2008-06-10
Posts: 311
Re: 1980 Schwinn Sting
I had a red one and a black one. Actually it was black at first and let a friend borrow it. He gave it back to me saying he "painted it",when actually I think he "loaned it" to somebody else that did not return it and returned another Sting to me. ;)It also was sans some TuffII's with alloy flanges. Was able to settle up with him in the end . . Anyways nice to see these again.
---
Racing in the 80's, idle in the 90's and now Cruzin' 24's. What do you ride?
!