one busted up Trek
Museum Newbie
From: Wichita, KS
Registered: 2012-11-05
Posts: 7
one busted up Trek
scored this sweet ride today from craigslist. she's a '97/'98 Trek SubDude.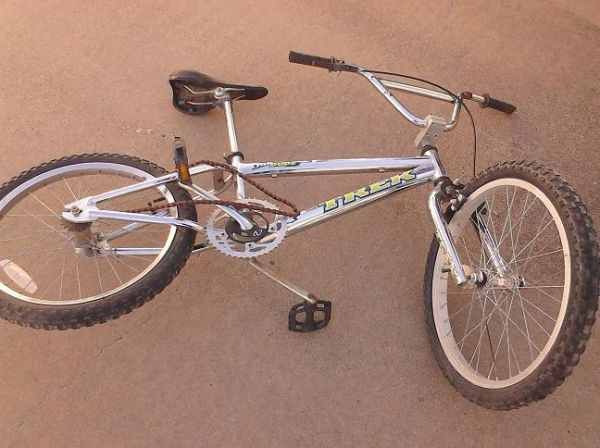 pretty much everything is messed up but the frame. i'm not really sure where to start rebuilding her. the upper headset cup is mushroomed out, the lower headset bearings were actually hanging out of the lower cup and broken, the steering tube portion of the fork is completely mangled, the chain is rusted tight and has a busted link, the chrome is peeling off the bars, the rear brake, cable and lever are all m.i.a., front sprocket is like taco'd, the tires, tubes and seat are all rotten, the factory rear wheel has been replaced with a coaster brake wheel/hub, the crank has a weird wobble to it, and the peddles are completely toast.

i felt so sad when i saw her, i had to give her a better home. i brought her home for $20. suggestions?
Pro Member

From: Trenton, NJ
Registered: 2009-09-18
Posts: 2713
Re: one busted up Trek
build it up and give it to a kid that needs a bike
Pro Member

**Hooligan** 1%er
From: Below Cleveland Above Akron
Registered: 2006-11-11
Posts: 8020
Museum Newbie
From: Wichita, KS
Registered: 2012-11-05
Posts: 7
Re: one busted up Trek
thewhitelarrybird wrote:

build it up and give it to a kid that needs a bike
this is my most likely solution. doubt anyone else would pay more for it. i need to clean some spare parts out of my closet anyhow.
Museum Newbie
Registered: 2012-12-16
Posts: 20