1981 Cook Bros. 24
Pro Member

From: Littleton, CO
Registered: 2006-11-20
Posts: 809
1981 Cook Bros. 24


1981 Cook Bros. 24

Extremily rare Cruiser Team Issue

I picked this up a few months ago and the guy I bought it from said it is a Team Issue Cruiser. It has a 4 inch headtube( all Cook Bros. 24 Cruisers have a 5 inch headtube) an integrated seatpost clamp, integrated chain adjusters that are on their 20 inch bikes but not their 24's and a large 26.4 seatpost tube. I have not seen another one in all my years of riding and collecting. I built it up for the Summer build of but it didn't place. Parts are Cook Bros. chromoly frame and fork, stamped stainless steel Mongoose Kos Cruiser bars, red Oakley B-2 grips with blue donuts, blue NOS Hatta alloy headset, red NOS SST Dirtskirt, Cook Bros slant stem with blue clamps, red NOS Cycle Pro Shotgun seat, Sugino 26.4 seatpost, blue Diacomp MX 900 rear brake with NOS red Dia Comp Tech III brake lever, first gen Mathauser finned brake pads with NOS red Skyway fins as a spacer, first gen Cook Bros dogbone cranks with red NOS Tuf neck 39 tooth chainring, Cook Bros. sealed bottom bracket, NOS first gen Bullseye pedals with blue bodies, NOS blue Araya 7x hoops with Cook Bros sealed hubs, ss double butted spokes with red Araya nipples, Suntour 15 tooth freewheel, red NOS Mitsuboshi yellow lable Comp III fat/skinny tires and original Cook Bros. padset. Out of the twenty plus Cruisers I own it is my second favorite, DG 26 looptail is still my favorite! Thanks for checking it out!!



Pro Member

From: Denver, CO
Registered: 2011-08-30
Posts: 615
Re: 1981 Cook Bros. 24
Wow! What a build! I need to come see this!
How this didn't place is beyond me! It is absolutely stunning!
Last edited by Bmxbooger (2012-08-21 8:01pm)
---
Looking for Cook Bros. slant stem (blue or silver), Cook Bros. BB, Cook Bros. hubs (blue or silver), and a Cook Bros. seat clamp! Oh, and a set of black comp II tires!!
Pro Member

From: Littleton, CO
Registered: 2006-11-20
Posts: 809
Pro Member

King of RePop
From: Bucks County, PA
Registered: 2011-06-29
Posts: 206
Pro Member

From: Chicago, IL
Registered: 2011-02-07
Posts: 286
Re: 1981 Cook Bros. 24
that is absolutely amazing! what a bike, my new favorite. Not to be picky, but is the dirt skirt upside down? Always see them the other way but not sure. Whatever, it rocks!
---
"And don't give me any of that local anesthetic, I want the good imported stuff!"
Intermediate
From: Cerritos, CA
Registered: 2008-12-19
Posts: 389
Re: 1981 Cook Bros. 24
Turned out very nice Dave... Super clean.
I wounder how many factory team issued 24 were made... I only know of two.
I never cared for the non-factory issued because it didn't have the chain tensioners and the 5" head tube make it look to much like a Mongoose Two-Four.

Your 24" factory team issued is bad-ass my friend
---
Rom:8:28
And we know that all things work together for the good to those who love GOD, to those who are called according to HIS purpose.
Pro Member

From: Littleton, CO
Registered: 2006-11-20
Posts: 809
Re: 1981 Cook Bros. 24
Thanks! Heres a few more pics.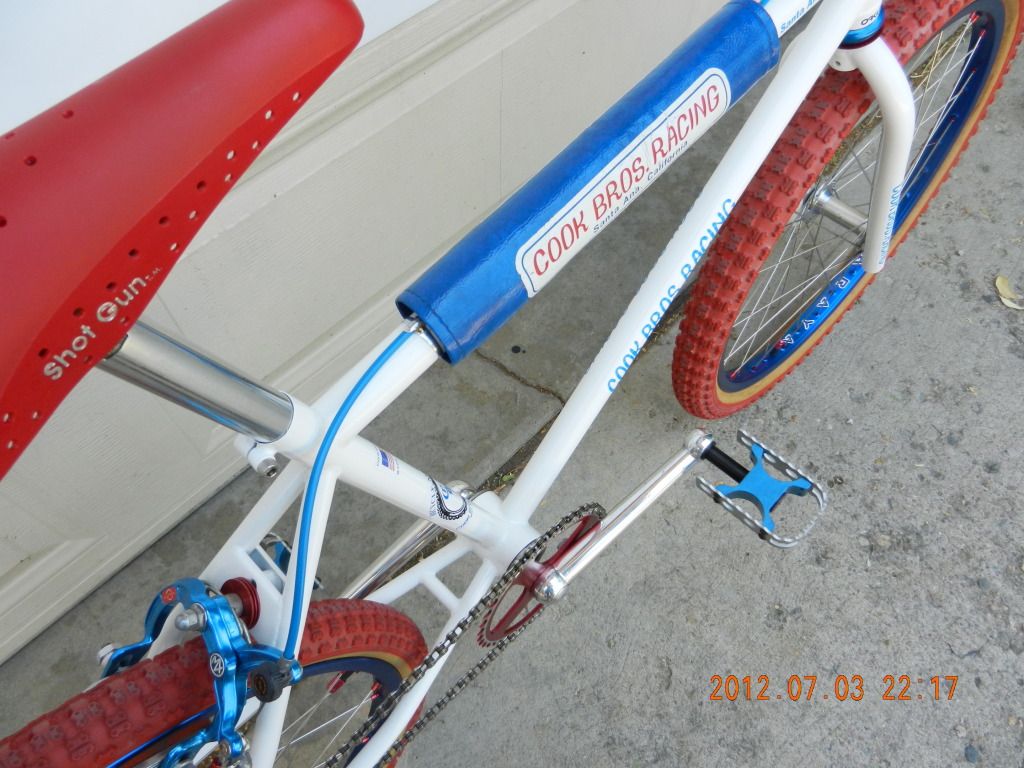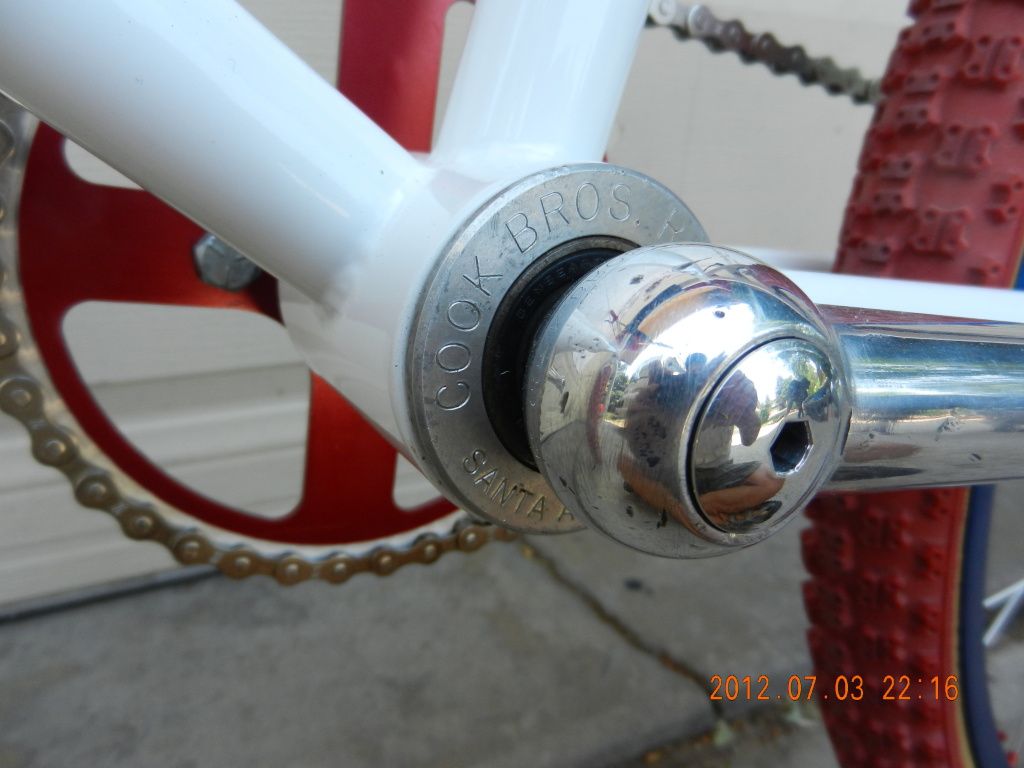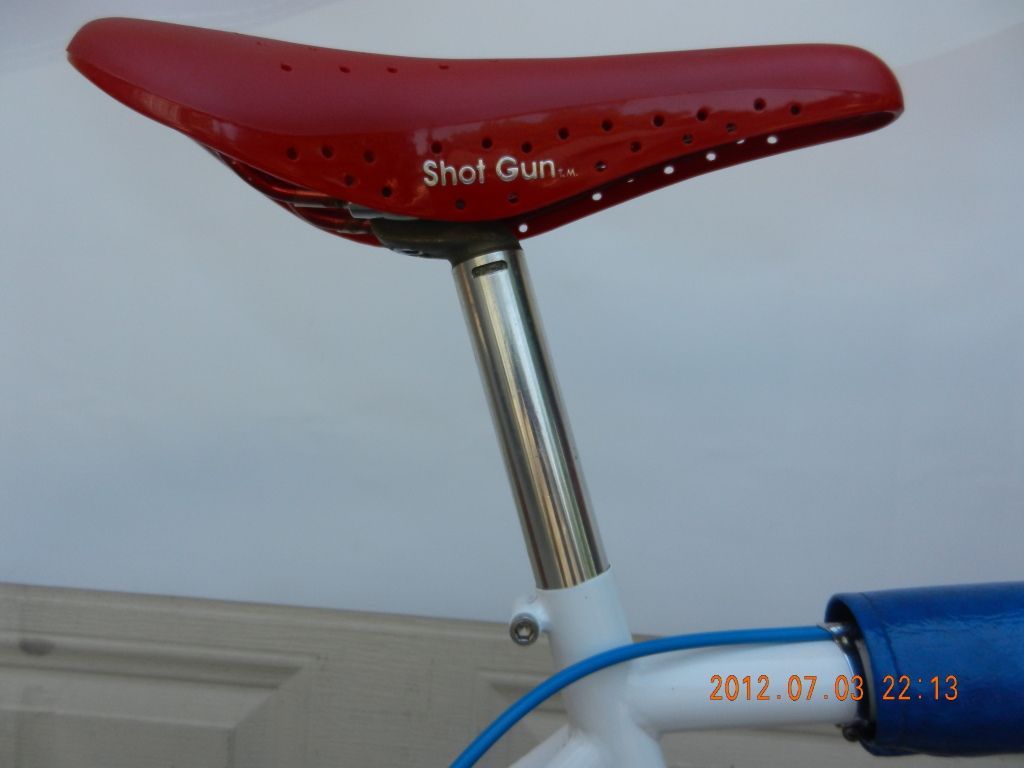 Last edited by suzu400 (2013-01-19 10:55pm)
Pro Member

From: Springfield, IL
Registered: 2011-10-11
Posts: 214
Re: 1981 Cook Bros. 24
Perfect in every way. Dream ride
Pro Member

From: Leo, IN/ Fort Wayne, IN
Registered: 2011-11-08
Posts: 787
Re: 1981 Cook Bros. 24
Insane!
---
Tuf neck layback stamped, 80's gt number plates, barefeet tires, black dyno spintech,chrome stamped dyno pretzel and drain pipe ...
Something shiny...
Anything clem twin and parker!!!