1980 Panda Pro-Am
Pro Member

'Da Pineapple'
From: Nor-Cal
Registered: 2009-11-28
Posts: 2151
1980 Panda Pro-Am


1980 Panda Pro-Am

FRank Post replica Panda

I had Frank sign the padset before Brian Hayes got the ff set. This was a nice riding bike.



---
Museum gunslinger!!! WANTED SHOTGUN 1 SEAT in BLACK and/or BLUE with the holes on the sides!!!!!, MITSUBISHI COMP II TIRES WITH BLACK TREAD and oldbmx jerseys...especially Redline Factory team jerseys.
[img]http://i750.photobucket.com/albums/xx144/se666/HPIM0764.jpg[/img]
Pro Member

From: Osceola, WI
Registered: 2009-12-28
Posts: 350
Re: 1980 Panda Pro-Am
OK, so you changed out the cranks and pedals...which is the current setup? The box Profiles?

Are those red cranks Bullseyes?
Last edited by RetroBMX (2011-12-14 9:17pm)
---
[img]http://i58.photobucket.com/albums/g242/retroBMX/mnfaction.gif[/img]
Admin

bmxmuseum owner/CEO
From: NE Portland, OR 97212 USA
Registered: 2005-10-15
Posts: 6196
Re: 1980 Panda Pro-Am
Sweet bike, looks really close to my first real bike that I got for my 16th Birthday..
A PAnda Pro-am with red parts..mine had 1 piece and a different seat.

Digging the Frank POst signature pad too... awesome..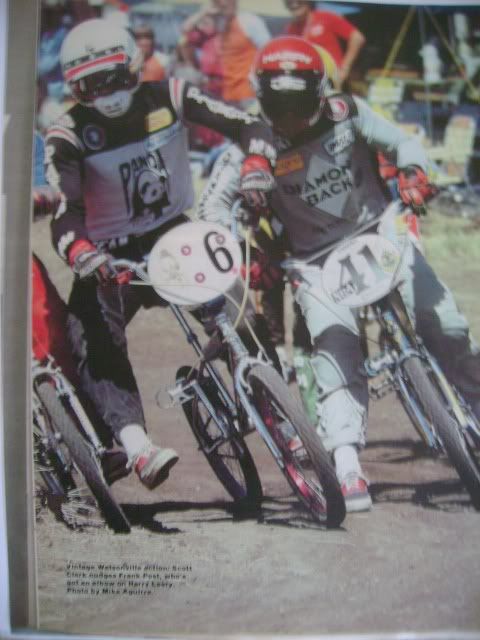 ---
[img]http://bmxmuseum.com/reference/Gary's%20Stuff%20-%20BmxMuseum/thanksig.jpg[/img]
F/S section rules
Become a Pro Member
Yes, I started this website myself, way back in 1999, thanks for sharing my passion about BMX!!
Pro Member

Dumpster Diver
From: Washington State
Registered: 2009-09-07
Posts: 2666
Re: 1980 Panda Pro-Am
---
☛☛☛☛☛☛☛☛☛☛☛☛☛☛☛☛☛☛☛☛☛☛☛☛Friends don't let friends ride junk.☚☚☚☚☚☚☚☚☚☚☚☚☚☚☚☚☚☚☚☚☚☚☚☚
Wanted: my old 1979 Quadangle...
☢☢☢☢ Survivors only ☢☢☢☢

Ride In Peace Autumn Pasquale