Topic closed
» SUBMISSIONS: Porkchop BMX 2011 Freestyler Build Off
SUBMISSIONS: Porkchop BMX 2011 Freestyler Build Off
Expert
From: Joliet, IL
Registered: 2010-03-02
Posts: 539
Re: SUBMISSIONS: Porkchop BMX 2011 Freestyler Build Off
My new main rider. I know this is a build off, but this bike's my rider, so no overly expensive parts were put on it. It was done the way I wanted my rider to be. Took it to the dirt track today and took these pics. Rides Awesome! Most of the parts I bought are from Porkchop, like seat, grips, tires, pedals, etc.

I used neon green, pegs, and a gyro.

---
Midschool and oldschool is the best. I'm 13.
44T bmx club
"Prostyler Fiend"
From: MA
Registered: 2007-10-08
Posts: 2573
Re: SUBMISSIONS: Porkchop BMX 2011 Freestyler Build Off
My submission, wifey's new rider:

1987 Redline RL20-II with a little Hutch flair!

Freestyle Elements: Tires, Pastel Colors, Rotor. Porkchop parts: Tires, Headset, Brake Cables, Dice Caps, Chainwheel bolts, chain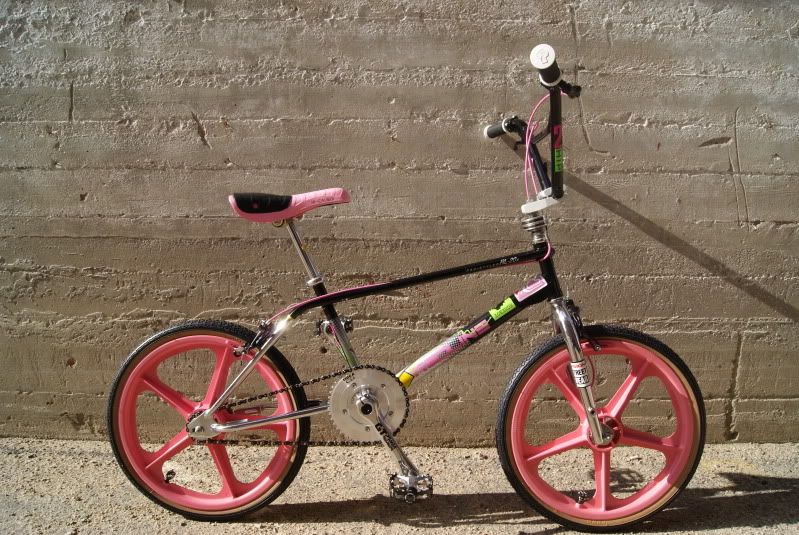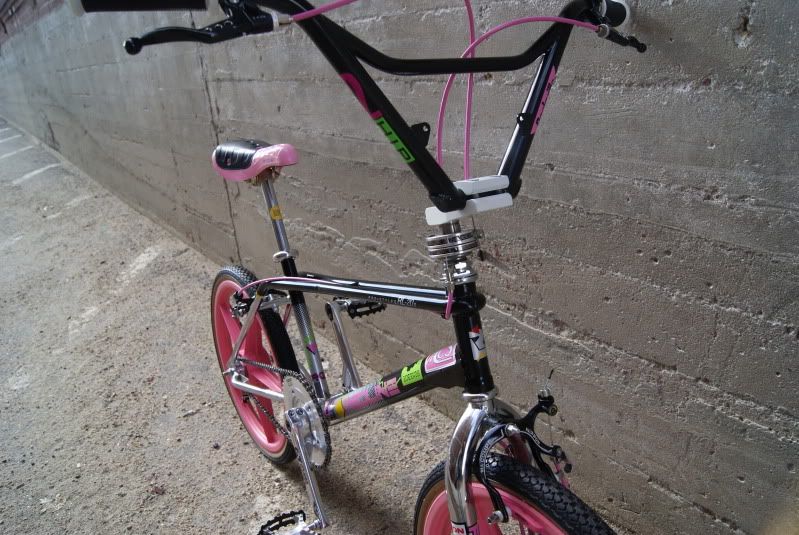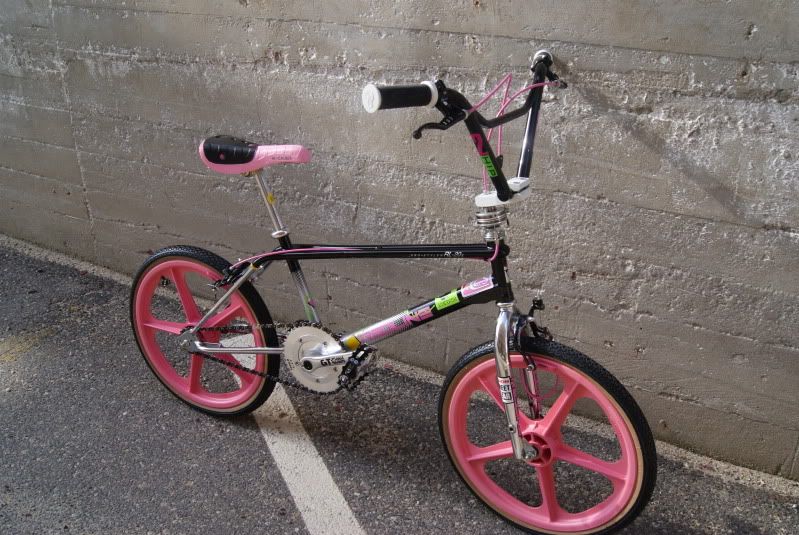 F/F - 1987 RL20-II
Bars - RL Forklifter
Grips - ODI Mike D signature
Stem - Hutch Western H
Headset - Tioga Beartrap II
Levers - Odyssey RX3
Brakes - DC Nippon F/R
Cranks - Primo Powerbites "GT Pro Series"
Chainwheel/Disc - Tioga CD 44T
BB- RL Sealed
Pedals - Suntour XCIIs
Clamp - Hutch
Post - RL Fluted
Seat - Hutch Trick Top
Wheels - OG Loose ball Skyway Tuff IIs w/ACS 16T FW
Tires - Porkchop Comp STs
Chain - Yaban
Rotor - ACS Pro

Big Ups to Lou and Jlewis for the paint and decals!
Pro Member

The Slasher
From: Central, CA
Registered: 2009-04-17
Posts: 1738
Re: SUBMISSIONS: Porkchop BMX 2011 Freestyler Build Off
Ok my last entry.... Who knew there were gunna be 2 other CW's in this and 2 other orange bikes.... ow well we will see I guess

1985 CW California Freestyle "Serial# starts DS506"
Freestyle parts = Tires, stem, Gyro & pegs
Porkchop parts = seat, Grips, headset, bottom bracket, brake pads & 1 of the 2 combined chains
Parts list............
85 CW frame, fork, bars, stem bolts, spc bolt & chainring bolts powdered Saftey Orange
CW pegs, stem & chainring powdered white
DC 880 front & DC 901 rear powdered white & lettering colored in Orange
NOS lower Odyssey gyro cable & NOS upper Monster gyro cable
1st gen gyro powdered white & restickered
NOS spinner pegs front
New DC tech 6 locking levers
New Tuff wheels
NOS tioga compe ST's
New Orange w/ white pips dice
NOS freestyle spc
New retro CW / Revcore seat post
New AME grips
New Viscount seat
New KMC chain's 1 solid white & 1 orange & black combined into 1 Orange & white chain "5 hours labor to do that"
Refinished VP 747 pedals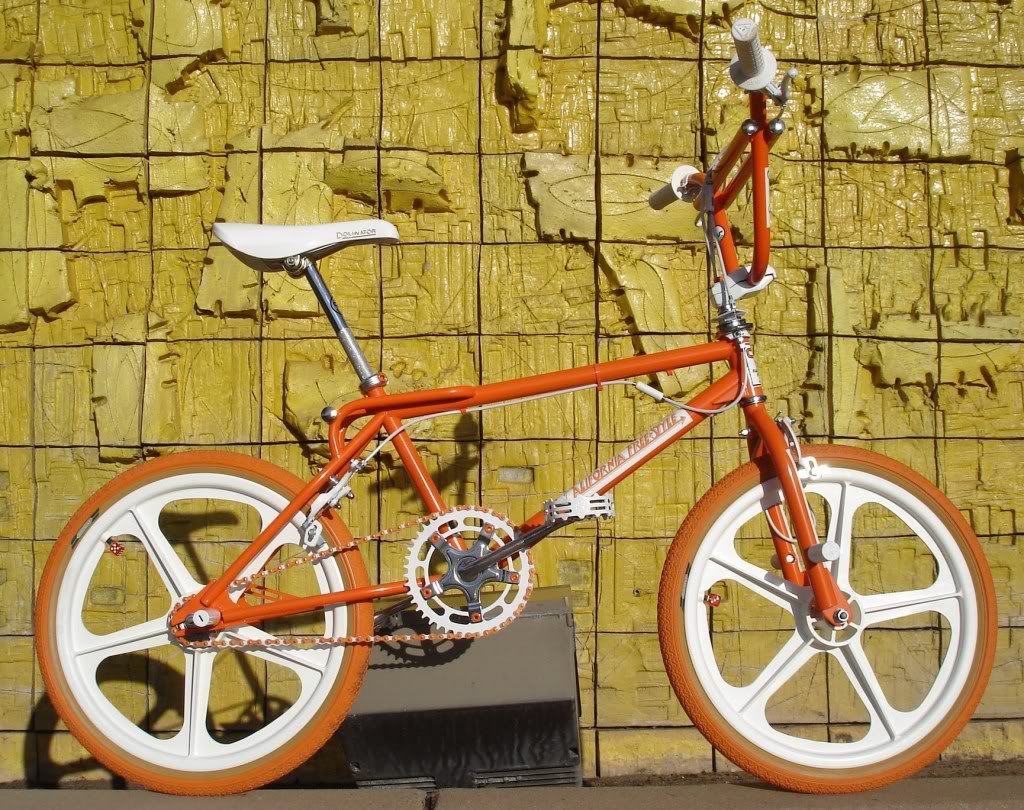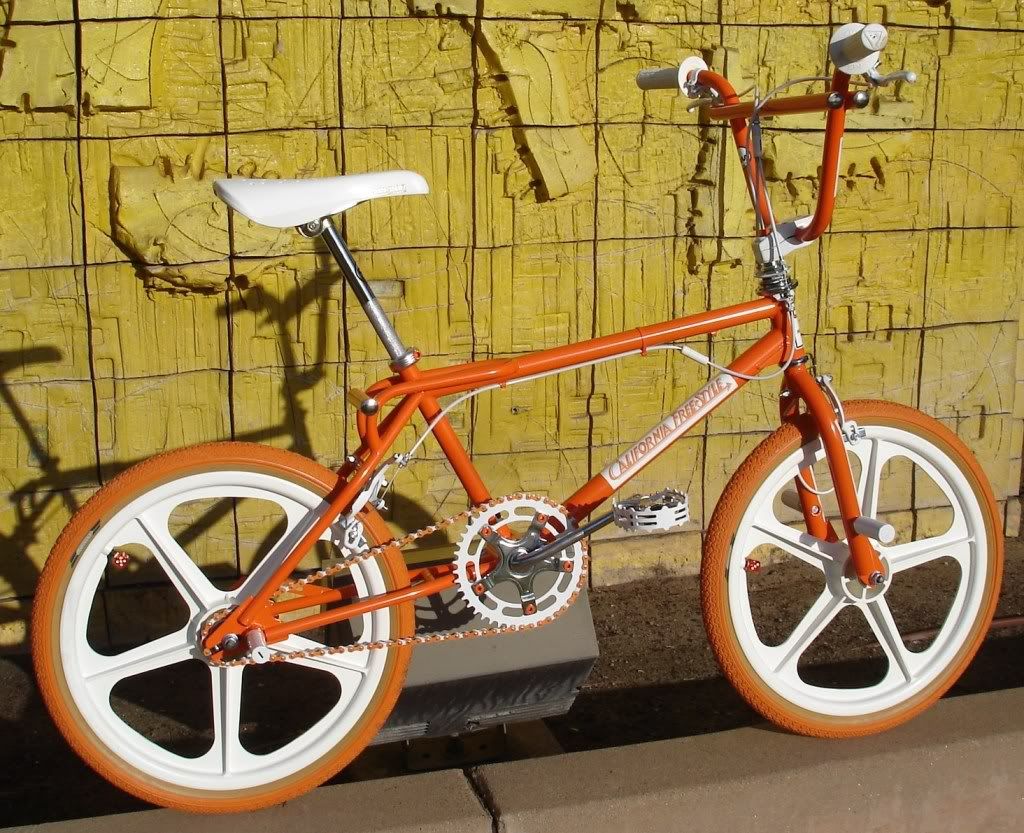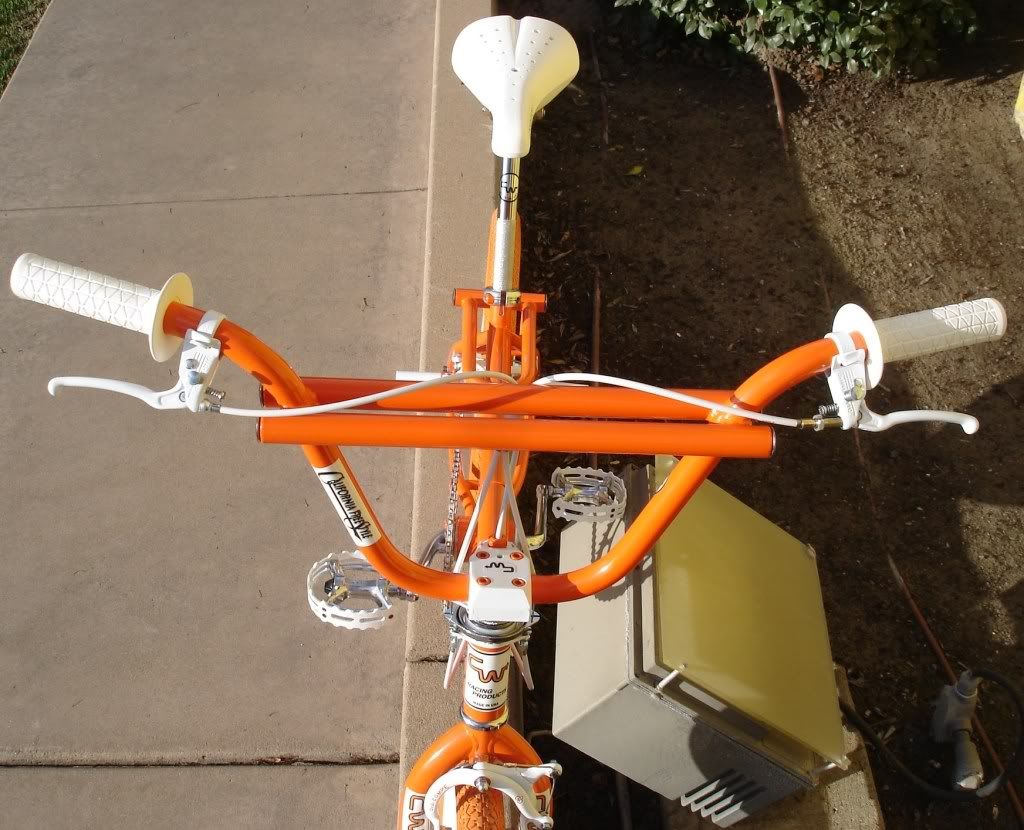 Last edited by calismoooth (2011-03-13 8:45pm)
---
[img]http://i631.photobucket.com/albums/uu32/calismoooth/DSC09971-Copy-Copy.jpg[/img]
Museum Newbie
From: Boston
Registered: 2011-02-14
Posts: 9
Re: SUBMISSIONS: Porkchop BMX 2011 Freestyler Build Off
Early 90s Mongoose frame started build when hearing of the contest. I got all the parts top to bottom new or nos, other than the rims, since then. Mostly from Porkchop and E-Trap (and one actually came from Smoopy's) but all within a reasonable budget. I know it wanst $1000 and from the 80s but it can do any trick in the book. I wanted to combine all the coolest parts I could think of as a kid and put them together. I'm pumped about the finished project and a cool feature about the bars is that they spin the tightest barshins possible. The bars have 0 deg backsweep and lined up the levers straight down. This means the grips and levers are always the exact same back or foreward relative to the rider.

a. Potts Mod and Gyro
b. freestyle tires
c. trick pegs and fork standers
f. bright green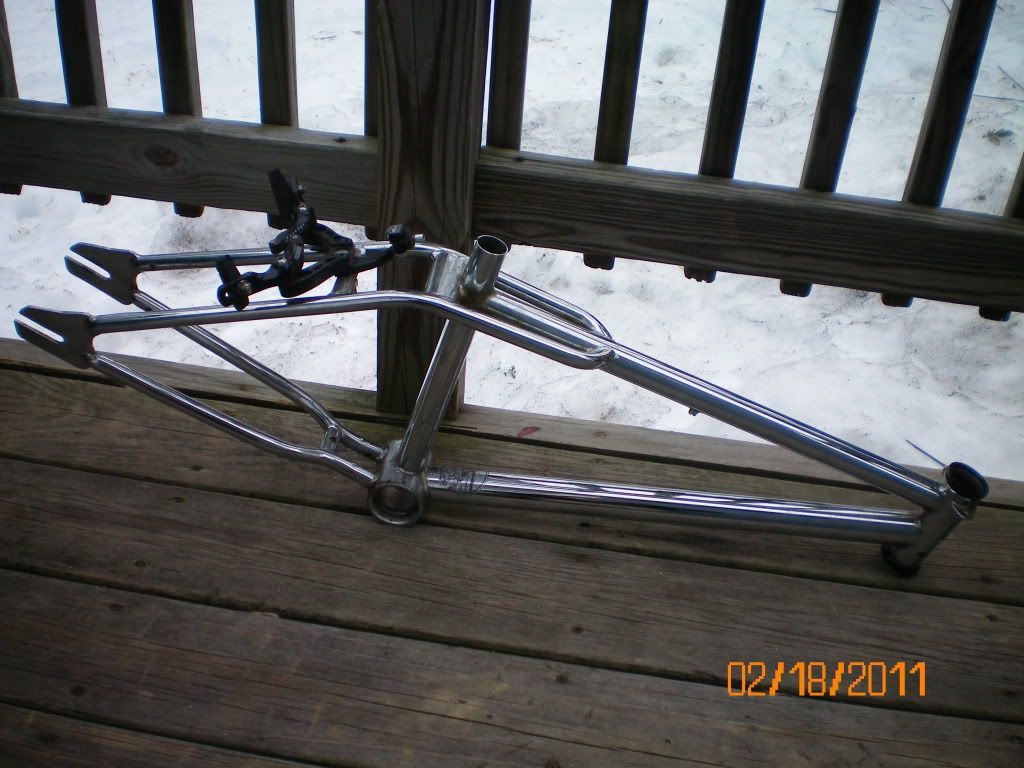 Nugget with attitude decal headbadge
YST bottom bracket conversion
Shimano 170 mm 110 bcd alloy cranks
Tuff-Neck 40 t chainwheel
YST chain
Wellgo Round alloy pedals
GT clamped bashguard
Odyssey Hollow Bullet alloy axle pegs
Sun Metal Prods. 36 chrome rims from the 80s
Black Ops stem
Clear brake lines, G2 Gyro
Kashimax Handler seat nos from the 80s
Redline angled seatpost
Black Ops seatclamp
Dyno chissel cut forks
MX1000 replica brakes
Poverty alloy brake levers
Bizhouse raw flatland bars 8 in. rise
AME Tri grips
Clamp on forkstanders
YST chrome headset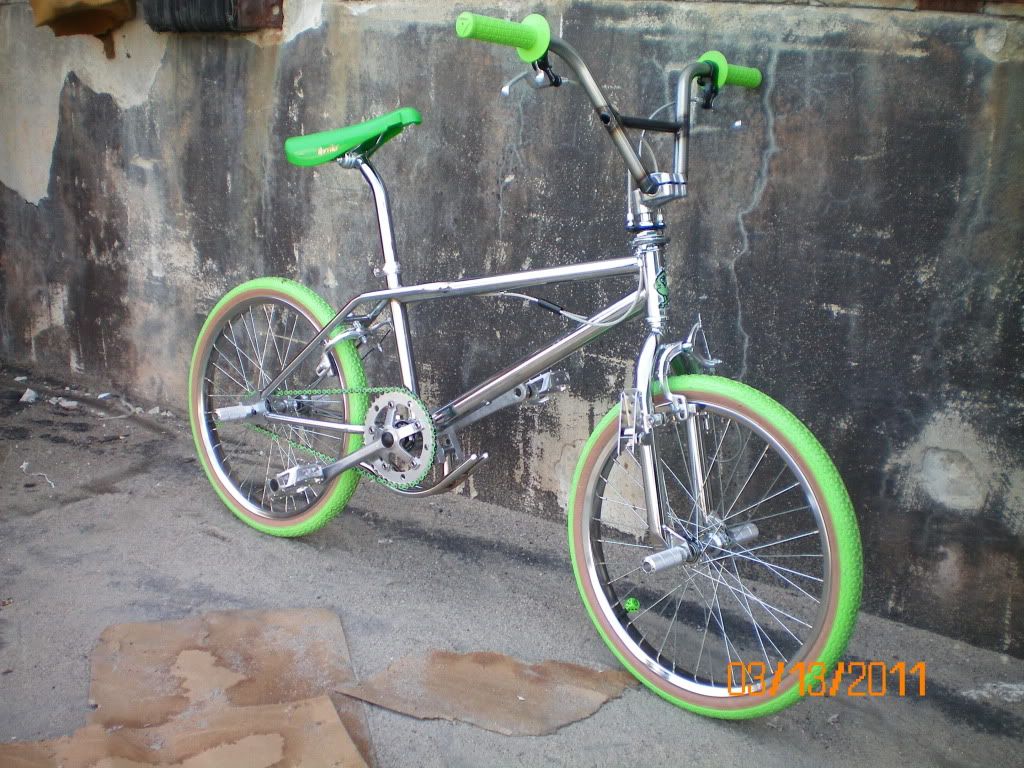 ---
Always looking for people to ride with and learn from
porkchop and danscomp rock
I Love Chrome
Pro Member

From: Melbourne, Australia
Registered: 2010-05-07
Posts: 99
Re: SUBMISSIONS: Porkchop BMX 2011 Freestyler Build Off
Not sure if I'm too late posting this, but if I am, no problemo!

1992 Haro Ground Master

My two elements are Gyro/Rotor and Pegs/Standers.

Parts Breakdown:
1992 Haro Ground Master F/F
Haro Kneesaver bars
Team Haro flangeless grips
Haro Fusion stem
Odyssey Gyro
Ogyssey Gyro2 cables
DC Nippon
DC AD990
Haro Fusion 175 crankset and BB
Haro Fusion 44t chainwheel
Haro Fusion race pedals
Peregrine Superpro hubs
Ukai HP-48 rims
Haro Fusion Tuberider pegs
Haro Fusion Velo seat
Haro Fusion double-pinch seatclamp
Generic chrome layback


Centurion Member
From: Queens, NY
Registered: 2010-01-10
Posts: 146
Re: SUBMISSIONS: Porkchop BMX 2011 Freestyler Build Off
Down to the wire
---
Green is the new gold.
Intermediate
Registered: 2007-05-05
Posts: 427
Re: SUBMISSIONS: Porkchop BMX 2011 Freestyler Build Off
just another blue Trickstar

POS Hutch Trick star F/f
POS Mike d bars
POS H stem
POS Hutch full radius donut
POS peregrine seatpost
POS Hutch prototype Remake suntour brake setup front/rear, with mathauser brake padr
POS 48h bullseye. hubs/ araya 7x
POS peregrine tires
The biggest POS JDB areospeeds cranks
POS hutch pedals
POS kashimax aero suede saddle
POS Pro rotor
POS ame rounds
POS tech 77


Last edited by O.g. RL20-II (2011-03-13 9:32pm)
Museum Newbie
From: New Zealand
Registered: 2010-01-24
Posts: 24
Re: SUBMISSIONS: Porkchop BMX 2011 Freestyler Build Off
Freestyle Mods:
Gyro - Skyway spin master 1
Potts mod - ACS stem bolt and pork chops tioga bear trap headset
Freestyle tires - Tioga Pool comp
48s - Hubs: Peregrine Sealed Bearing 48's Rims: Odyssey Hazard Lite 48's
Seat - Handler
Porkchop fork standers, Skyway Platform
Color - Orange

Thanks Everyone and thanks porkchops for making our addiction easier
Topic closed
» SUBMISSIONS: Porkchop BMX 2011 Freestyler Build Off