1978 AMF Showdown
Museum Newbie
From: seattle
Registered: 2011-02-03
1978 AMF Showdown


1978 AMF Showdown

Very rare AMF 20" wheels, 28 spokes, 76 bendex rear break, mx Troxel banana seat and original front tractor tire..

My mom bought this bike in 1978 for me at Mongamry Wards for Christmas. I rode it for a few years in California. then i put it up in the garage for a few more. Then one day we were going on a family trip to my aunt house in MO. So i decided to bring my Schwinn king sting for me and this showdown for my little cuzens to ride. Thay loved the showdown .so I left it there for them.
Two years go .. I git this phone call its my aunt. she said " are you going to git you bike out of my barn? Its been there since you left it. I said ok! [Not knowing what bike it was] So a week later there a package she sent me . ITS THE SHOWDOWN!
WOW! the day was like that 1978 Christmas again.. So I clean the bike up put a new 20x3" rear tire on it. been riding it to the coffee shop once a week.. I love this bike



Expert
Registered: 2007-04-22
Re: 1978 AMF Showdown
Very cool! Thanks for posting some oldschool!
---
Free your mind and your ass will follow!
Pro Member

Lil T.
From: Streamwood, IL
Registered: 2010-07-29
Re: 1978 AMF Showdown
THAT IS IT, THAT IS IT.... my very first bike! I thought I would never see one again. I feel like crying now.....MAN! I had one also in 78 at the age of 6 and it was taken from me the very first day I learned how to ride it by myself. Oh it is such a joy to just see this bike and in such good shape. If you read the bio on my Huffy Prothunder I'm talking about this bike also. i LOVE IT, I LOVE IT, I LOVE IT.....
---
Ask me how you could help a kid get a bike.
Special Needs Special Children Bike Program

O.G.O.A.R. Club Chicago

Option #2 Because there is no other option!
Pro Member

From: SEATTLE, WA.
Registered: 2011-08-24
Re: 1978 AMF Showdown
TOTALLY KILLER BIKE AND THE STORY IS GREAT...
THANX FOR SHARING YOUR PAST AND THE CURRENT BIKE FOTOS...
KEEP IT ALWAYS!
Pro Member

From: Lexington, KY
Registered: 2011-03-05
Re: 1978 AMF Showdown
Very nice, I love these late 70's type bikes. Totally awesome!
Pro Member

From: Saint Louis, MO
Registered: 2010-08-11
Re: 1978 AMF Showdown
i had one similar to this. The frame was black though with yelow parts. It still had the fenders and gas tank and number plates and stuff. You have a cool bike and story to go with it.
---
A few of you still owe me feedback.
Looking for NOS KKT K-MX rat trap pedals in 1/2" chrome.
Banned
Registered: 2012-07-15
Re: 1978 AMF Showdown
Dude i love this bike me and my friends rode around on bikes like these thinking they were just like dirt bike motorcycles the colors the design were great i completely forgot about these mostly just rember the 80s and early 90s of riding but these bikes started it all for me and every kid from that time period thanks for sharing ...bob
Pro Member

NOT Bubba Hayes
From: Mason City, IL
Registered: 2006-12-06
Re: 1978 AMF Showdown
Me too dude. Me too!!!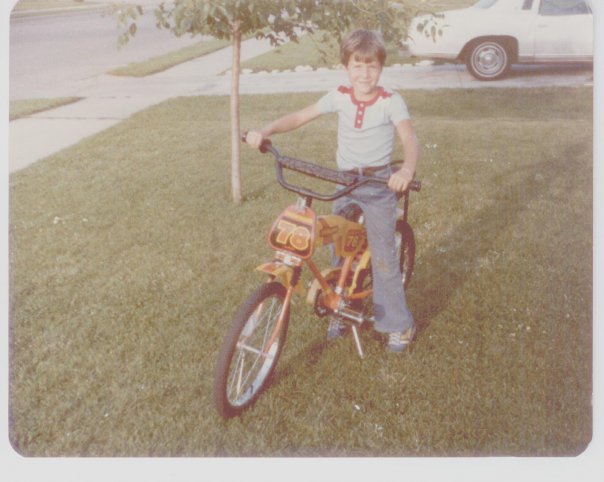 ---
PLEASE do all of society a favor and click the REPORT button on every single post I make. It will make America a happier place for all the Snowflakes.

Sitting in my doublewide dreaming about owning a real Nomura instead of the seven imaginary ones I talk about owning and wishing everyone here didnt hate me so much. Married a sugar mama....there is still hope...

EVERYTHING BMX on the internet is a RARE PROTOTYPE!!

Passing a six month grammar/reading comprehension/spelling class should be mandatory before being allowed to post on this site.