Sate-lite mag wheels???
Member
Registered: 2008-09-28
Posts: 40
Sate-lite mag wheels???
I have front Sate-Lite Mag Lite wheel that does NOT have an axle or bearings or cones. Is there anyone who could tell me where i could find an axle set or what the part # might be for something of this kind? i know what the cones look like and how they fit in but i am not sure where to get them or what they might be called.

thanks so much, and if there is anything else you could give me on the situation please let me know.
Museum Addict
From: Clinton, IL
Registered: 2008-12-18
Posts: 1681
Re: Sate-lite mag wheels???
---
[img]http://i596.photobucket.com/albums/tt47/mitterhead/030c8d0e-1.jpg[/img]
Expert
From: Minnesota
Registered: 2007-01-25
Posts: 693
Re: Sate-lite mag wheels???
I GOT A WHITE FRONT I WOULD SELL.
PM ME
MUNCH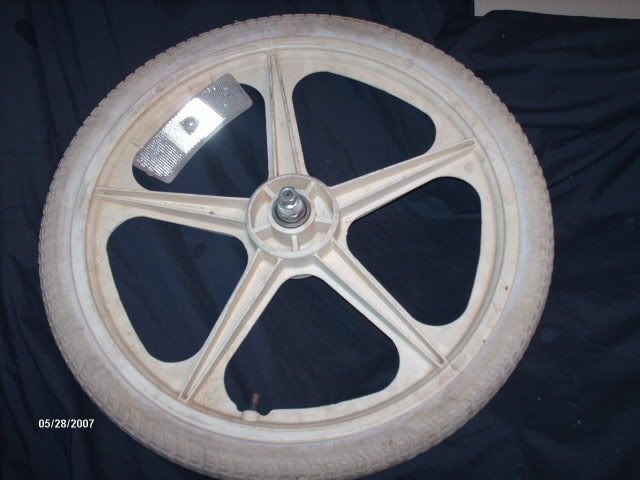 Last edited by MUNCH (2009-02-25 10:31am)
---
WANTS: GRAPHITE-X,SHIMANO DX'S1/2OR9/16SILV/BLU/RED/HARO PADS85
FORKLIFTER STEM/WHT/SILV/TIOGA COMP3BLACK1.175 20"OR 26"
DECALS84' GT PRO CHROME/CLEAR/85 MASTER/CHROME/GRN/CLEAR/7X'S REAR SKYWAY 2 W/FREE ORCOAST/WHITE/BLUE DOMINATOR SEAT/MX1000
"Twisted By Design"
From: Sarasota, FL
Registered: 2010-09-29
Posts: 559
Re: Sate-lite mag wheels???
the axle out of any any 20 inch wheel, i had a set that needed axles so i pulled them out of a 20 inch mountian bike that had one free wheel on it then took old abec7 skate board bearings and used those for my caps
to hold the 20 inch bearings in the mag worked great had them on a bike for 5 months and then traded them these mags seem very chep to me witch made them not hard at all to rig
---
I RESTORE OLD SCHOOL BMX, AND BRING THE ONCE DEAD BACK TO LIFE.

[img]http://i1264.photobucket.com/albums/jj488/twinmill15/s1600_logos_e-2.jpg[/img]