1980 S&S Newport
S&S straightbar Newport. High gloss urethane mirror finish!
Saw this and had to have it!!
it rides as good as it looks!!!
Breakdown
Matching gloss black 3 stage painted F/F
chrome tange MX3
mirror polished Sugino Maxy cross
red addicks 46T (41T coming)
basic kmc brown chain
helix dropout savers, Mongoose Proclass 1.75 hoops with black nips, og rimstrips, stainless mongoose spokes, and sealed cart. acs flipflops 16t/14t
red tuf nuts up frontred ano tuf neck 2000 black no name bars
AME cams (Need some oakley f-1)
Addicks 2pc. seatpost clamp (now installed)
silver SR BMX laprade post
Wrights leather saddle Blackred ano MX1000 originals with red ano DC tech III
Suntour XC-II braced black ano bodies, DK cages fully restored!!Kenda k80 Gumwall (awesome riders!!)
NOS california bicycle registration tag!!http://img.photobucket.com/albums/v200/Gobotts/May1980.png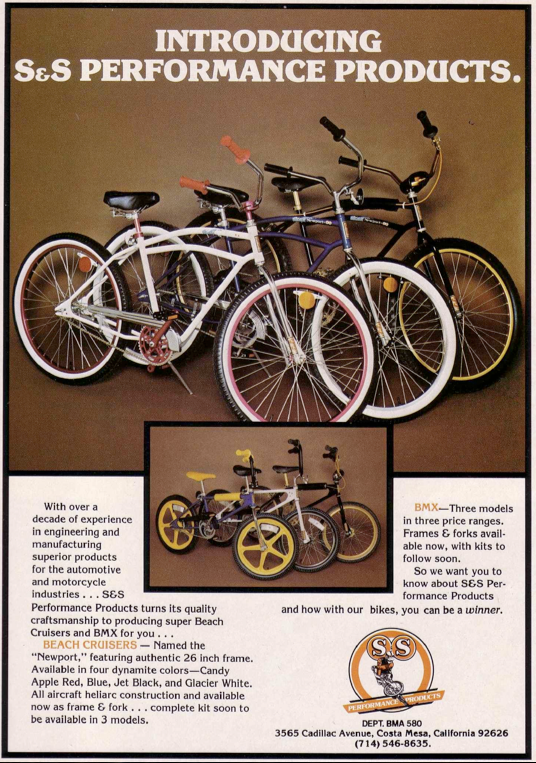 Submitted by martimagico
Discuss this bike
Race
Company: S&S
Material: 4130 Chromoly
Headtube size: 1"
Details Nice Original frame and forks decals are non original.