1998 Mongoose Phase-2
Inspired and co-designed by #1 ABA Pro Robert MacPherson, the Phase 2 RM-series frame features super-light ovalized 7005 heat-treated aluminum tubes and an extra-stiff rear triangle w/ "TwinJet" stays
- - - - - - - - - - - - UPDATE - - - - May 7, 2012 - - - - UPDATE - - - - - - - - - - - -
I've finally purchased all of the upgrade parts that I've wanted to use for this bike (with the exception of chrome spokes and light-blue alloy nipples) before I give this bike to my friend :) . I've spent $309.51 USD in upgrades - the price that I paid for each part is presented below:
Profile cranks -- $55.00 (delivered to my house - I found them on Craigslist),
Profile Hurricane sprocket -- $13.00 (bought NOS on ebay),
Odyssey Triple Trap pedals -- FREE (these came on an S&M Challenger that I bought for $200 cash),
Profile Cassette hubs -- $105.00 (used, ebay),
16T Profile Cog -- $11.29 (used, ebay),
Shimano XTR SP-M900 seat post -- $13.50 (used, ebay),
Araya Super 7X rims -- $45.00 (used, BMX Museum),
Profile H.I.P. stem -- $25.50 (used, ebay),
Profile stem lock -- $19.22 (new, ebay)
Shimano BL-M600 Servo-Wave Action brake lever -- $12.00 (used, BMX Museum), and a
Aheadset SX-1 headset -- $10.00 (used, BMX Museum), respectively.
This complete bike (with all the upgraded parts) has cost me $422.11 USD. I don't thank that's too bad, considering this bike is now essentially a '98 Mongoose MacFerasome bike, which cost $1,300.00 USD new.
- - - - - - - - - - - - - - - - - - - - - - - - - - - - - - - - - - - - - - - - - - - - - - - - - - - - - - - - - -
I saw this bike on the local craigslist (for $100 cash), but didn't care for how it looked (and I still don't - especially the dropouts), so I let it go... Then I saw it again on ebay a few months later and realized that it would be a great graduation gift for one of my old high school buddies, who had a similar looking 1998 Mongoose Expert bike back when we rode (he will be graduating from MIT with a Ph.D. in aeronautical engineering... he was also the valedictorian of our high school), so I contacted the seller and tried to buy the bike locally. I couldn't close the deal (since the bike had been sold to a new owner who wanted quite a bit more than $100 for the bike), so I let the bike go again. Then, a few months later, I saw the same bike for sale on the Museum. When the bike wouldn't even sell for $165 shipped, I contacted the seller (Museum member "purpledude1600") and was finally able to get this bike for $100 cash (w/ local pickup).
My friend graduates in about a year, so in the meantime, I plan to upgrade the cranks, sprocket, pedals, wheel set, stem, seat post, brake lever, and headset with:
Profile 3-piece cranks (chrome, 180mm, Americal bottom bracket, sealed bearings, solid 5-5/8" long chromoly 48 spline spindle, aluminum cone washers, flush mount bolts),
Profile Hurricane sprocket (black/silver, CNC machined, 44T, circa 2000),
Odyssey Triple Trap pedals (silver bodies and cages, unsealed bearings, 9/16" chromoly axles),
Profile Cassette hubs (mid-school high-flange version, "High Polished" silver body, 36H, sealed bearings, chromoly driver, 3/8" solid round chromoly axles, aluminum axle nuts, circa 1998, 16T Profile chromoly cassette cog),
double butted stainless steel spokes (... or I'll get chrome-plated spokes if I can find them),
alloy nipples (anodized light blue),
Profile H.I.P. (Hidden Internal Piston or HIP) stem (silver, XXL version, 1-1/8" threadless, circa 2003),
Shimano XTR seat post (alloy, micro adjust),
Shimano BL-M600 Servo-Wave Action brake lever (black/silver, three settings), and a
Aheadset SX-1 headset (1-1/8" threadless, unsealed, circa 1999), respectively.
I'm choosing to upgrade this bike with mainly Profile parts because the 1998 Mongoose MacFearsome, Mongoose's 1998 top-of-the-line $1,300.00 USD race bike (see picture below), came with several Profile parts, including a Profile stem, sprocket, and crank set.
The stock 1998 Mongoose Phase 2 bike retailed for $495.00 USD (Source: BikePedia) and was only available in the color shown (polished alloy). The frame was made in Taiwan, but fabricated by Kinesis (according to the decals that are on the frame). The frame has a 21.0 inch top tube, the head tube angle is 73.0 degrees, and the seat tube angle is 71.0 degrees (Source: BikesDetails.info). The bike has a 38.0 inch wheel base and a 15.3 inch chain stay length while the fork rake is 1.0 inch.
This particular bike was originally sold at Campus Bicycles, which is located in downtown Chico, CA. This was a pleasant surprise because I lived in Chico for six years while I went to Chico State (BS, Civil Engineering).
Below are the parts that came on this bike when I purchased it. It was completely stock - down to the tires, tubes, grips, and even reflectors... I will update the pictures and description after I have put the upgraded parts on this bike.
Frame: 1998 Mongoose Phase 2 (7005 super heat treated aluminum, 21" top tube, 1/4" thick dropouts, American bottom bracket, 1-1/8" head tube, TIG welded, "TwinJet" stays, machined head tube, designed in So. Ca., fabricated by Kinesis, made in Taiwan for Service Cycle Bicycle Company, weight: about 3.5 lb. (source: BMX Museum member "fossa bmx 1") )
Fork: Mongoose Pro RM series (1-1/8" threadless, 4130 chromoly, butted and heat treated, 3/8" thick dropouts, ovalized legs)
Handlebars: Mongoose Pro (4130 chromoly, chrome plated, 28" wide, 8" tall)
Stem: Mongoose Pro (1-1/8", high polished aluminum, front load design, about 55mm of reach)
Headset: Dia-Compe SE-1 A-headset (1-1/8" threadless, unsealed/loose-ball bearings)
Grips: Mongoose (Kryton rubber, black, 5.5" long)
Bar Ends: Mongoose (plastic)
Seat: Mongoose BMX/Freestyle (8mm rails, embossed "Maurice" logo, made by Viscount)
Seat Post: Mongoose Pro (27.2mm diameter, micro adjust, aluminum, 12.75" long, made by Kalloy, stamped "97.10", minimum insertion length: 3.75")
Seat Post Clamp: Mongoose Alloy (scalloped 2 bolt, aluminum, approximately 31mm)
Cranks: Mongoose O/S 1-piece (chromoly, 180mm long)
Chainwheel: Mongoose Pro Alloy (43T, black/silver, 5mm thick, CNC cut, reinforced stainless steel insert)
Chain: KMC (1/2 x 3/32", nearly half of the links say "KMC", but a few also say "VD")
Chain Tensioners: N/A (...but the frame is designed to use ITC (internal chain tensioner technology) )
Pedals: Mongoose Alloy (1/2" cr-moly axle, aluminum body)
Front Hub: Mongoose (36H, low flange, unsealed/loose-ball bearings?, slotted solid axle, silver body, steel axle nuts and washers)
Rear Hub: Mongoose (36H, high flange, cassette, unsealed/loose-ball bearings?, round solid axle, silver body, steel axle nuts and washers)
Cog: Mongoose (16T, chromoly)
Rims: Araya RB-907X (Araya Super 7X) (chrome plated aluminum double wall rim, 36H, 31.0mm wide and 17.5mm tall, welded seam, weight: 425g to 430g per rim, designed for 1.75" to 2.125" tires, made in Japan)
Spokes: DT (stainless steel, 2.0mm straight gauge, brass nipples)
Tires: Mongoose Blur (20 x 2.25" front, 20 x 1.85" rear, nylon bead, made in Taiwan, recommended infiltration pressure: 40 to 65 psi)
Tubes: generic w/ Schrader valve (20", stock)
Valve Caps: Mongoose "Maurice" (chrome, from 1998, shown below)
Brake Lever: Dia-Compe DiaTech mx 1 (black body, silver blade, max torque: 90 KGF-CM, made in Taiwan)
Brakes: Shimano Deore LX BR-M600 V-Brake (silver, made in Japan)
Brake Cable: generic (black)
Pad Set: Mongoose (3 pc. BMX pad set, from 1998, shown below)
Number Plate: Mongoose (11" x 8", from 1998, shown below)
Now that I've owned this bike for a several months (I bought it on December 7, 2011), I still hate how it looks and rides, but the slight humpback of the top tube has grown on me. I also love the Araya Super 7X rims and I like how the frame, fork, bars, and rims pop in the sun. However, I still don't like the chunkiness of the dropouts and the lack of three piece cranks. I think it will look and ride much better with the upgrades that I will be making... time will only tell.
Below is a picture of the '98 Mongoose MacFearsome and '98 Mongoose Phase 2 (Source: 1998 Mongoose BMX Pro catalog).
Here is a picture of a pad set and number plate set that I bought for this bike. Both are dated 1998.
Lastly, here are a few more larger pictures of my bike: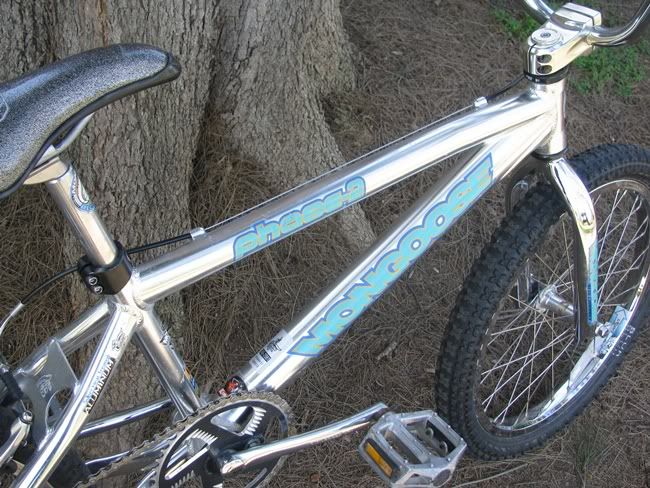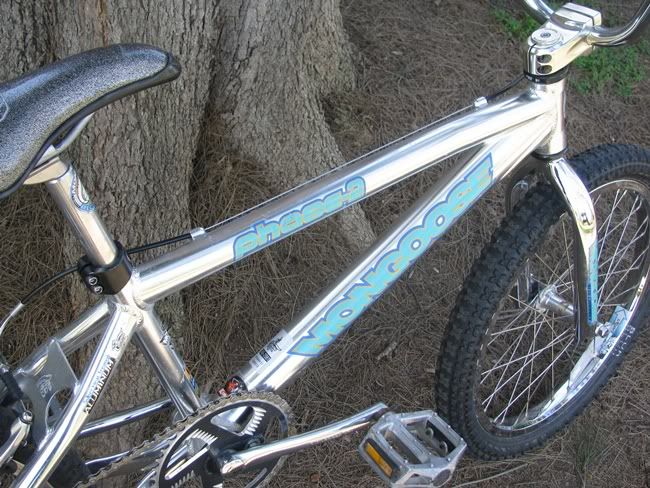 So... Does anyone have any additional info on these Mongoose cassette hubs???
Submitted by pharv85