1982 Hustler Pro
HUSTLER Bicycles was owned by BMX Hall Of Famer "Big Daddy" Ralph Mundia from RALPH'S BICYCLES. The famous bike shop out of Downey, CA. manufactured by Cook Bros. for Ralphs Bicycles

note* Andy Patterson rode a Hustler while on Skyway before they made the T/A.

This is an 82 HUSTLER PRO 20". (serial #18)
This is a real early original chrome Hustler frame (20" top tube). Also has a the super-rare Hustler pro forks and Hustler seatpost (origianl decal).
This frame has a round brake bridge. It's the only one i've seen, all others have the Powerlite style.
Look at the forum discussion for more pictures!

parts breakdown:
frame: 20" HUSTLER Pro
forks: 20" HUSTLER Pro
seatpost: HUSTLER (straight)
seat: Elina
seatclamp: Suntour
bars: GT Pro
grips: Oakley B-2
stem: Pro Neck
rims: chrome Araya 7x
hubs: Bullseye
tires: Mitsuboshi Comp 2 yellow label (black with blue wall)
brakes: Weinmann 1024
pads: Skyway Finned
lever: Dia-Comp Tech 3
cranks: Sugino Cro Mo 180
spider: Sugino
chainring: Sugino 44t
pedals: Shimano DX
chain: Izumi
headset: Tioga beartrap II
headset lock: Suntour
numberplate: Hot Plate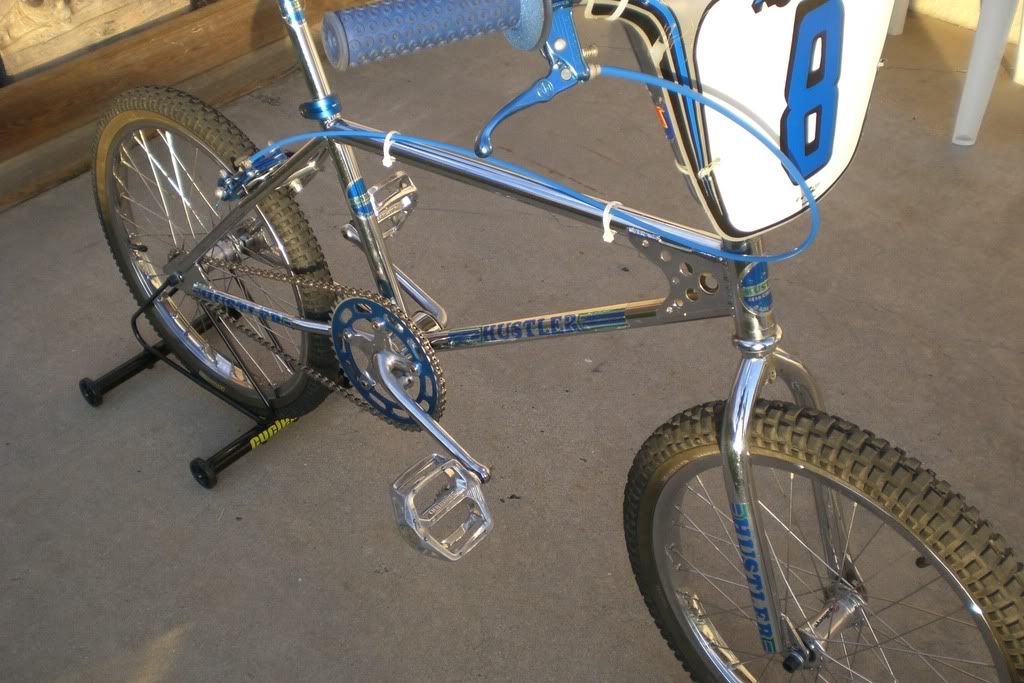 Submitted by TrulyOdD
Discuss this bike
Race
Company: Hustler
Material: 4130 Chromoly
Headtube size: 1"